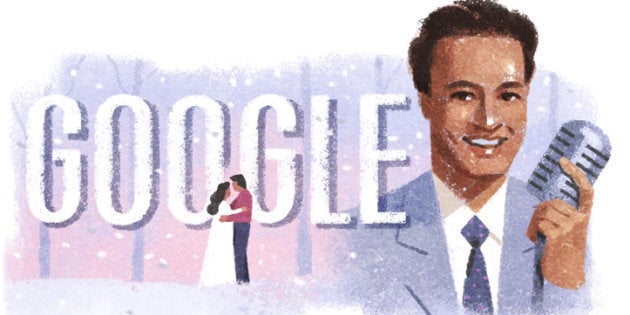 In keeping with its tradition of honouring noted personalities from across the globe, Google has dedicated a special 'doodle' this Friday to one of Bollywood's most revered singers, Mukesh, on his 93rd birth anniversary.
The doodle features a smiling face of the Mukesh, born Mukesh Chand Mathur, with a microphone and an illustrated still inspired from one of his acclaimed numbers, 'Kabhi kabhi mere dil mein' from the movie Kabhie Kabhie (1976).
Born Mukesh Chand Mathur in Delhi, India on 22 July, 1923, Mukesh was discovered by Motilal, an actor and distant relative, when he sang at his sister's wedding.
Mukesh first rose to fame as the singing voice of actor Raj Kapoor in the smash hit Andaz (1949), a Hindi film about a tragic love triangle.
"Decades before single-name stars Madonna and Prince became superstars, there was the mononymous Mukesh, one of Bollywood's most acclaimed playback singers," wrote Google in an ode to the singer.
In 1974, Mukesh won the National Film Award in India for Best Male Playback singer for his song 'Kai baar yuhi dekha hai' from the film Rajnigandha (1974). He followed that up with wins in 1976 at the Filmfare Awards for four songs, most notably 'Kabhi kabhie mere dil mein', says the official Google Doodle page.
The legendary singer died on 27 August 1976 in Detroit, US, from a heart attack.