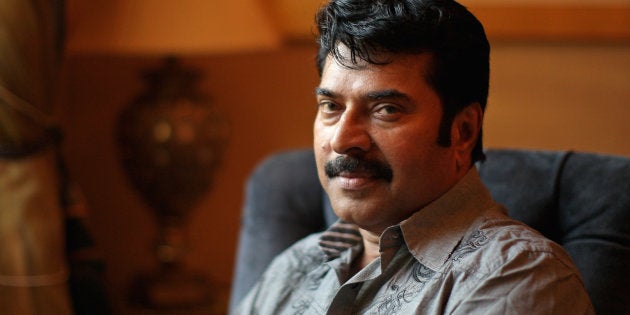 Malayalam superstar Mammooty, winner of three national awards and seven state awards, should be ashamed of himself. Rarely in Indian cinema have actors of his stature been pulled up by the women's commission for smutty and sexist dialogues.
This, while he revels in a public image as a left-leaning progressive.
The dialogues in question are from a recent movie called Kasaba, in which he holds a woman IPS officer by her waist-belt and shouts to her that he would make her miss her menstrual cycle. The description of the scene by this Firstpost reviewer conveys the vulgarity and violence quite vividly: "He strikes her down with his words, grabs her by the belt, and as he holds her crotch against his, makes a disgusting comment about how he could disrupt her bodily functions." Anything beyond this would make the reportage itself repulsive.
The state women's commission heard about the movie from media reports and took cognisance. They were clear that Mammootty and the makers of the movie owed them an explanation. "In the name of freedom of expression, women cannot be insulted," and when an actor like Mammootty deliver such "sub-standard dialogues", it will lead to a "dangerous acceptance" of such actions and remarks in the society," the chairperson of the commission reportedly said.
It's not surprising that even at 64, after decades as a dominant superstar, Mammootty still hasn't got what it means to be respectful to women, or at least how not to be blatantly sexist. Throughout his career, particularly in the early years, he had often mouthed dialogues that were both puerile and patently misogynistic. Both his writers and fans seemed to have collectively shared the pleasure of his onscreen male chauvinism. His repellingly sexist dialogues in a 1983 movie called Koodevide, in which he extolls his right to dominate women, became the mark of manliness that was repeated in subtle ways in other movies as well. Three years later, the same writer-director made him say equally horrendous things to actor Sreepriya in a sexually violent scene in Kariyilakkattu Pole.
They were his early days and probably he was (personally) justified in playing up the machismo to succeed in a commercial entertainment industry that was built on male heroism. However, doing the same, or even worse, after another three highly successful decades is pure avarice or pitiful ignorance.
It's not Mammootty alone that indulges in sexism and exaggerated machismo in Malayalam cinema. The other superstar, Mohanlal, made misogyny part of his commercial formula in the 1990s and early 2000s. In his case, the license to dominate women came from his characters' feudal and casteist authority. Stars such as Suresh Gopi (now a nominated member of Parliament)--mostly playing police officer roles--and younger star Prithviraj, also had their share of celluloid sexism. It had been appalling to watch a young actor such as Prithviraj mouthing sexist lines on screen.
However, the irony in Mammotty's case is his posturing as a fellow traveller of the CPIM (Communist Party of India, Marxist) and an advocate of progressive causes, including women's rights. In the case of women's rights, he doesn't seem to have got it right yet. During the height of the Jisha murder outrage, his tweets carried unmissable signs of patriarchy when he implored his "brothers" not to be leches, but be heroes by protecting the "honour of their mothers and sisters". He called on men to be "protectors" of every woman so that there were no more Jishas in society. Clearly, he wanted to be the "protector" of the "honour" of women without knowing that this attitude was the underlying driver of patriarchy and misogyny. He had made such comparison of women to sisters and mothers earlier as well.
Strangely, while he holds this regressive idea of the "honour" of women, he doesn't have a problem when he is paid to sexually abuse women and indulge in on-screen behavior that in real life is against law.
What's equally condemnable is the absolute silence of the intellectual-apparatus of the CPM. The party has a well-run machinery of "intellectuals" who are quick to denounce what they consider social and political deviance. The women among them are vociferous and do not mind taking to the streets at the slightest provocation. But when the entire state slammed Mammotty's onscreen behaviour, they chose to keep quiet. Not a single woman leader, "intellectual" or activist from the CPM camp came forward to condemn him. Had it been somebody else with no connection to the party, it would have been a never-ending ruckus on the streets.
Mammootty is a very important man in Kerala and probably the most loved movie star. Through a matchless combo of talent and sheer hard work, he has dominated the movie industry for close to four decades for which there is no parallel in the state, and few in India. Therefore, in the twilight of his career, he should have been careful about the roles and lines he chooses. Not that an actor cannot select dark roles, but agreeing to do an otherwise heroic character who indulges in anti-women behaviour amounts to wilful complicity in misogyny. He certainly needs to undergo a crash course on women's rights--surely not from the CPM's career-causeratis, but from real working women. Obviously, his onscreen training has been bad or rather very bad whether it was by a veteran such as Padmarajan or a newbie such as "Kasaba" director Nithin Renji Panicker.
Playing a hero on screen shouldn't be at the cost of women's dignity and rights. There really is no justification for it.