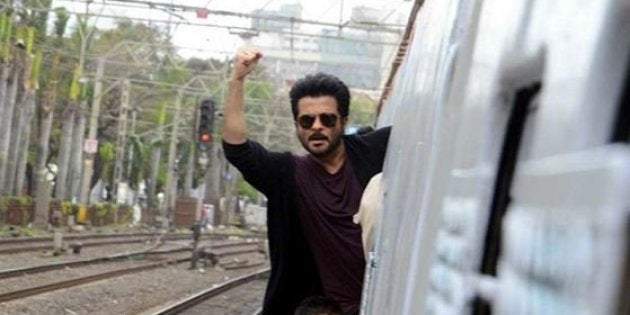 In the entertainment industry, it is not unusual to see actors going to great lengths to promote their latest offering.
Anil Kapoor, who will be next seen in season two of the Indian adaptation of 24, caught a local train from Churchgate on Thursday evening and was photographed leaning out of the compartment, while standing on the footboard -- something millions of commuters in Mumbai have to go through everyday due to suffocatingly limited space in the city's locals.
The entire exercise was undertaken by Kapoor to promote the latest season of 24, a show where he plays an officer from the Anti-Terrorism squad.
After Kapoor's pictures were splashed online and published in several newspapers, the Western Railway (WR) criticised the move as travelling on the footboard of a local train is an offence under the Railway Act, dna reported.
WR has also sent the event management company that orchestrated the promotional activity a notice regarding the same.
WR's chief spokesperson, Ravinder Bhakar, told the newspaper, "Inspite of the terms and conditions to adhere strictly to safety and security during shoot, shri Anil Kapoor allegedly seems to be leaning from the footboard of a local train during a promo shoot, as observed from videos through social media. An explanation has been sought from production company M's Market Men Consumer and Events Pvt Ltd in this regard."
According to toIndia Today, an NGO called Sahas Foundation, has also filed a complaint against the actor. "Anil Kapoor is very senior actor and has got lot of fan following not only in India but also in other countries. His stunts may encourage some fans to copy him and they may get injured. That's why we have filed a complaint against him," Sayed Furkan Ahemad, president of SAHAS Foundation, told the pubication.