ASSOCIATED PRESS
Makers of the world's cheapest phone Freedom 251 has made another cheap gadget for the Indian consumer. Ringing Bells today launched an LED TV which is named Freedom 9900. The TV has been priced at ₹9900. The company launched a TV and a total of six phones including two new smartphones at an event in Delhi.
The company will also be rolling out the first phase of the delivery of the Freedom 251 phones. In this phase, Ringing Bells will be delivering 5000 phones. The consumers have been chosen from a lucky draw across different states.
The Freedom TV is a 31.5 inch unit with two USB and two HDMI ports. The resolution of the TV screen is 1344 x 786 and it also has two 3 watt speakers. The company said that you can book the TV today but the deliveries would start from August 15. Earlier it was reported that the registrations would start in July.
The CEO and owner of the company Ringing Bells Mohit Goel had said earlier that they have a total of 1 lakh units of Freedom 9900 TVs ready to be shipped.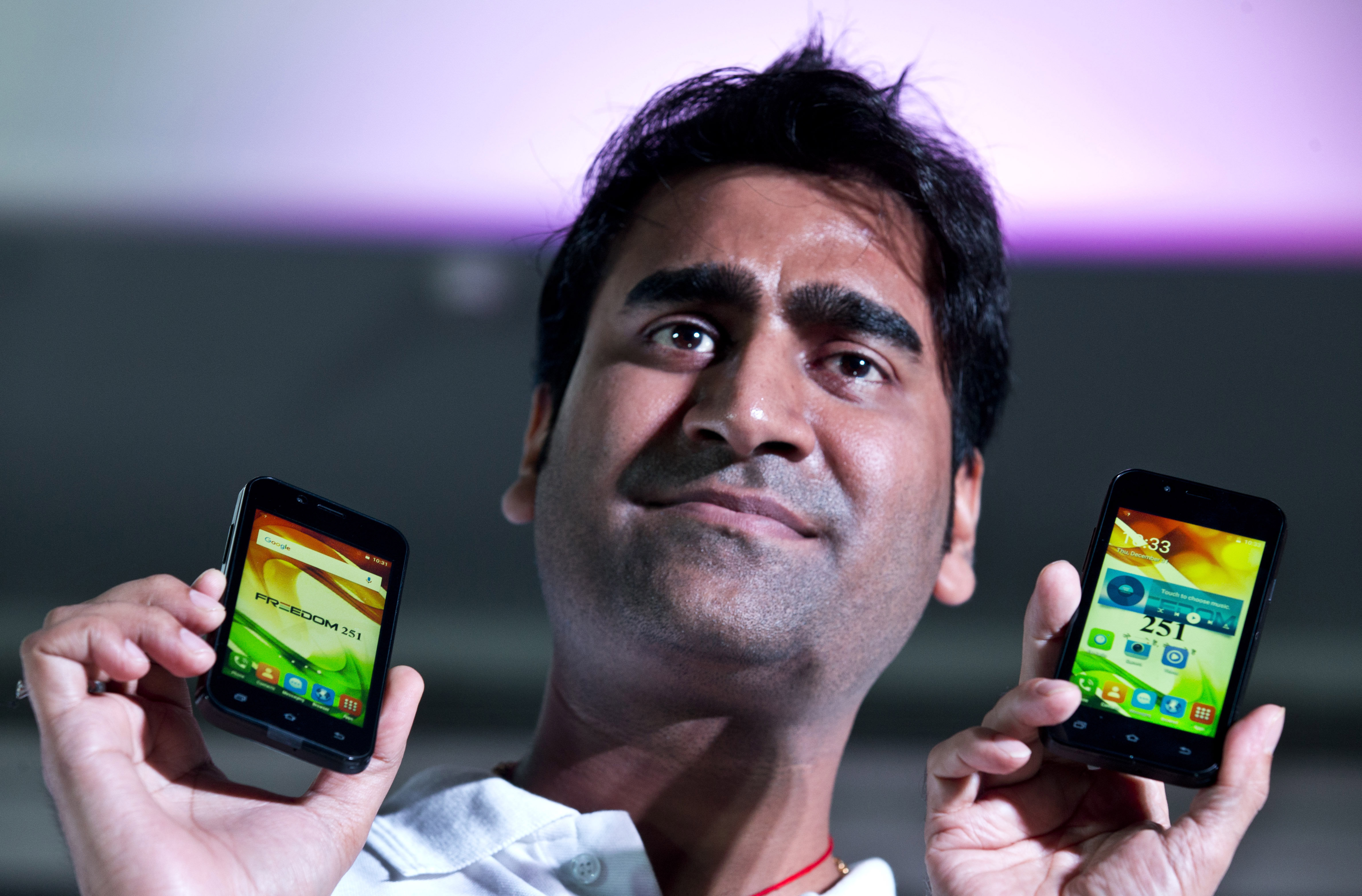 Apart from the TV, the company launched a total of six new phones. These phones include four feature phones and two smartphones. The four feature phones are named Hit, King, Boss, and Raja. The prices for these phones are ₹699,₹ ₹899, ₹999 and ₹1099. Surprisingly prices for all of them are considerably more than their most popular smartphone offering Freedom 251.
The phones have very basic specifications with the lowest end Hit having a 1.8-inch display, 2 MP camera, and 1250 mAh battery. While the most expensive Raja has a 2.4-inch display and a 2200 mAh battery. The other phones have minor differences in the internal memory and battery life.
Ringing Bells also launched two smartphones. This time, these smartphones have more believable specifications and price points. The two phones are named Elegant and Elegance. While Elegant is priced at ₹3999 Elegance is priced at ₹4499. The difference of ₹500 is due to the battery size. Elegant has a 2500 mAh battery while Elegance has a 2800 mAh battery.
Other specifications of the phones are the same. Both feature a 5 inch HD display. Under the hood, there is a 1.3 Ghz of a processor with 1 GB of RAM. The rear camera is 8 MP and the front camera is 3.2MP. The phone will start delivering sometime next month.
Earlier Goel had asked the government for an investment of ₹50000 crore. "The government can make the phone -- under our Freedom brand -- from some other vendor. I have no objection to it. To make such phone for every Indian citizen, the government needs to allocate funds from its Digital India initiative. The motto behind the company is to fuel the Make in India and Digital India movements," said Goel.