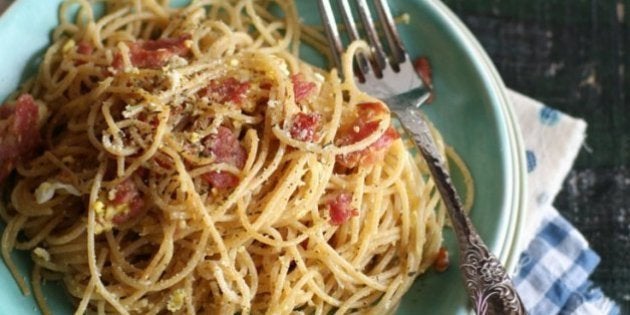 Tonight it looks like your place is where every one's headed after a night out. With these must-haves in your fridge, you've got a delicious after-party made:
Coconut water, baby kale or swiss chard, Amul cream, blue cheese, Indian gruyer or parmesan cheese ( not yet grated), honey- ideally wild, hearty whole Dijon mustard, quality mayonnaise, linguine or angel hair pasta, pairs. Also- olive oil, apple cider vinegar or balsamic, baguette, home-made cooked and pureed tomato marinara sauce*, zucchini.
Coconut water, that incredible liquid which when used in place of tonic or soda makes your gin, white rum or vodka taste sublime. Buy fresh coconuts, pour out the juice into a dish and freeze or refrigerate for when you need it. When serving make sure your glasses are shiny and clinking with big cubes of ice.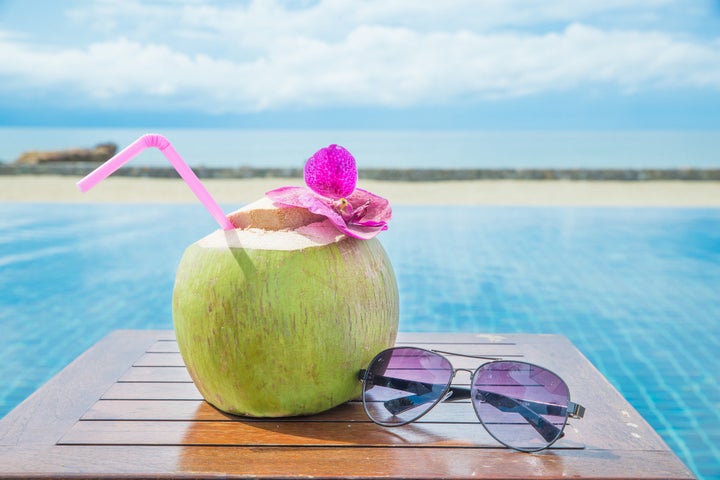 Then disappear into the kitchen and produce a salad of crunchy greens like baby kale unsliced, or swiss chard sliced thin. These leaves for which you will have to visit a slightly pretentious organic type store are worth it for they have more crunch and substance than a bag of mixed lettuce. Gauge the mood of the room. If they are in the mood for blue, then crumble a knife edge worth of blue cheese into the vinaigrette dressing ( made with a couple of spoons of olive oil, a spoon of vinegar, salt ,and sugar) and coat well into the salad. Add a few slices of pear. The result is amazing and verging on gourmet.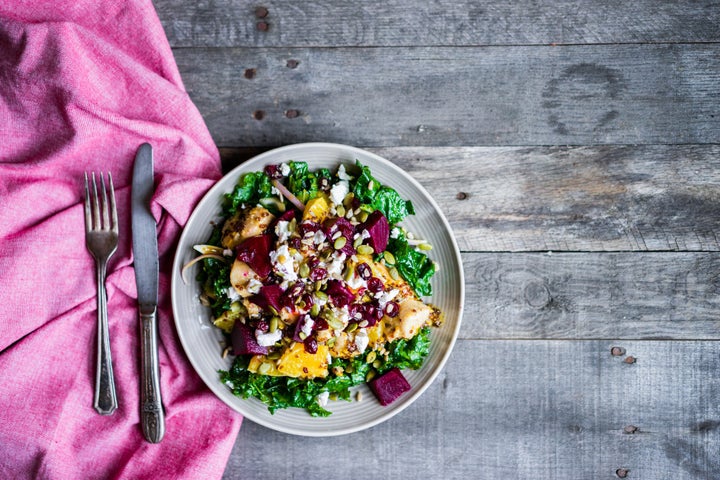 Salad option 2: Use only the greens. Do a honey mustard dressing by add a generous spoon each of honey and the mustard to your vinaigrette and thinly slicing several pieces of the yellow hard cheese on top of your greens before you launch yourself into kitchen stardom.
*Either salad can be served on a flat vintage platter, over-sized ceramic or wooden bowl and always with a long serving spoon and fork.
If your friends look hungry for more and you are in the mood to impress further, boil up one of the most elegant fast cooking noodles in the word- angel hair pasta. Heat a spoon of home-made marinara sauce*, add a small dollop of cream. Spoon onto the cooked pasta and toss together. Add more olive oil and check for salt. Slice and saute until slightly charred, a zucchini. Place the zucchini casually on top of the pasta. You're done. Chili flakes on the side will only make them love you more. Serve small- ish quantities in larg-ish bowls.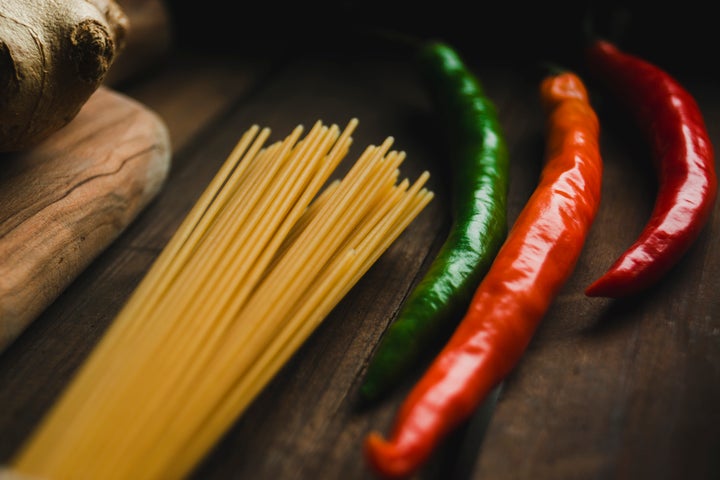 *For the home-made marinara sauce saute half a medium onion and 2 cloves of crushed garlic in olive oil until soft. Add two diced tomatoes. Cook for about 15 minutes during which you add a pinch each of salt and sugar. Once the tomatoes are fully cooked, allow to cool and the puree in a blender. Put in a jar in the fridge where it can keep for 2-3 days.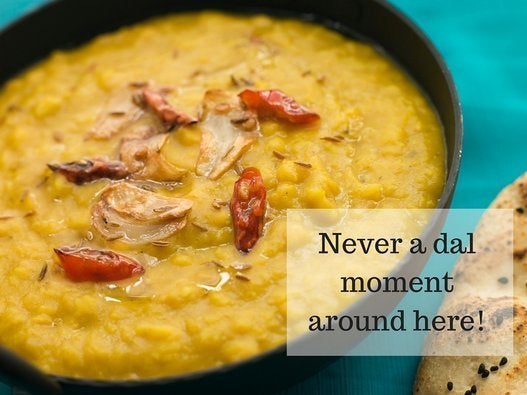 The Best (Or Worst) Desi Food Puns You've Ever Heard!