ASSOCIATED PRESS
NEW DELHI -- It is still not certain whether the monsoons will be as "good" this year as early forecasts suggest, but at least the rains are here and are making their way across India, bringing long-awaited and direly needed succor to millions in 13 drought-ravaged states. It comes as a massive relief that people in the worst-hit areas will have water to drink and so will their animals who were otherwise dying of thirst in the thousands.
What is troubling though is that even as farmers from Bundelkhand are still making their way to Delhi to toil as labourers, the drought is a rapidly fading subject in the national conversation, with everyone convinced that the rain gods will take care of everything.
Sure the rain will ease water shortages, but literally millions of farmers will not have food or jobs until October, when they harvest the Kharif crops such as millet and rice. Nor will their animals have fodder until then. Activists have pointed out that farmers -- who have not received compensation for crop losses and have not been able to avail of fresh loans because the repayment period on their previous crop loans hasn't been extended, will have a very tough time preparing for the next sowing season.
Moreover, the monsoons need to play out for a full cycle before one can gauge their impact on the crops and the drought. The rains are already 16 percent deficient, and planting of major crops is 24 percent lower than what was sown by this time, last year. When it rains and how much are critical to the quality and quantity of the next crop yield, and even if all goes well, a spell of excessive rainfall or untimely hailstorms can ruin perfectly good standing or harvested crop.
So while all have taken heart in the forecast of a good monsoon, the groundwater is so depleted that there is no guarantee of an abundant yield of Rabi crops, which are sown in November and harvested in the Spring. Activists are warning that thousands of farmers could once again be caught in the vicious cycle of poor yield and high debt, which has already claimed so many lives.
"The monsoon does not end the drought. It does not rain foodgrain and fodder," said Nikhil Dey, a social activist, who works with the Mazdoor Kisan Shakti Sangathan in Rajasthan. "The first rainfall does not mean anything. We are only at the start of the monsoon season, and already it is late in some places. It will be several months before we know whether the rains have made any difference."
It does not rain foodgrain and fodder.
Recurring droughts in India are the consequence of bad polices and apathy as much as of consecutive monsoon failures and climactic changes. Certainly, one can't pin this disaster on the ruling Bharatiya Janata Party-led government. But the government at the Centre definitely shares the blame for its callous response to the humanitarian crisis, for which it has been rebuked by the Supreme Court many times this year. In their harshest reprimand, Justices M.B. Lokur and N.V. Ramana, said, "Social justice has been thrown out of the window by the Government of India."
The rain gods cannot perform miracles year after year. It is vital for the Centre to establish permanent safeguards that blunt the severity of droughts and ensure that people don't suffer as dreadfully as they have this year and in the past. To this end, the Modi government should consider taking five critical steps which will go a long way in preventing farmer suicides.
Social justice has been thrown out of the window by the Government of India.
READ: Don't Just Blame Climate Change, India's Drought Is Manmade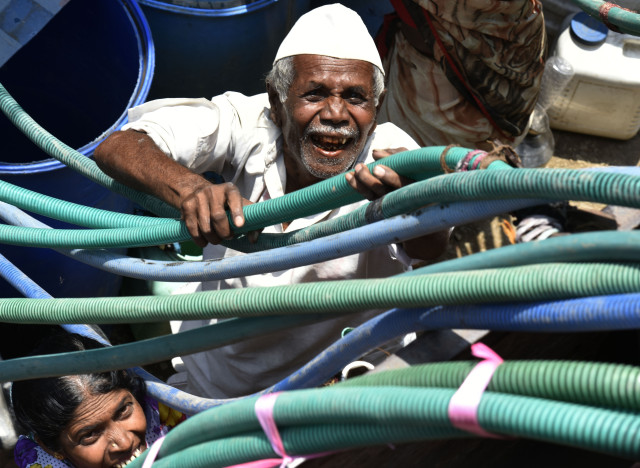 Villagers of Masurdi have to queue for three hours for a water tanker on April 11, 2016 in Latur, Maharashtra.
Water For The People
This first step has to be taken when the monsoons are delayed or have failed, and people are plagued by acute water shortages brought on by a prolonged drought. All trends indicate that these extreme situations are becoming more frequent, and so, the Centre must work with state governments to establish a protocol that ensures that the limited stock of water--both surface and ground--is used first and foremost for the purposes of drinking and other domestic needs of the drought affected.
It really is unforgivable that thousands of litres of water was wasted in preparing helipads for politicians to land their helicopters in parched areas such as Latur and Bhiwandi in Maharashtra, and in Lalitpur in Uttar Pradesh.
"Don't waste a drop of water on anything else," said H.M. Desarda, an economist, who has filed a petition in the Bombay High Court, seeking a better response to the drought from the Maharashtra government.
Don't waste a drop of water on anything else.
Food: Ensure Implementation Of The National Food Security Act, 2013
Implement the National Food Security Act, 2013, (NFSA) which provides subsidised food grain to 67 percent of India's population, including rice at ₹3 per kilogram, wheat at ₹2 per kilogram, and coarse grains at ₹1 per kilogram. Every eligible household is entitled to 5 kilograms of food grain per person per month.
In view of desperate food shortages, the Supreme Court has ordered that food grain be released to anyone who can show proof of residence or identity even if they do not have a ration card.
But the Centre is not following through on Supreme Court's directive, according to Yogendra Yadav, former leader of the Aam Aadmi Party, who now heads Swaraj Abhiyan, a non-governmental organisation, which has taken the Modi government to court over the drought.
"Universal access to food-grain in drought-affected areas has not happened anywhere and no state is anywhere close to implementing this critical directive for the mitigation of hunger. The union government is not willing to accept its responsibility in this respect," Yadav told the media, last week.
Universal access to food-grain in drought-affected areas has not happened anywhere.
With the exception of Kerala, Tamil Nadu and Nagaland, 33 States and UTs have rolled out NFSA. But even in the states where the law is being implemented, experts point that NFSA is plagued by problems such as identifying eligible households, leakages due to lack of procurement, transport and storage infrastructure, and corruption in Fair Price Shops.
Dipa Sinha, a Right to Food activist, said that making cheap food grain available does not beat hunger and malnutrition, but it is essential to combat starvation. Sinha also suggested expanding the Public Distribution System to include pulses and oil so that people have some source of protein and fat.
"All this needs getting out of routine bureaucracy and treating this like an emergency," she said.
All this needs getting out of routine bureaucracy and treating this like an emergency.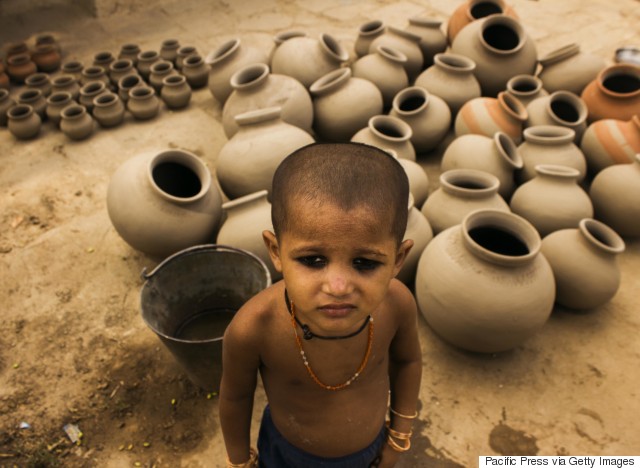 A child in Bundelkhand, Uttar Pradesh, suffering from drought, suicides, and starvation in April, 2016.
Jobs: Ensure Implementation of MGNREGA, 2005
The Centre needs to ensure the implementation of the Mahatma Gandhi National Rural Employment Guarantee Act, 2005, which guarantees 100 days of employment in a year to every rural household whose adult members are willing to do unskilled manual work. The Modi government guaranteed an additional 50 days of work in drought-hit areas.
In a drought situation, MNREGA is an alternate route for people to earn some money to buy food and other necessary items. Failure to implement this scheme will result in rural to urban migrations of the kind being reported from Bundelkhand.
The Union Government has allotted ₹38,500 crore for MNREGA in the 2016-2017 Budget, but Anupam Singh of Swaraj Abhiyan estimates that double that amount is needed to take care of requirements under the scheme. "Government should plan and release for actual requirements on the ground," he said. "MNREGA is a demand-driven scheme, but they are turning into a supply driven scheme by creating a funding gap."
Dey said that the Centre still had to pay compensation on the delayed wages and to clear pending liabilities worth ₹2,500 crore. "MNREGA simply can't function without funds because delays in payment means that people won't come," Dey said. "Even the 150 days is just a symbolic gesture."
MNREGA is a demand-driven scheme, but they are turning into a supply driven scheme by creating a funding gap.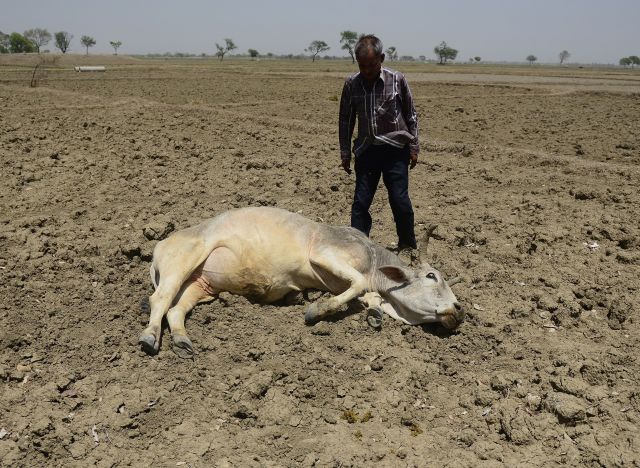 A farmer tries to revive his cattle dying on an unploughed field during a water crisis in Gondiya village, 45km from Allahabad, Uttar Pradesh on April 21, 2016.
Fodder For Livestock
Activists say that acute shortages of fodder for livestock is a huge problem, which has received the least attention in this crisis. Livestock such as goat and cattle are a supplementary source of income in the hinterlands, but these animals become a lifeline when farmers can no longer rely on their crops.
While there is no official figure, thousands of animals are estimated to have died from abandonment, starvation and thirst in the drought. The monsoon will bring drinking water for the animals, but there won't be enough fodder until the next harvest in October.
Experts noted that there is no plan, policy or scheme in place to facilitate the speedy movement of fodder from one place to another in bulk. The Centre needs to make arrangement for the transport of fodder from surplus areas in the country and move them to drought-hit states. The government also needs to make the Indian Railways available for state governments to move fodder from surplus to deficit areas within a state.
Keep Hope Alive
Thousands of debt-ridden farmers killed themselves because they no longer believed that their situation could get better. The most important lesson for the Modi government to draw from this tragedy is that it is absolutely vital to keep hope alive.
In times of crisis, the Centre should work with state governments to launch an outreach program in which popular leaders--local, regional or national--visit the worst-hit areas, and send out public service messages on television and radio, encouraging people not to lose hope because help will reach them.
Bollywood actor Nana Patekar stands out for taking the time to listen and sympathise with farmers who have lost everything. "When I see the farmers, I don't see them, I see myself. I understand why take such drastic steps...I can see their hopelessness, their shame in it. And for a man, that is a horrible feeling," he said in a television interview.
No one is better suited to send out messages of hope than Prime Minister Narendra Modi, a hugely popular speaker, who has a gift for connecting with his listeners. But any such effort on Modi's part will have to be more serious than a shout out to the farmers from time-to-time on his fortnightly radio programme.
READ: Nana Patekar Explains Why We're All Responsible For Farmer Suicides In Maharashtra
If you struggle with suicidal thoughts or attempts, call any of these helplines: Aasra 91-22-27546669, Sneha 04424640050, Jeevan 0091 6576453841, Pratheeksha 0484 2448830.
Also on HuffPost India: