MONEY SHARMA via Getty Images
Among the most recent tweets on Subramanian Swamy's Twitter timeline , one is a retweet of the following tweet: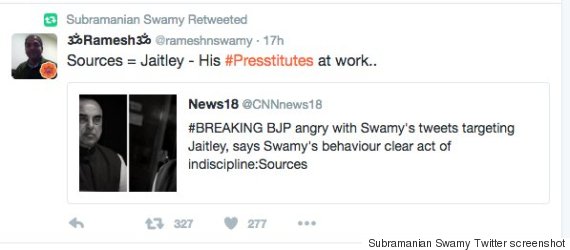 It doesn't take a genius to figure all's not well between Swamy and Jaitley. On 22 June, after Swamy tweeted, demanding chief economic adviser Arvind Subramanian be sacked, Jaitley issued a statement saying he had full faith in the CEA.
Swamy, not known to take snubs too kindly, seems to have gone all guns blazing after Jaitley.
PTI reports that it's not just Jaitley who is miffed with Swamy, the entire BJP is. "Party sources said there was concern in the organisation and the leadership over the unbridled criticism aimed at the Finance Ministry and today's threat of a "bloodbath" over being asked to be discipline. Sources indicated the party was not in a hurry to act against Swamy, a Rajya Sabha member, and would adopt a wait- and-watch attitude for some time."
The same report also sought to clarify that Swamy also doesn't have the RSS' support, as suggested by some.
His own Twitter timeline bears the following tweets as evidence of the storm brewing between him and some of BJP's top leaders:
BJP should direct our Ministers to wear traditional and modernised Indian clothes while abroad. In coat and tie they look like waiters

— Subramanian Swamy (@Swamy39) June 24, 2016
Though he didn't take names, the tweet can be traced back to his feud with the finance minister - Jaitley is touring China and has been often seen wearing suits, especially black suits, making the waiter reference doubly problematic.
This was followed by a tweet that seemed like a thinly-veiled threat to the party:
People giving me unasked for advice of discipline and restraint don't realise that if I disregard discipline there would be a blood bath

— Subramanian Swamy (@Swamy39) June 24, 2016
Another tweet, posted right before the one on ministers and their wardrobes expresses appreciation for the Shiv Sena. It is in common knowledge that the Shiv Sena has been at loggerheads with the BJP. Most recently, in an editorial published in its mouthpiece Saamana, the party asked if PM Modi's Yoga Day can cure inflation. Swamy's tweet on Sena said the following:
I am happy to learn from Mumbai based PTs that Pro ShivSena Samna is backing my anti Babu corruption campaign

— Subramanian Swamy (@Swamy39) June 24, 2016
The Indian Express reports that senior BJP leaders were upset with Swamy's antics. "The leaders said that Swamy had overstepped the "limits of decency" while "weakening the foundations of the government" with his public criticism, including what could be construed as personal attacks against Jaitley," IE reports.
A senior BJP leader told the paper, "We can post tweets criticising him, too. But one cannot stoop to that level. We can no longer say that these are his personal views and that the party has distanced itself from him."