Mark Blinch / Reuters
Google has code-named the next upgrade of their Android operating system, Android N and, for the first time, has asked users to come up with a name for it at their developer conference, Google IO. Since then, users and fans have been suggesting and voting for a name on this website.
Not one to be left behind, Indian Android users have been coming up with names too, with Nankhatai and Neyyappam being among the top contenders. But it seems that currently, Nutella is leading the race. Google's senior vice president of Android, Chrome OS and Play store, Hiroshi Lockheimer, tweeted a screenshot which seems to hint heavily that the name of the next version of Android could be Nutella.
Just testing some stuff out... pic.twitter.com/6KPTEgXl9K

— Hiroshi Lockheimer (@lockheimer) June 15, 2016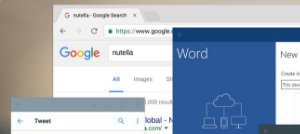 He left a hint in one of his windows where he has searched Nutella. Apart from that, he wrote a post in March where he said something similar. But it can be possible that all of this can be just a mirage.

An Italian company Ferrero is the owner of Nutella which is a hazelnut cocoa spread popular throughout the world. Google would be lured to strike a marketing deal with the company as it will fetch them a good amount of money. The search giants has had one deal in the past with Nestle to name one of their Android versions after Kitkat.
Last year Sundar Pichai was appointed Google's CEO. Since then it was expected that the next version of the Android operating system would be named after an Indian sweet because of Pichai's origins.
Yesterday, Google released an update to the developer preview of N. The update has the final APIs included and, in addition, has a so called Easter egg or a 'treat' that is hidden inside a software, an app or an OS. This particular egg had a weird name for Android N, all of which is basically developers having some fun.
Android Namey McNameface confirmed! pic.twitter.com/TPomJ4uyxe

— Marvin Ramin (@Mauin) June 15, 2016
Back in India, some days ago Malayalis were trying very hard to get the next version of Android named after their favorite snack, Neyyappam. There were many other submissions, such as Nachos, Nectar, and Noghl.
Who's up for Android Neyyappam? #Google#AndroidNeyyappampic.twitter.com/tH5v8bjh6y

— Arathi Mohan (@arathimohan26) May 22, 2016
Google has a history of naming versions of Android after desserts. Until now the versions have been named Cupcake, Donut, Eclairs, Froyo, Gingerbread, Honeycomb, Ice Cream Sandwich, Jellybeans, Kitkat, Lollipop, and Marshmellow.
Like Us On Facebook |

Follow Us On Twitter |

Contact HuffPost India