ASSOCIATED PRESS
Yesterday, midway through his speech at the US Congress, India's Prime Minister Narendra Modi used a baseball reference.
Yes, our Gujarat-born, India-bred, 65-year-old PM told a full house of America's leading legislators, "It is estimated that more Americans bend for yoga than to throw a curve ball."
The Indian PM almost seemed to have taken a leaf out of US President Barack Obama's book, whose famous reference to Shah Rukh Khan's 'señorita' dialogue in Dilwale Dulhaniya Le Jaayenge during a speech in India last year captured the imagination of millions of Indians who may have been otherwise indifferent to the political visit.
Modi has a history of charming foreign audiences abroad, peppering his speeches with local cultural references and finding an Indian connect to the nations he visits. While many may not be familiar with his politics, the Indian PM manages to make an impression in a style similar to his younger contemporaries from different countries. The PM understands how crucial this is while representing India on the world stage.
Take, for example, his latest overseas trip. In the past five days, the Indian Prime Minister has travelled to five countries, covering over 18,000 kilometres and five different timezones in what has been a pretty packed schedule. And in each of the countries he's visited, he has found ways of integrating Indian culture with local examples.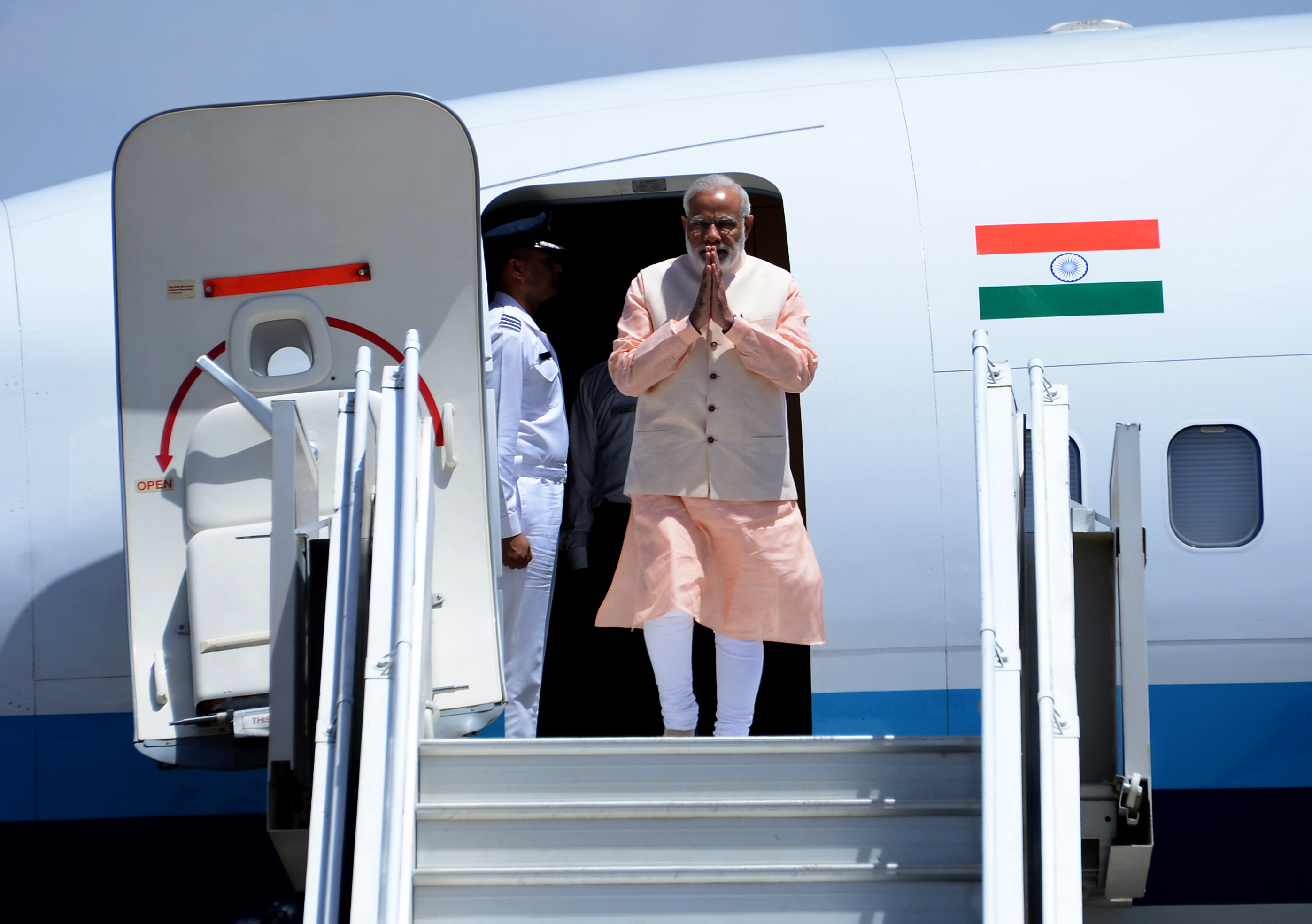 Indian Prime Minister Narendra Modi gestures as he arrives ahead of the inauguration of the Salma Hydroelectric Dam in Herat on 4 June, 2016.
Last Saturday, when he inaugurated the Afghan-India Friendship Dam with Afghanistan's President Ghani, he referred to the Quran's depiction of rivers as central to the image of Paradise. Drawing a comparison between the Muslim Holy Book and India's ancient scriptures, he told his audience how rivers defined India and were celebrated as "the giver of life".
In fact, he even spoke in Pashto, referring to a wise Afghan proverb: "Kabul be zar basha be barf ne: May Kabul be without gold rather than snow (as the snow feeds the rivers that sustain life and agriculture)."
Modi spoke about India and Afghanistan's shared history of the Harirud River, and acknowledged India's heritage of Sufism that came from the region. He did not forget to nod to present times, and wished for the success of Afghanistan's cricket team — one of the newest national sides in the cricketing world.
In Qatar, Modi ate snacks in a huge mess hall at a workers' camp in Doha, where they are working on an important project to develop the historical downtown of Doha. Sitting shoulder to shoulder with the workers, many of them immigrant Indians, Modi's easy interaction touched a chord.
Smiles and snacks in Doha...my first programme in Qatar was a visit to a Workers' Camp in downtown Doha. pic.twitter.com/vgQwZdZssX

— Narendra Modi (@narendramodi) June 4, 2016
A day later, in Switzerland, he did not miss the Bollywood reference to Swiss landscapes, which have been made famous by Indian filmmakers like Yash Chopra. Nor did he fail to mention Swiss tennis champion Martina Hingis' pairing with Indian players like Sania Mirza and Leander Paes, which has been extremely successful.
Besides the baseball reference in the USA, Modi also compared the brave sacrifices of soldiers in India and America for similar ideals of liberty and freedom. He invoked American author, poet, and philosopher Henry David Thoreau's idea of civil disobedience to draw parallels with India's own civil disobedience movement, and spoke about how Swami Vivekananda and Gandhi had influenced America and Martin Luther King. He acknowledged Columbia University's teachings that influenced Dr. B.R. Ambedkar in drafting India's Constitution.
He applauded the "genius of Norman Borlaug", an American biologist and Nobel prize winner, who is called the "father of the Green Revolution" that helped secure India's food security.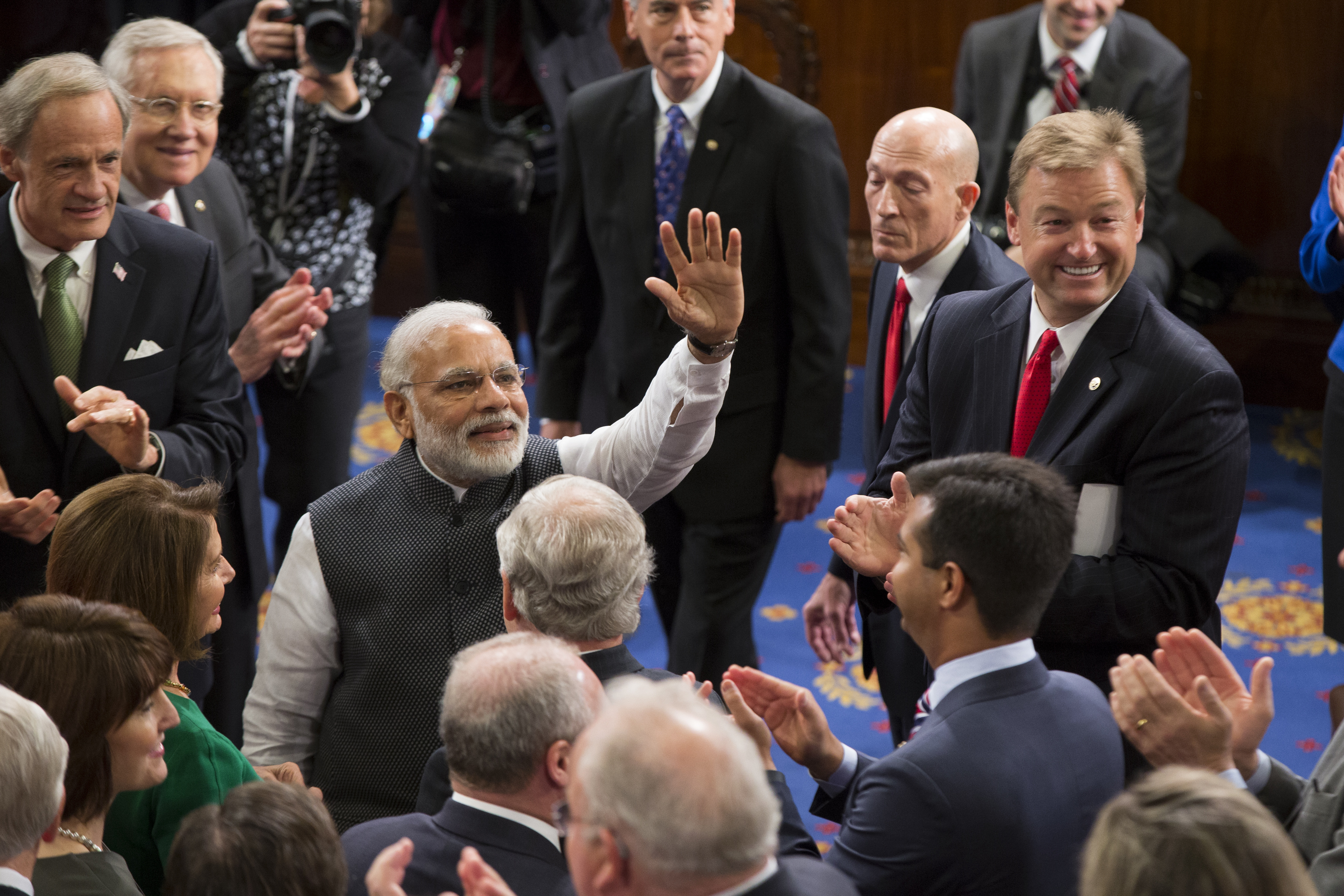 Indian Prime Minister Narendra Modi waves before addressing a joint meeting of Congress on Capitol Hill in Washington, Wednesday, 8 June, 2016.
A tongue-in-cheek reference to 30 million Americans practicing yoga, which India has "not yet claimed intellectual property rights" on, helped Modi connect to the legislators and the millions who watched the address on their televisions and on the internet. Signing off with a quote from American poet and journalist Walt Whitman, Modi (and his speech writers) displayed a deep understanding of speaking to a local crowd, designed to connect at various cultural and emotional levels.
His last stop, at Mexico, included a speech where he quoted Mexican poet and diplomat Octavio Paz, "I can understand what it means to be Indian, because I am Mexican." He added, "Of course, it is true the other way too!"
This could very well be his own refrain, in every country he travels.

Also See On HuffPost: