TOI
Leela Samson, former chairperson of the Central Board of Film Certification (CBFC) has posted a heartfelt letter on her Facebook page addressing the raging controversy over the board's questionable decision to censor the upcoming drama Udta Punjab.
Samson, who resigned in January 2015 after four years of heading the body that operates under the Ministry of Information and Broadcasting, had said at the time that she was stepping down because of "interference, coercion and corruption of panel members and officers of the organization who are appointed by the ministry".
Also Read: Here Are All The Cuts The Censors Want In 'Udta Punjab'
Late on Wednesday evening, she spoke up in support of Udta Punjab, saying that the Board had 'slaughtered yet another film.'
Here's the full text of her letter, posted on Facebook.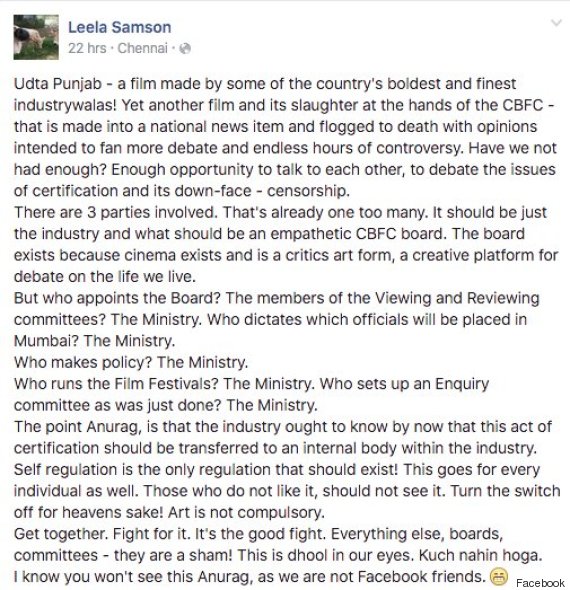 At a press conference held yesterday afternoon, an army of writers, filmmakers and actors gathered at Juhu, Mumbai to register their protest against the draconian ways of the Censor Board, with film producer Mukesh Bhatt calling for the "immediate sacking of Pahlaj Nihalani".
However, Nihalani remains defiant and unapologetic about his stance on the Udta Punjab controversy while the Ministry of Information and Broadcasting has largely kept mum on the issue.
Also see on HuffPost: