Hindustan Times via Getty Images
When the violent Jat agitation was underway in February, killing 30 people and destroying public and private property, the state administration was wringing its hands. Around 90 police and administrative officers have been indicted for failing to act, according to a report filed by the Prakash Singh committee that was appointed by the Haryana government to probe the state's response to the agitation.
The report blamed "highest functionaries" in the government for failing to show "the kind of guidance, direction and control" required in such a situation, reported The Indian Express on Tuesday. The 451-page report had been filed to the Haryana government earlier this month, and is yet to be made public.
According to the Express report, four IPS and three IAS officers indicted in the report have already been transferred. These include the then additional chief secretary (home), PK Das, who reportedly did not issue any directions on handling the agitation, as well as the then director general of police, Yash Pal Singal, who did not visit the areas where the agitation was taking place, nor did he allow his deputy to do so.
Das apparently claimed that he had "issued directions" on Whatsapp.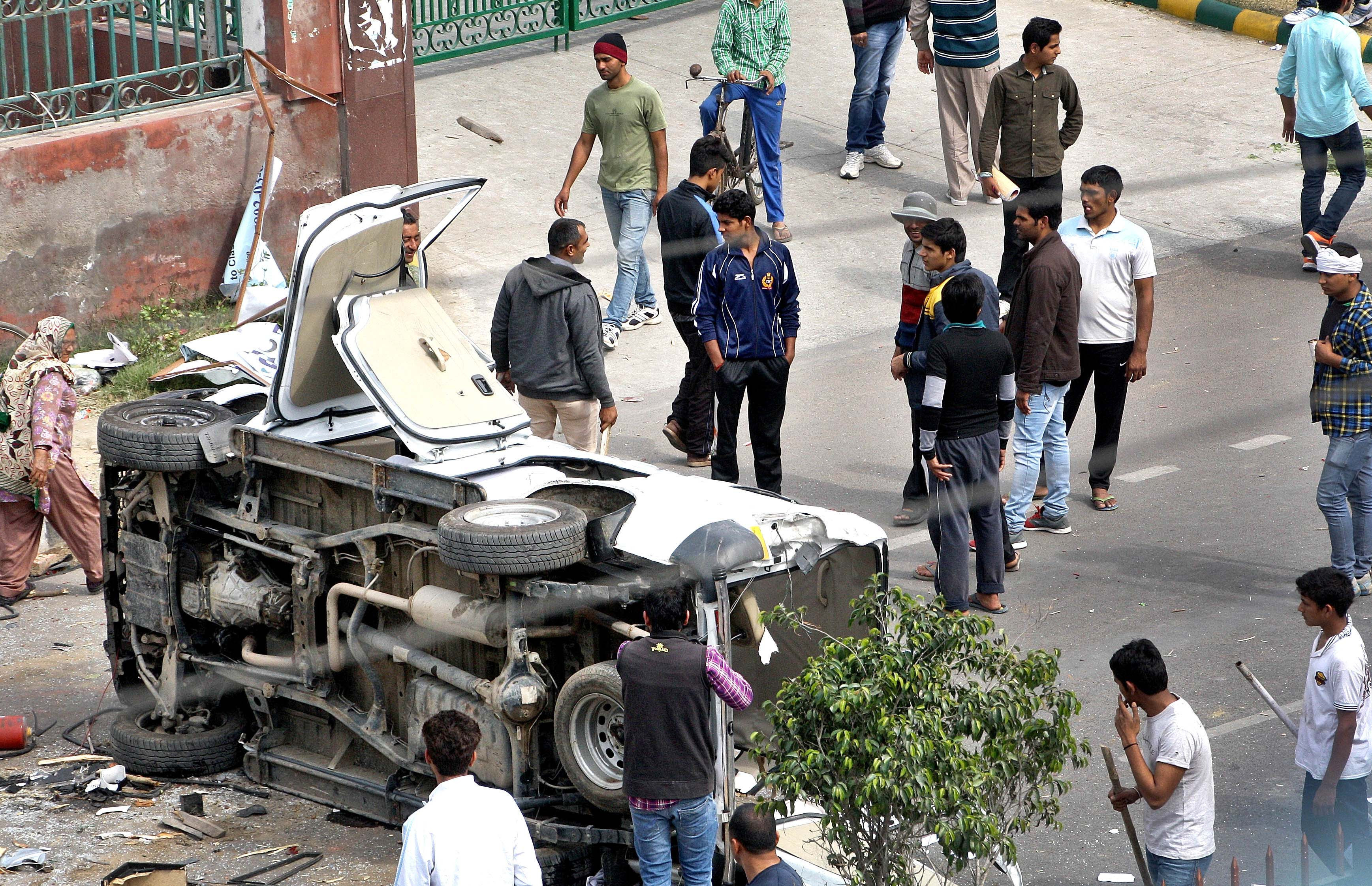 Members of the Jat community protest for reservations in government services, as they throw stones at police personnel hiding behind main gate of Rohtak range IGP's office, on 19 February, 2016 in Rohtak, India.
Meanwhile, 13 others named in the report have been suspended. These include deputy superintendents of police and state civil service officers. It was either cowardice, or lack of administrative support, and sometimes even a 'caste-bias' that made officers spectators instead of enforcers during the agitation, the report found.
Damning observations reported in Indian Express:

"It [The report] has found that officers displayed cowardice, or hesitated to take strong action for fear that they would not be supported by the government, or deliberately avoided doing so because they had 'a caste bias' which translated on the ground into 'inaction against the rioters, connivance with the vandals, absence from duty/ desertion, abetment of the hooligans'."
"[O]fficers at the district level, barring a few honourable exceptions, just did not rise to the occasion," according to the report. "They were either unequal to the daunting situation they faced or they could not mobilise the full strength of the officers and men under their command, some of whom went missing or deserted their duties."
The report did not indict present Haryana chief minister Manohar Lal Khattar, though it blamed former CMs who, it claimed, had "eroded the authority of certain institutions".
The Jat community has threatened to renew their agitation next week.
Like Us On Facebook |

Follow Us On Twitter |

Contact HuffPost India

Also See On HuffPost: