Pacific Press via Getty Images
KOLKATA--The final tally is not out but it's clear Mamata Banerjee's great gamble has paid off.
She had shrugged off the demons of Saradha and Narada, syndicates and flyovers and declared with a certain bravado that she and only she was the candidate in all 294 seats in Bengal.
She had asked her voters to take a leap of faith, ignore the ministers who had popped up in sting videos and vote for her.
And they did. Handsomely.
Trinamool is predicted to take 210-220 seats in Bengal and the "jote" of the Left Front and Congress will be left licking its wounds unable to make it even to double digits.
As television screens erupt with a scenes of ecstatic Trinamool supporters covered in green gulal, singing and dancing, the Left Front and Congress have to face up to the bitter truth.
While the exact voting precentages are yet to come the Bengal electorate has rejected them resoundingly. Trinamool has won in cities, in towns, in villages. Even the supposed metro disillusionment with Trinamool was not enough to make a dent. There are theories abounding. Some said they had counted on a vote share from the BJP coming their way but that did not happen. Others said the campaign had lacked a common manifesto and no one believed the understanding would stick.
But this was the failure of the "jote" as much as it's the success of Mamata Banerjee. An analyst on 24 Ghonta news channel said that having visited many villages in Bengal, he had felt the opportunistic alliance was "suicidal". He had met many Congress supporters who had said they had been tortured and attacked by the CPM during its reign in Bengal and they could not stomach the idea of voting for a CPM-Congress understanding.
Assembly Election 2016 Results Live: BJP Calls Assam, Mamata Set To Win Bengal, Amma Comeback In TN
Derek O'Brien, Trinamool MP, had said people would not forget the 55,000 Congress workers allegedly killed over three decades of Communist rule. And voters did not. But more than that voters showed they did not think the Left had learned its lesson.
All this leaves the Opposition with very few options in Bengal. If the Congress and CPM fight separately they split the votes. But if they fight together they cannot erase the history of bad blood.
The BJP which once had no seats in the Assembly, and then snuck into one in a by-election now may end up with 6-7 seats. They have reason to be happy. While they are not kingmakers they can play spoiler in Bengal for Congress and the Left and they can say their star is rising in Bengal at least when it comes to seats in the Assembly.
The other opposition parties have no such silver lining. The Left Front is no longer the principal opposition party in Bengal.
When Buddhadeb Bhattacharya and Rahul Gandhi addressed their joint rally in Kolkata, Buddha-babu told the crowd that they needed to bring back the Left Front because the CPM knew how to govern. That showed right there that the party had not learned its lesson from 2011. The former CM never acknowledged the mistakes and hubris that had toppled the Left in Bengal. His speech made it sound as if it was the voters who had a mistake and now having realized their mistake should return into the forgiving arms of the Left.
It was not for the Left to forgive the voters. It needed to be the other way around. And a party that had spent 34 years in power could not really say with any great justification that 5 years was enough for the party that toppled it.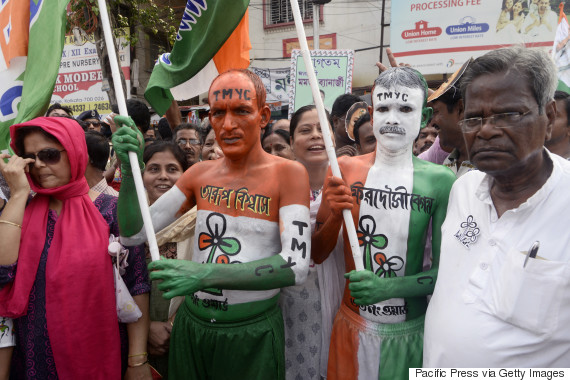 Until close to the election everyone had thought Mamata Banerjee would cruise to victory and this election would be a snooze. The artificially stitched alliance, born out of a desperation to survive, injected some drama into the election. But the results made it clear that the drama was more a daydream than anything else.
There have been instances where this alliance had worked. In Siliguri, in north Bengal, the CPM's Ashok Bhattacharya has emerged as one of the party's few bright lights. An "unofficial understanding" there had allowed the Left and Congress to win 27 seats to the Trinamool's 17 in municipal elections. That had led to the hopes that a "Siliguri model" could be replicated throughout the state and Sitaram Yechury had made a pitch for it. But that groundwork was lacking in the rest of the state and the Siliguri model built up with the help of tea garden workers and CITU members could not just be superimposed on the rest of the state. The Siliguri model could not be replicated.
What does this mean for an ecstatic Trinamool? They expected to win but now they can claim a mandate. A rather unsmiling Mamata Banerjee in her first post-poll conference made it clear what she thought.
"No corruption is there in Bengal. Bengal is a corruption-less state" she said. The election results have basically wiped the slate clean for Trinamool. No introspection will be on the menu.
Mamata Banerjee deserves full credit for her victory. The Opposition had admitted that elections were largely free and fair in Bengal. Mamata had complained that the Election Commission had gone overboard. But despite that she won thumpingly. It shows her support base in the state is strong. There was no need to resort to any underhand means, no need to take recourse to the kind of measures that marred the municipal polls in the state.
That's what makes her paranoia and insecurity and sense of victimhood even more tragic.
Will Mamata Banerjee be magnanimous in victory? It's unlikely. She is already talking about biased police persons and central officials who were brought in to try and ensure her party's downfall. "Don't open my mouth" she told a reporter who asked her about it.
In 2011 she had campaigned for badal (change) not badla (revenge). This time the decimated Opposition cannot be sure that it will not be the other way around.
Also See On HuffPost: