Taj Hotels
Globally recognised for their hospitality and lavish amenities, high-end Indian hotels can also be the best places to visit for a trip down the country's rich cultural history, thanks to their vast collection of rare art work. Several hotels have managed to seamlessly combine these artefacts with modern oeuvres that showcase the immense talent across the country — a real delight for any art enthusiast. A classic example of this is the Taj Mahal Palace, an iconic hub for art lovers, that took over a year to restore after the damages sustained during the 26/11 attacks.
There are a handful of boutique hotels that also offer art-specific programmes in the form of workshops with local artisans, thereby giving guests a chance to mingle with artists from all over the world. An excellent example is the Art Inn in Jaipur, that has been providing a quiet sanctuary for art lovers to learn local skills such as blue pottery and miniature painting for over two decades.
Aside from catering to the typical art patron, many properties are undergoing art-inspired transformations which present a visual appeal that holds centuries of deep-rooted traditional art. For instance, the globally-recognised Ayurvedic retreat Kairali is refurbishing 30 villas to showcase some excellent local artistry, painstakingly sourced by its interior architects 'Untitled Design' from various villages across Kerala. This includes various forms of 'kathakali' art, practised in the entire world by three men in one particular village, says Amrita Guha, co-founder Untitled Design.
Given the spurt of growth in hotels, art-in-residences programmes, and boutique properties across the country, this is, by no means, the complete list. However, it offers a good start to anyone looking to envelope oneself in Indian-inspired art from every era.
ITC CHOLA, CHENNAI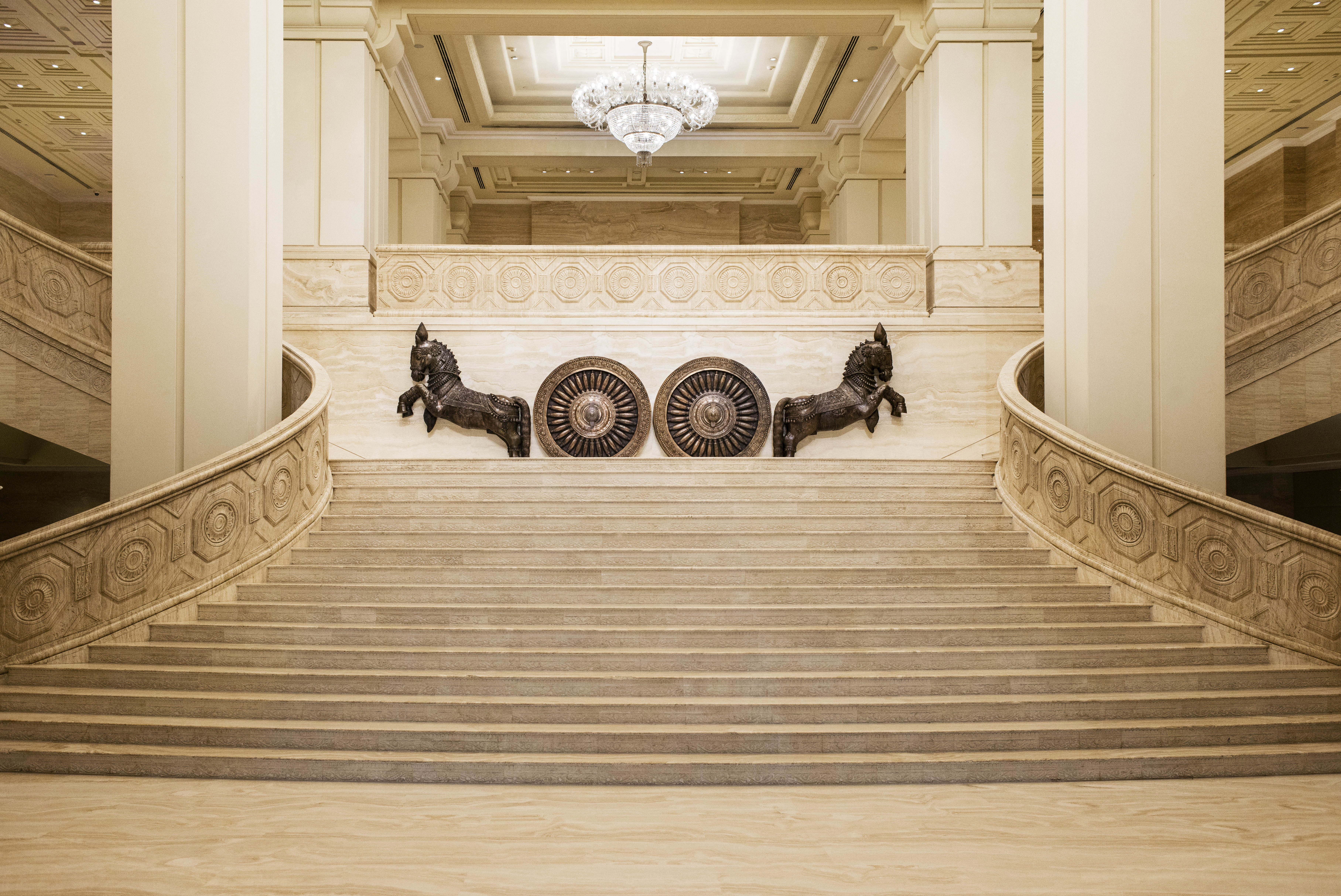 Spread over 1.5 million square feet, this ₹1,200 crore property's name justifies its connection to the city and the graceful Chola monuments that punctuate it.
Possibly one of the longest ruling dynasties in Southern India, the Chola dynasty left behind some magnificent architecture and design work. These 10th-12th century designs, thanks to the efforts of architects Smallwood Reynolds and Steward & Steward LLC, have been incorporated in the architecture. ITC Chola has borrowed heavily from the architecture of the magnificent Dravidian temple Thanjai Periyakovil — apparent in the intricate fretwork and delicately carved ceilings of the property.
The work of traditional sculptors from Mahabalipuram drapes the hotel's walls, while stucco columns (432 in all) in the form of carved elephants and four-petalled flower motifs stand tall.
The hotel also has four gateways facing the cardinal directions (Vallavan facing the north is the drop-off point for personalised check-ins to the Presidential Suites). But the west entrance, that leads to the Grand Staircase (Sangam), is a voyeuristic delight few guests can afford to miss. "The Chariot of Victory (shown in the picture above) is an embodiment of the influence and expanse of the Chola empires, and draws inspiration from the sculptures of the dynasty. Sangam has been conceived to recreate the awe-inspiring interiors of the palatial Chola temples and royal durbars," says Dipak Haskar, chief executive, ITC Hotels.
This relief was sculpted in the ancient 'lost wax process' and cast in 'Panchaloham', an amalgamation of the five metals of Copper, Zinc, Lead, Silver and Gold, sacred in its significance and symbolic in its tradition. The sculpture has been created by a Sthapathi (Master Sculptor) whose lineage dates back to the Chola Period. The Wheels and Horses are replicas from the Airavatesvara Temple, Darasuram, built by Raja Raja Chola II in the 12th Century AD and the Nageswaraswamy Temple, Kumbakonam, built by Aditya Chola in the 9th Century AD, respectively.
In addition to its beautiful artworks, ITC Chola has also been awarded the title of the world's largest LEED (Leadership in Energy and Environmental Design) Platinum Green Hotel. It has been built on the site of an old movie studio Narasu, and lies just eight kilometres from the airport in close proximity to Marina (Asia's longest beach).
TAJ FALAKNUMA PALACE, HYDERABAD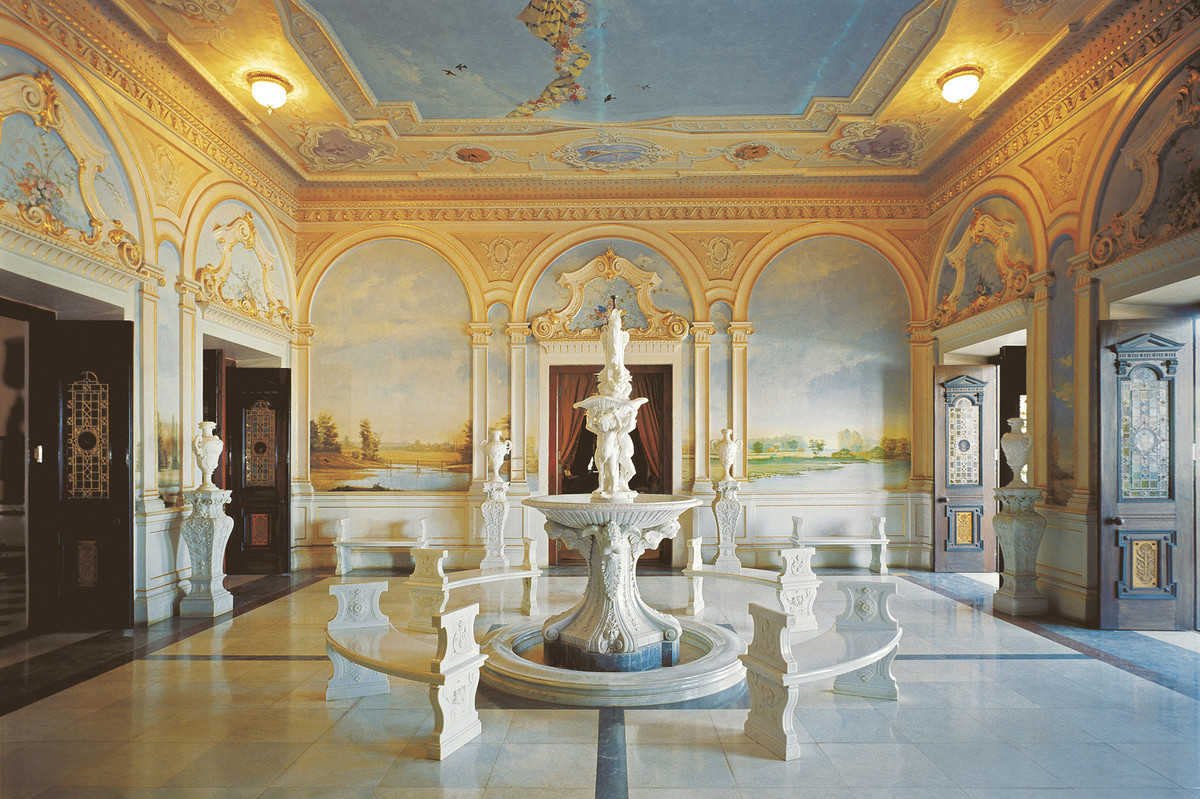 Assigned by the (then) Prime Minister of Hyderabad, Vikar Ul Umra in 1884, the construction of the stunning Taj Falaknuma Palace took a decade to complete, and became a host to several pieces of furniture and elegant chandeliers from across Europe that are over 115 years old, something that no hotel in India can boast.
"In 1895, the sixth Nizam of Hyderabad, Mir Mahboob Ali Pasha was invited for dinner, and amazed by the opulence and grandeur of the Palace decided to buy it from Vikar Ul Umra despite 17 other palaces," according to Prabhakar Mahindraker, palace historian. "Although it took the PM ₹4 million to build it, the Nizam paid ₹6.8 million and refused to take the Falaknuma as a gift. He continued to decorate it with precious items right uptill his death in 1911."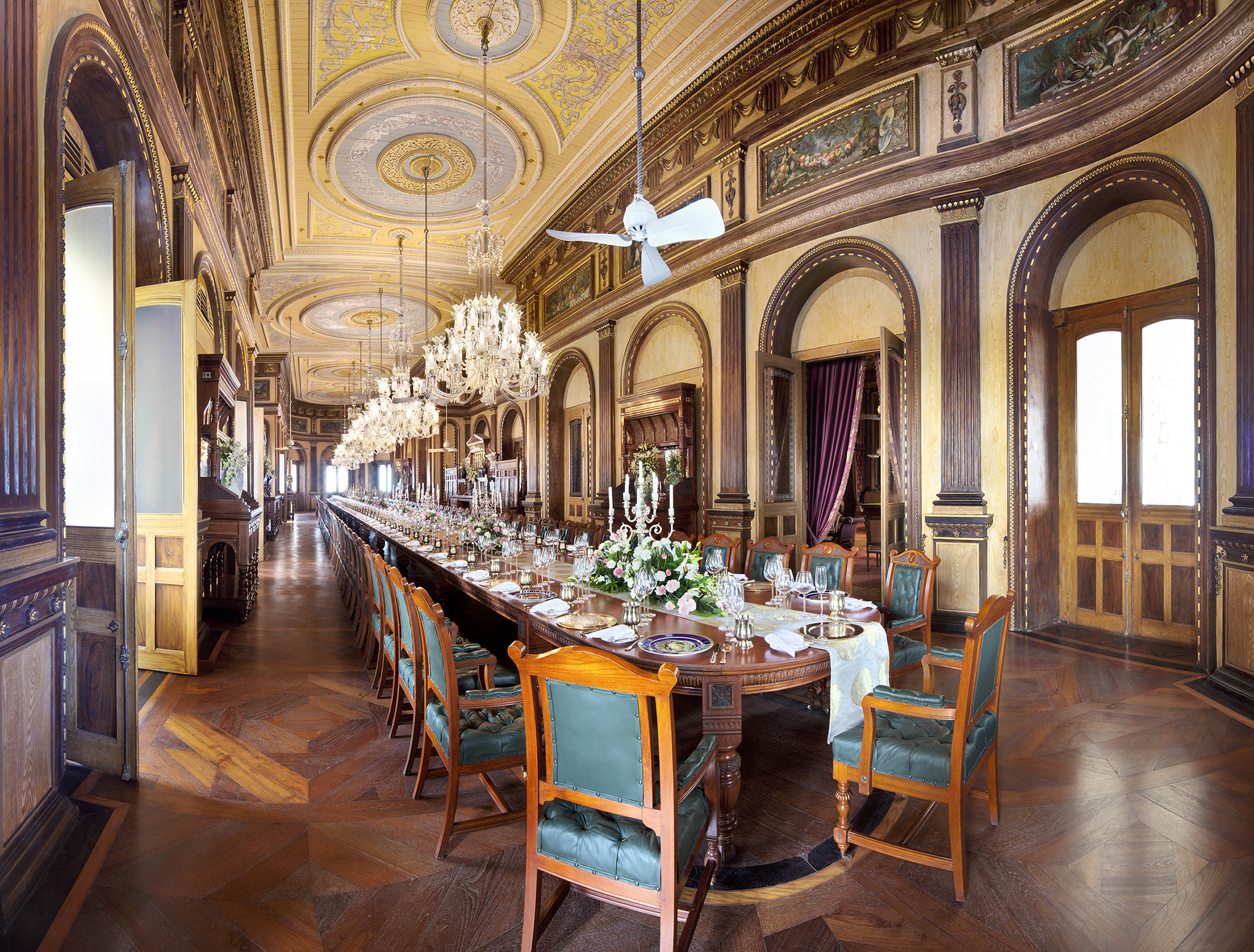 The dining room at Taj Falaknuma Palace
The Falaknuma Palace features architecture from both the Art Deco and Art Nouveau movements, a rare combination. Its lavish Mughal-styled gardens feature Rajasthani and Japanese influences. It also houses a billiard table, whose identical twin rests in UK's Buckingham Palace, in addition to a humongous collection of Venetian chandeliers, several priceless statues, murals, crystal collections a replica of the library at Windsor castle, and possibly one of the finest collections of the Quran in India.
The Taj Falaknuma Palace lies approximately 40 kilometres from Hyderabad's Rajiv Gandhi Airport in Engine Bowli, situated to provide a stunning view of the city.
LE SUTRA, MUMBAI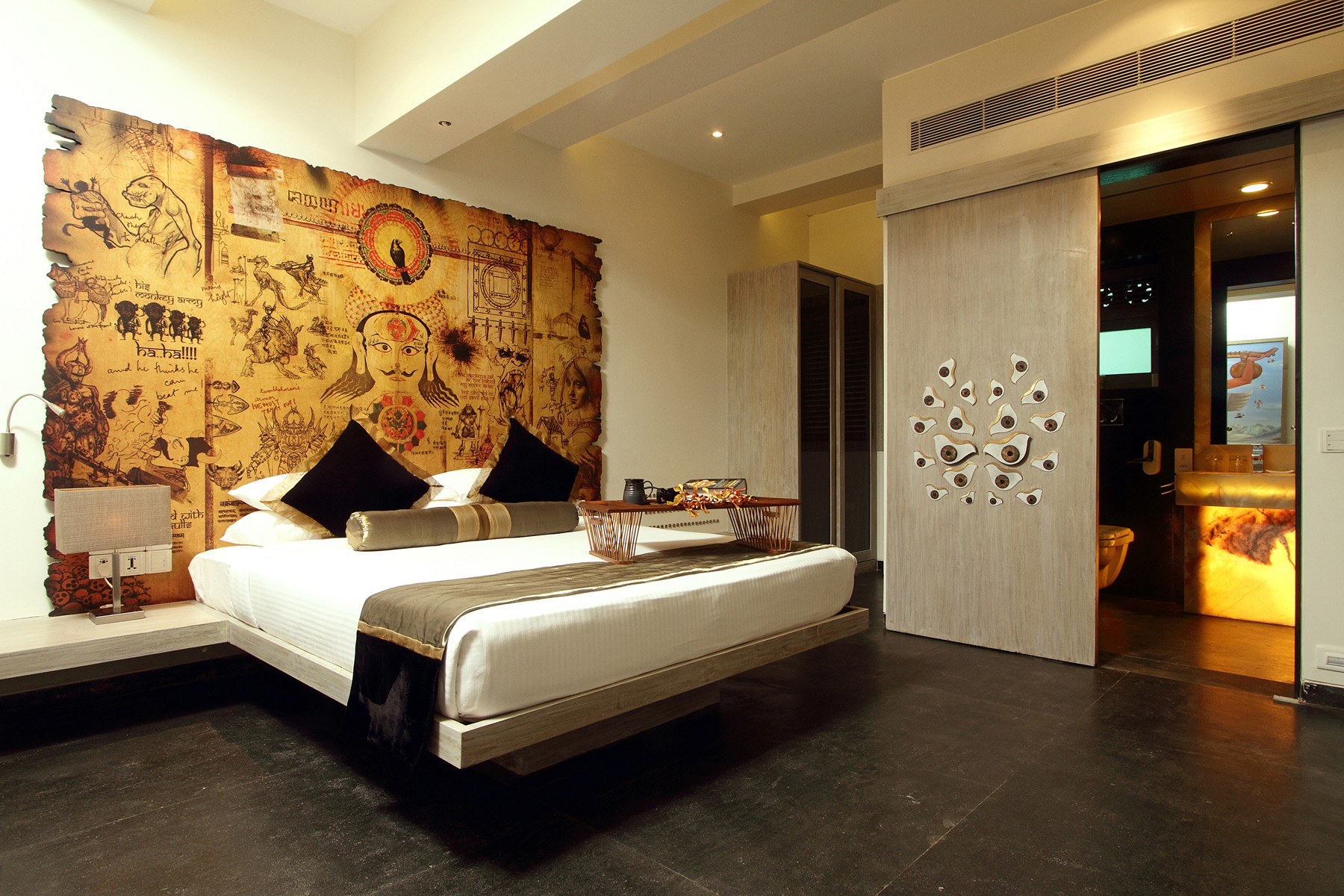 Small, but bursting with vibrant contemporary Indian artworks lovingly collected and presented by a team of several artists, designers, and curators, Le Sutra that squats comfortably in Mumbai's Bandra quite lives upto its self-proclaimed motto of being the first unique Indian art hotel. "Sutra in Sanskrit is a rope or thread that holds things together," says Rahul Bajaj, the director who visualised the concept behind this boutique hotel. "The 16 rooms at Le Sutra are based on characters — Ravana, Ashoka, Buddha — and characteristics — sensuality, love, purification — inspired by Indian mythos."
THE LODHI, DELHI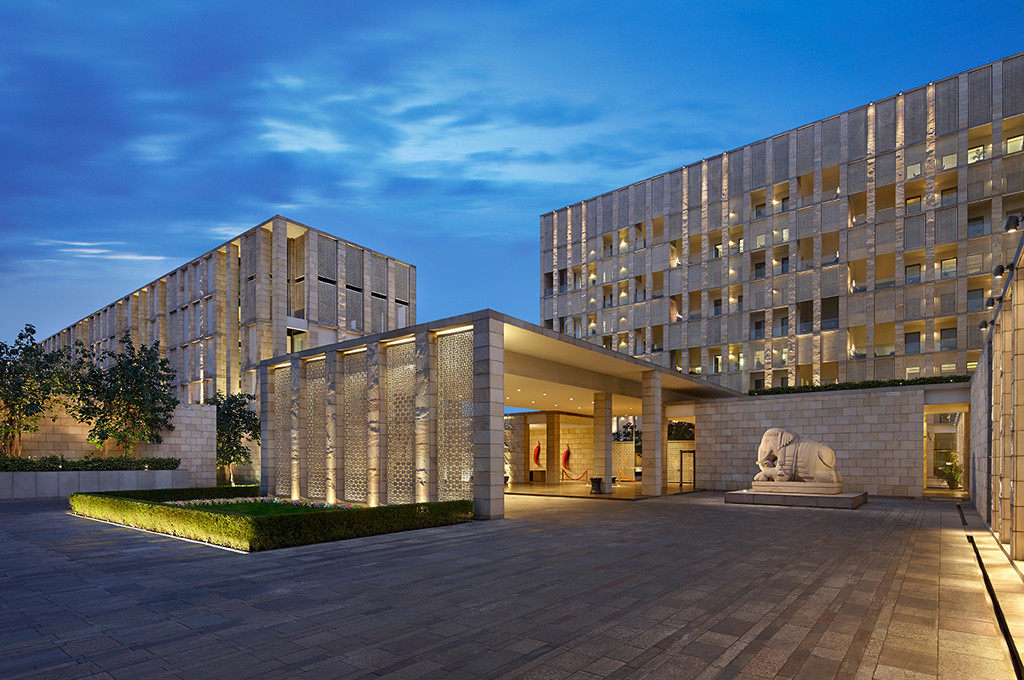 Initially built in 1965 as a red brick-hued government hotel, The Lodhi Hotel was given a heavy makeover by Australian architect Kerry Hill, when it was relaunched as part of Aman's venture into the capital in 2009, a mix of contemporary minimalist architecture dotted with traditional jaali screens and modern, and at times almost kitschy artworks.
Even though it was restored to its original name, the property continues to feature eclectic pieces of artwork across its periphery curated by Apparao Galleries. "The design, architecture and interiors of the hotel lends itself to the artworks which are very carefully and particularly selected and placed keeping in mind the various moods of the place," says Sharan Apparao, the art curator. "The forms and colours of the works pop up and beautifully stand out in the surroundings of the hotel which was made to be the perfect platform for a public art project. The neutrality of the space lends itself to the changing palette of the art."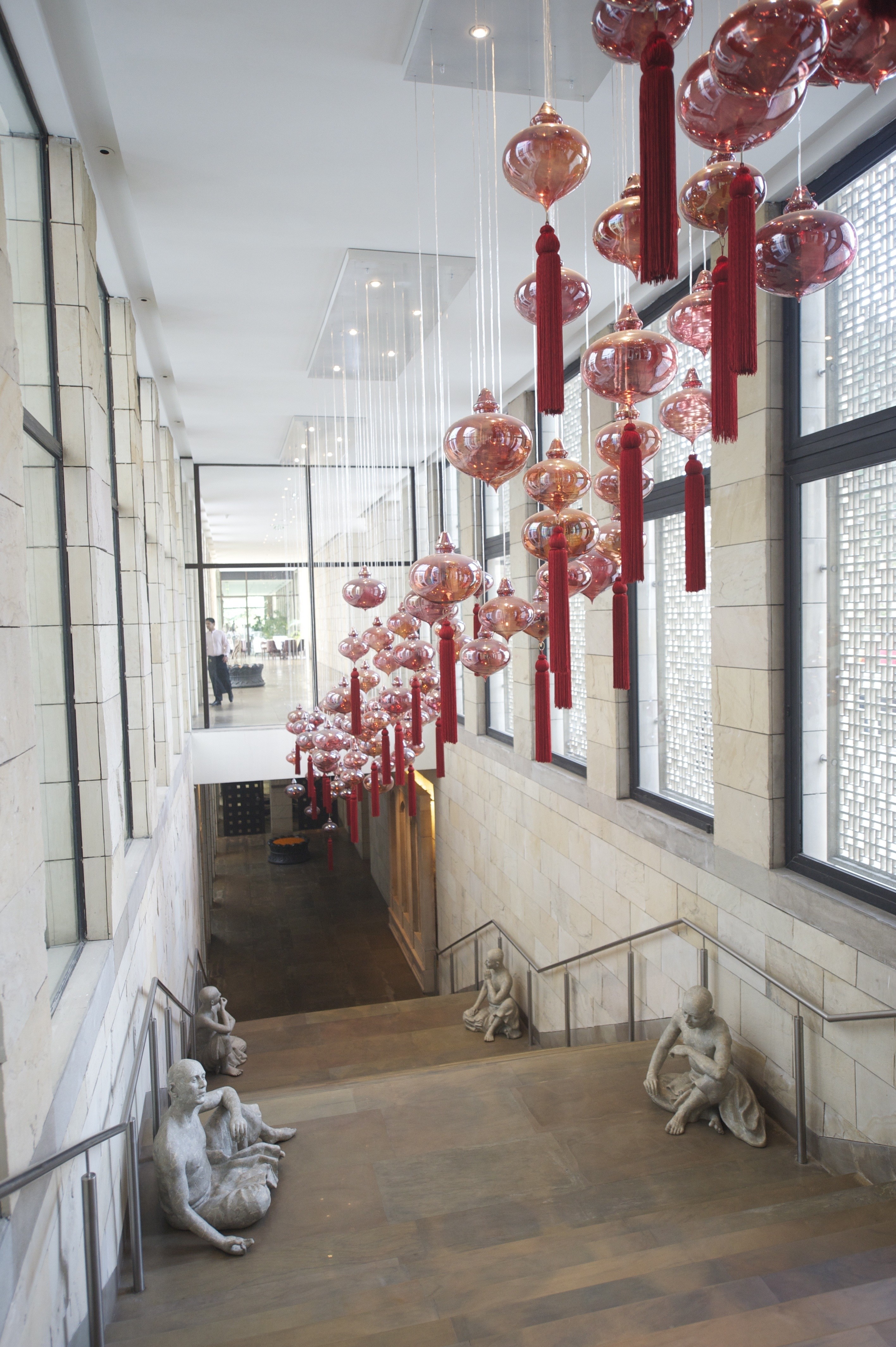 Along the usual suspects such as S.H. Raza, M.f. Hussain, Sakti Burman, there are other interesting pieces like the Bodhi Tree by Alex Davis (NID) that adorns the front lawn of the property. "It represents equality in creation where the roots of the tree equals the branches," reveals Apparao. Also present is a series of dramatic heads in fibreglass with a skin of newspaper by George K, a finance businessman-turned artist who explores unwanted material (particularly used newspapers) to shape his sculptures.
Located approximately 25 kilometres away from Delhi's Indira Gandhi International airport, The Lodhi Hotel can almost be called an ever-changing art gallery of sorts, and certainly makes for some interesting photography, once you're done exploring the extravagant rooms and some excellent pan-Asian cuisine from their restaurant OTW (On The Waterfront).
THE TAJ MAHAL PALACE, MUMBAI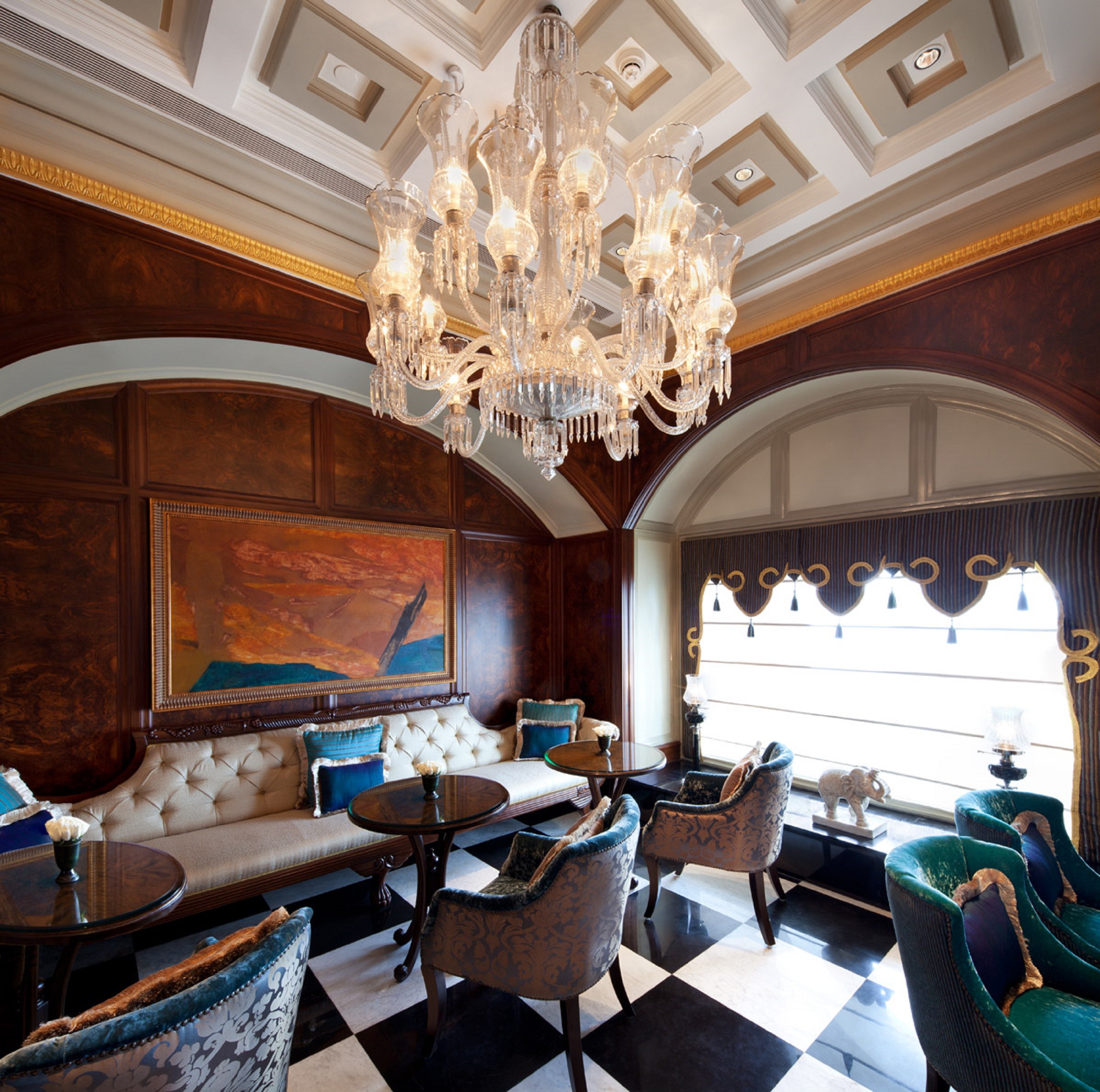 An iconic architectural landmark for Mumbai since 1903, The Taj Mahal Palace that has — for a century — served as a place of worship for art lovers, was torn apart during the 26/11 terror attacks. It took over a year, and an extremely dedicated team from Delhi, to restore the property to its former glory. Nearly 300 pieces of art were restored. According to Taljinder Singh, area director/general manager, "specifically, works of significant artists were acquired from 1968 to the 70s and these represent a grouping of the foremost Indian artists working in India in the Post Independence era. M.F. Husain, H. Raza, Jamini Roy, Tyeb Mehta, K.H. Ara, N.S. Bendre, Jehangir Sabavala, B. Vithal, B. Prabha, Baiju Paithan, Bose Krishnamachari, Krishen Khanna, V.S. Gaitonde and others have left their indelible signature at the hotel."
With a gallery that is spread across three rooms on the first floor, the Taj Mahal Palace — also an iconic architectural landmark for the city of Mumbai since 1903 — features a collection of over 4,000 artworks, including the likes of SH Raza,VS Gaitonde, Jehangir Sabavala in addition to many other legendary artists.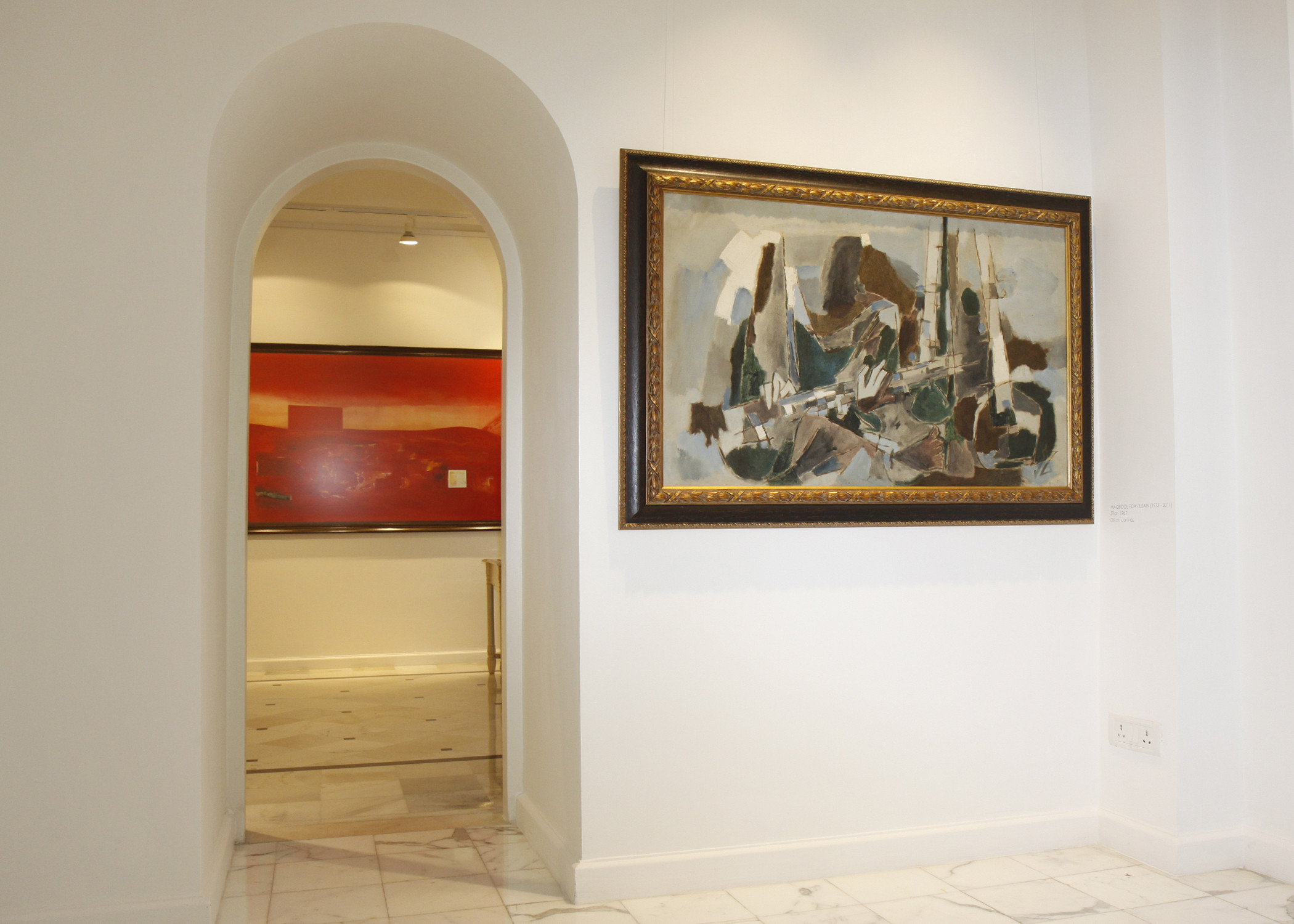 A glimpse of the re-launched art gallery in the Taj Mahal Palace, Mumbai
"Its architecture has influences of Moorish, Oriental and Florentine styles with multiples arches, domes and hallways — a testament to art in its traditional and contemporary forms," says Singh. Art lovers, once satiated, can move onto the National Gallery of Modern Art, that is situated within walking distance from the hotel.
MALABAR HOUSE, PURITY HOUSE (MALABAR ESCAPES) KOCHI
The designer and owner of a series of boutique hotels in Kerala, Joerg Drechsel and his wife launched Malabar House 20 years ago with a very clear vision. "We wanted to showcase the composite culture of Kerala in the best possible way, including antique and contemporary art, collectibles and a locally crafted sign," says Drechsel. "We always thought that a guest spends more time in a hotel than a visitor in an exhibition, and therefort the concept has to go beyond the public areas; the rooms are part of the story we tell."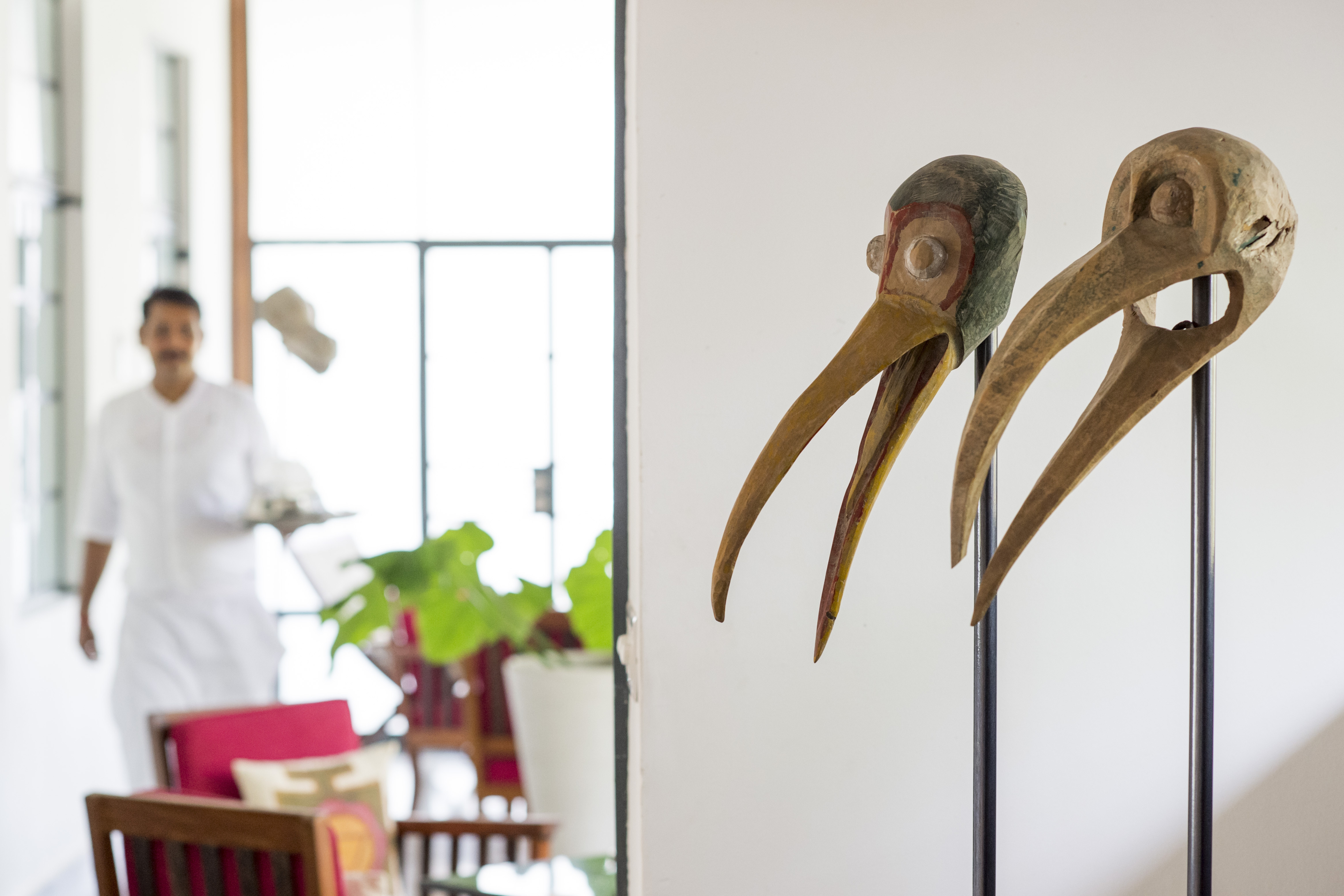 2 mounted bird masks from North Kerala in one of the passages of Malabar House
Two years ago, the duo also opened Purity on Lake Vembanad, a venture that took them five years to build. "It is based on the same principles but also signifies paradise on a tropical lakefront," says Dreschel, who has designed several objects for the places including a Corten steel sculpture and a steel vage globe in Malabar House.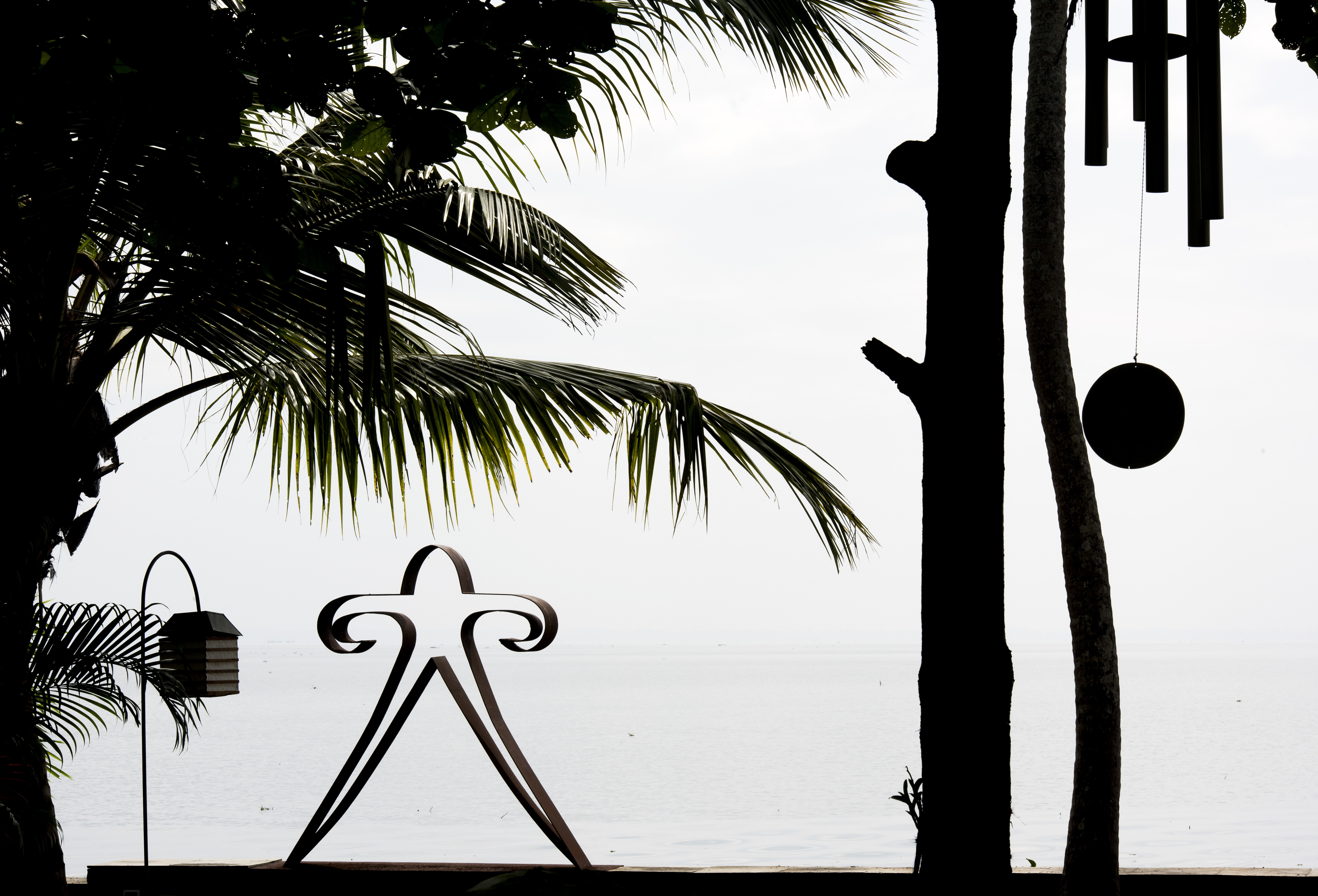 An amorphic figure made from Corten steel overlooking the lake in Purity House
Drechsel and his wife have also commissioned work to artists such as Pradeep Puthoor and Reghunadhan (the latter was discovered by them during the first Kochi Biennale) in addition to covering regionally grounded artists that highlight the vibrance and culture of Kerala as much as possible. Since the Bienalle, Drechsen has also been opening his doors to the likes of artists such as Dayanita Singh and Anish Kapoor.
THE LEELA PALACE DELHI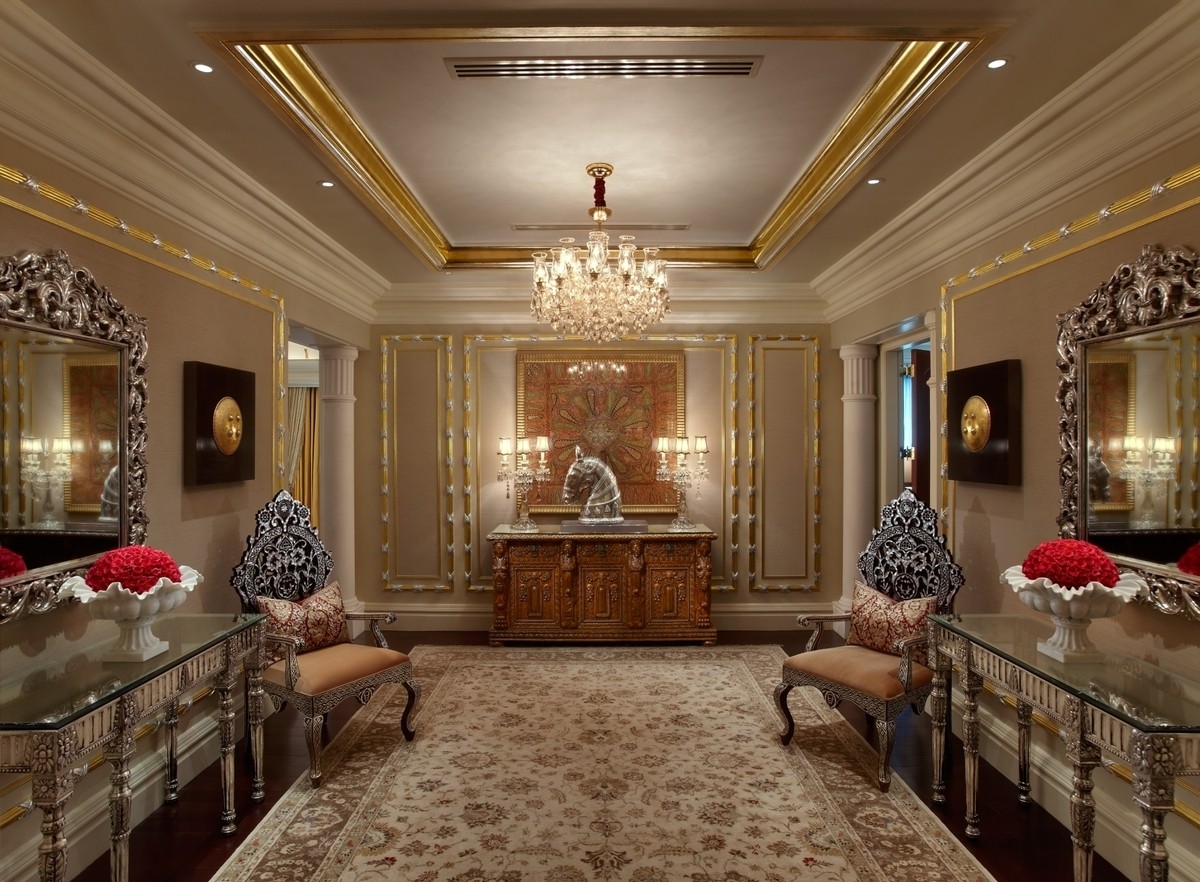 Recognised by luxury magazine Robb Report USA as one of the 'Best Of The Best' hotels (in the world) last year, The Leela Palace in New Delhi also features a rare and diverse collection of some of India's finest contemporary artists. While each property from the chain of hotels started by (late) Captain CP Krishnan Nair is envisioned as an ode to local craftsmen of India, its Delhi flagship features over 1,400 unique and original pieces of art. "These include especially commissioned installations, paintings, sculptures from prominent names such as Satish Gupta, Paresh Maeity, Satish Gujral, Seema Kohli and Jayshree Burman to name a few," says a spokesperson from the hotel.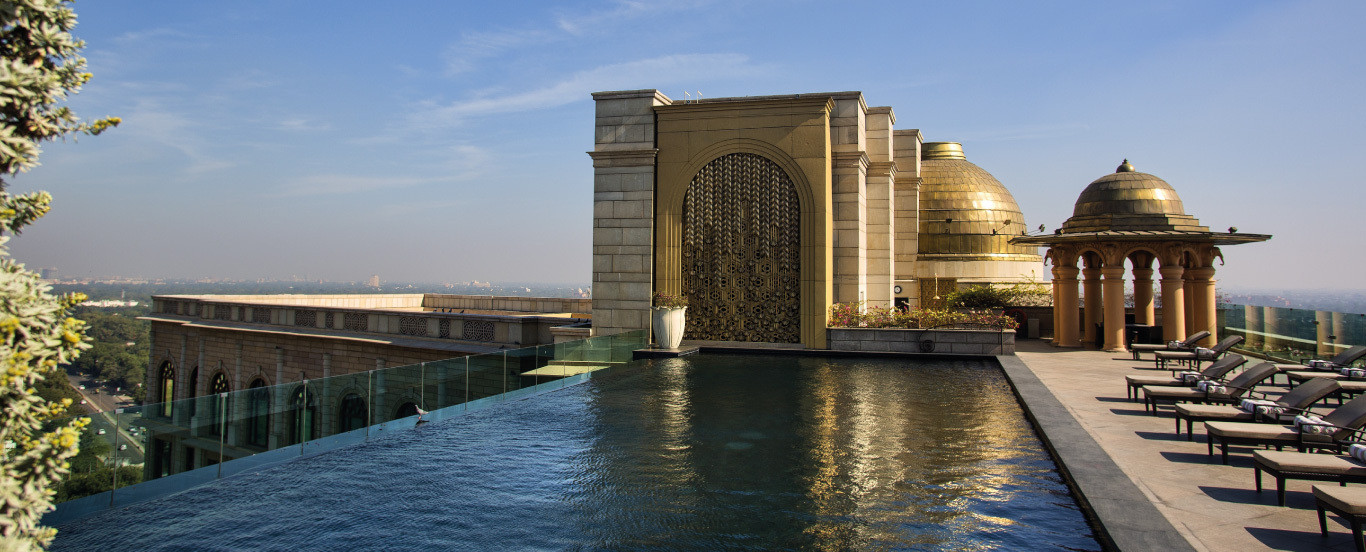 Rooftop swimming pool at The Leela Palace, New Delhi
Walk into the central courtyard of the property and you'll be greeted by an incredible 11-foot tall Devi, a paanch dhatu (five metal) sculpture by Satish Gupta that can be seen from almost every floor, representing various goddesses from Hindu mythology.
A theme of lotuses is also apparent in the courtyard and lobby lounge, while the theme of goddesses continues in the form of two incredible paintings by Jayasri Burman.
Artist Seema Kohli's intricate 'Golden Womb' decorates The Leela's spa area, while a special place of honour is reserved at The Royal Club Lounge for a lovely sculpture by Prodish Das Gupta — the Egg Dance that depicts human closeness through its three figures.
The hotel's architects have also worked closely with Thikri artisans in an attempt to preserve the dying art of mirror inlays from Mewar (also used in The Leela Palace Udaipur), and used a heavy amount of mother-of-pearl inlay craft throughout out the property.
Specially curated art walks are also available to guests to enjoy these pieces of art that are featured across the property.
ITC MAURYA, DELHI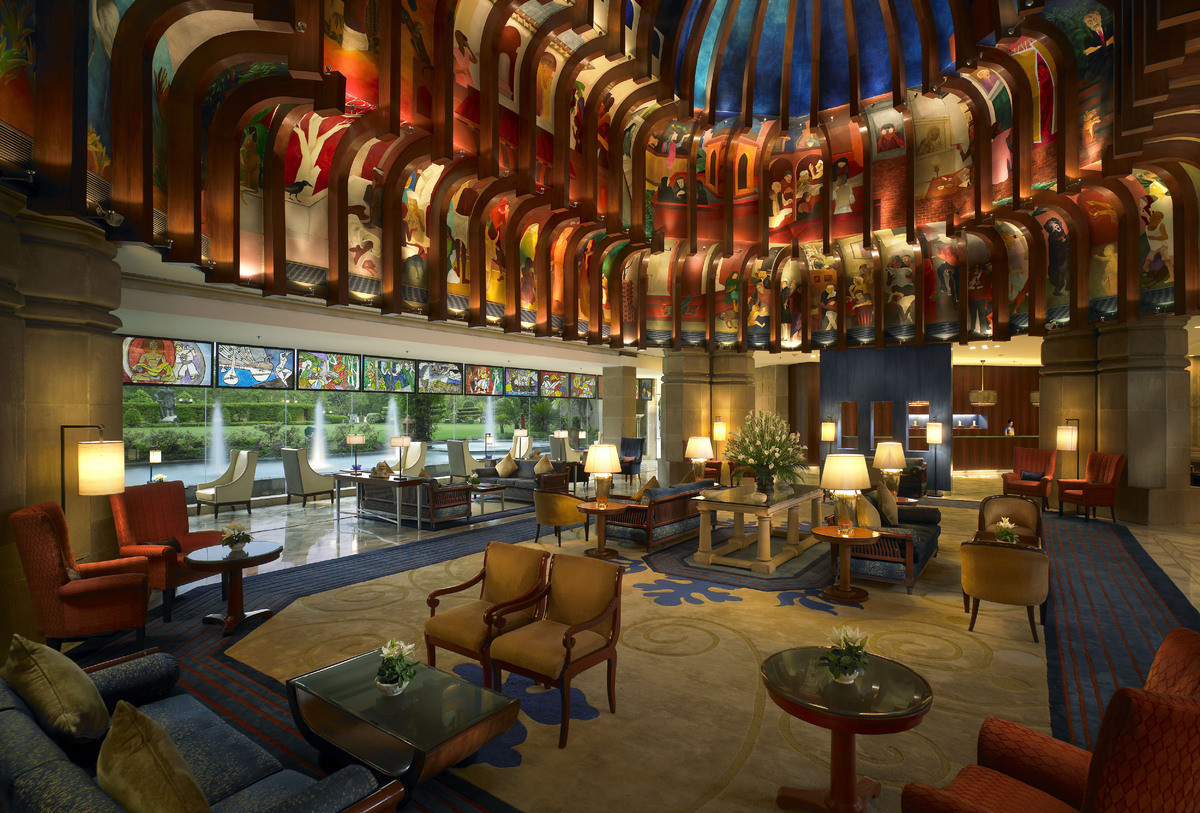 ITC's flagship in Delhi, ITC Maurya has, since its launch created a niche for its collection of artworks. The Delhi flagship's theme and architectural features, true to its name, have been inspired by the teachings of Gautama Buddha, aka the Mauryan emperor Ashoka.
"The exteriors of the palace are based on the ancient Buddhist stepped stupas of the 3rd century, and the main lobby follows the shape of a Chaitya or prayer hall as seens in the Buddhist stone-hewn caves of Ajanta and Ellors," offers Dipak Haskar, chief executive, ITC Hotels.
Visitors are greeted by A Ramchandran's interpretation of 'Ashoka After Kalinga' tattooed in the emperors letters against the war in Devnagri script at the hotel lobby. Another sculpture of the legendary emperor by Meera Mukherjee decorates the gardens. Oeuvres of famous artists including Tyeb Mehta, Akbar Padamsee and J Swaminathan who have been present since the hotel's launch rub shoulders with Satish Gujral, Ram Kumar, Sanjoy Bhattacharya and others who have joined the display areas over time.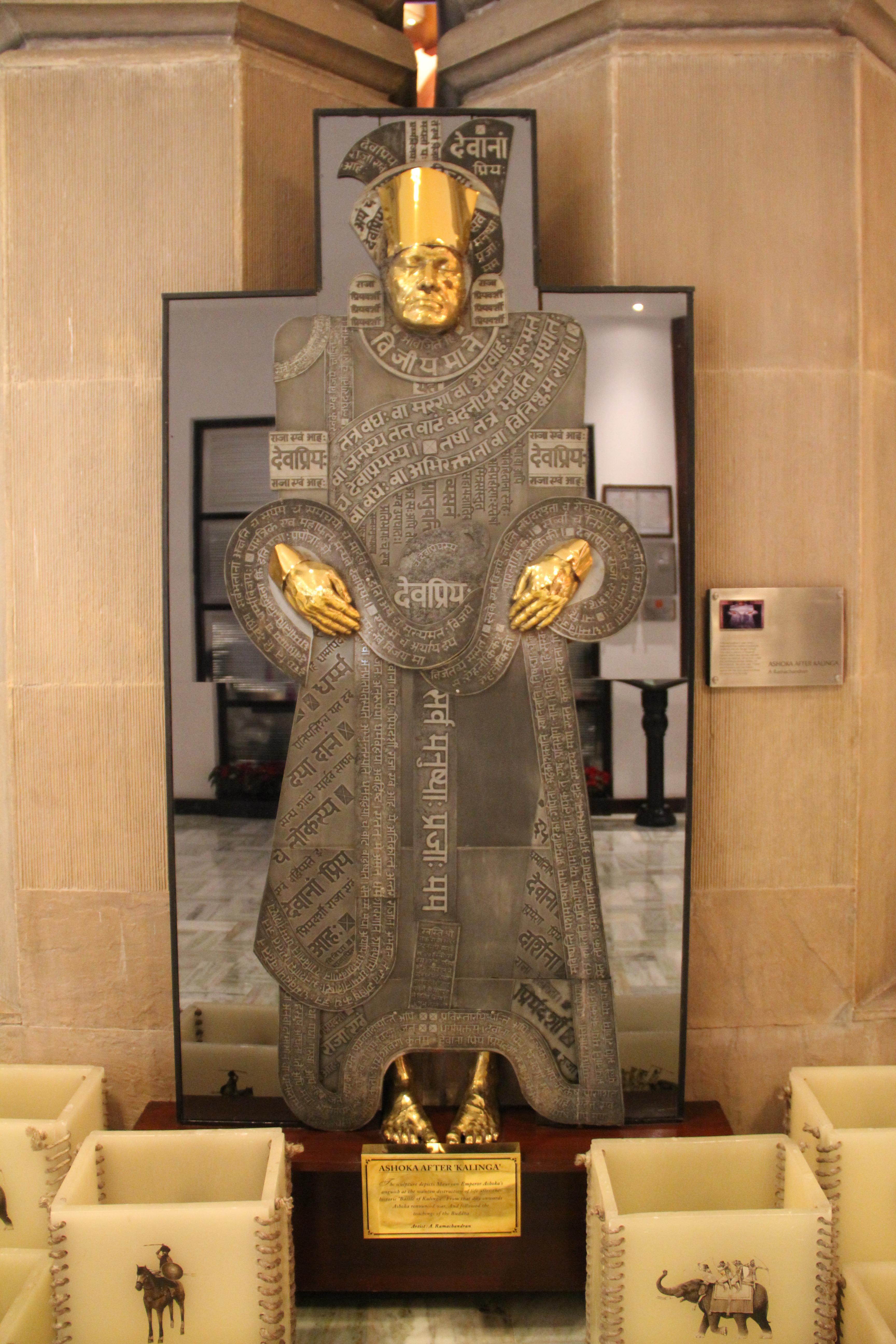 A. Ramachandran's 'Ashoka After Kalinga' greets visitors at the hotel lobby
Nestling within the wooden rafters of the lobby's central dome is an incredible mural 'The Great Procession' by celebrated Indian artist Krishen Khanna who was instrumental in reaching out to several artists to contribute to the hotel's Mauryan-inspired theme. It is almost impossible to ignore this creation that was painted directly on the ceiling took four years to complete In another area a series of paintings on glass by MF Hussain depict the Arthashastra — a treatise written by the Mauryan Prime Minister Kautaliya, also known as Chanakya.
Visit Bukhara, ITC's signature restaurant, a close observer will notice that Hussain's horse (his painting sits in the restaurant) is also duplicated on the aprons of the waiters at Bukhara.
GRAND HYATT MUMBAI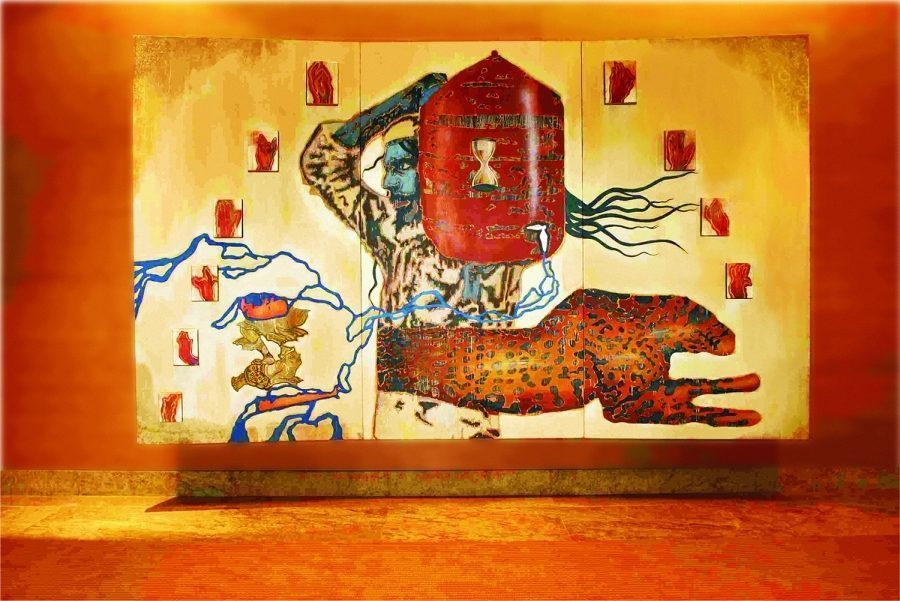 While it is no secret that the Grand Hyatt in Mumbai has for a long time had a reputation for featuring some of the most fantastic art, what makes the property's offerings stand a class apart is the dedicated theme to Lord Shiva, fused with several artworks depicting the everyday life of the metropolis.
Curated by Rajeev Sethi, almost every art piece present in the gardens, lobby and restaurants establish a connect to three great archaeological sites of Mumbai, Jogeshwar, Elephanta and Mandapeshwar all of which are connected to the famous destroyer of worlds: a three-dimensional mural depicting the famous Ganesha immersion, a marble Nandi facing a lingam made of crystals in a waterfall, even the windows that feature Shiva as a yogi.
The complex showcases over 100 commissioned artworks by artists such as Jitish Kallat, Atual and Anju Dodiya, Nalini Malani and Riyas Komu — the latter's 'Bollywood: City of Dreams' that is placed in the Grand Ballroom cannot be missed for its vivid yet disturbing depiction of the glamour and ugly truths in the industry.
THE DUNE, PONDICHERRY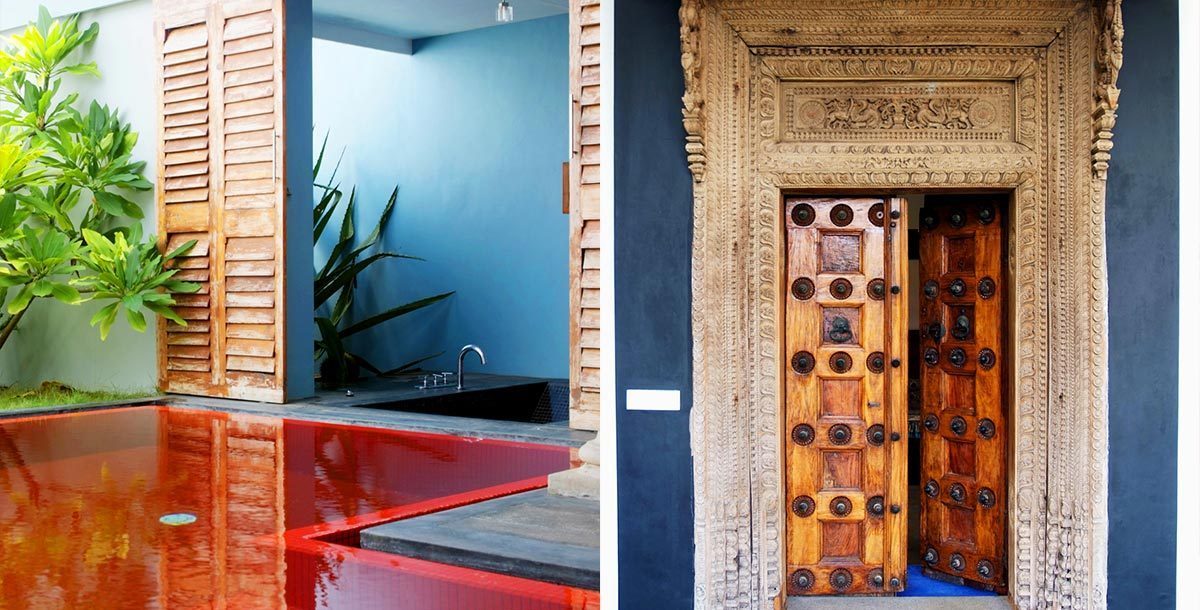 For many years, The Dune has occupied a quiet spot on the Coromandel Coast of Tamil Nadu, where it invites several artists from across the world to take part in its (well-recognised) artists in residence programme. Spread across 35 acres, the eco-friendly property's architecture takes inspiration from traditional Chettinad palaces, Kerala planters mansions and modern colonial houses. It has 55 bungalows, each of which distinctly differs in design.
Also providing vocational education to underprivileged children, the Dune accepts artists after viewing their work on a free-of-cost basis. Other guests are encouraged to mingle with these artists and view their work in the form of oeuvres, or performances.
Here's how to get there.
SWASWARA, GOKARNA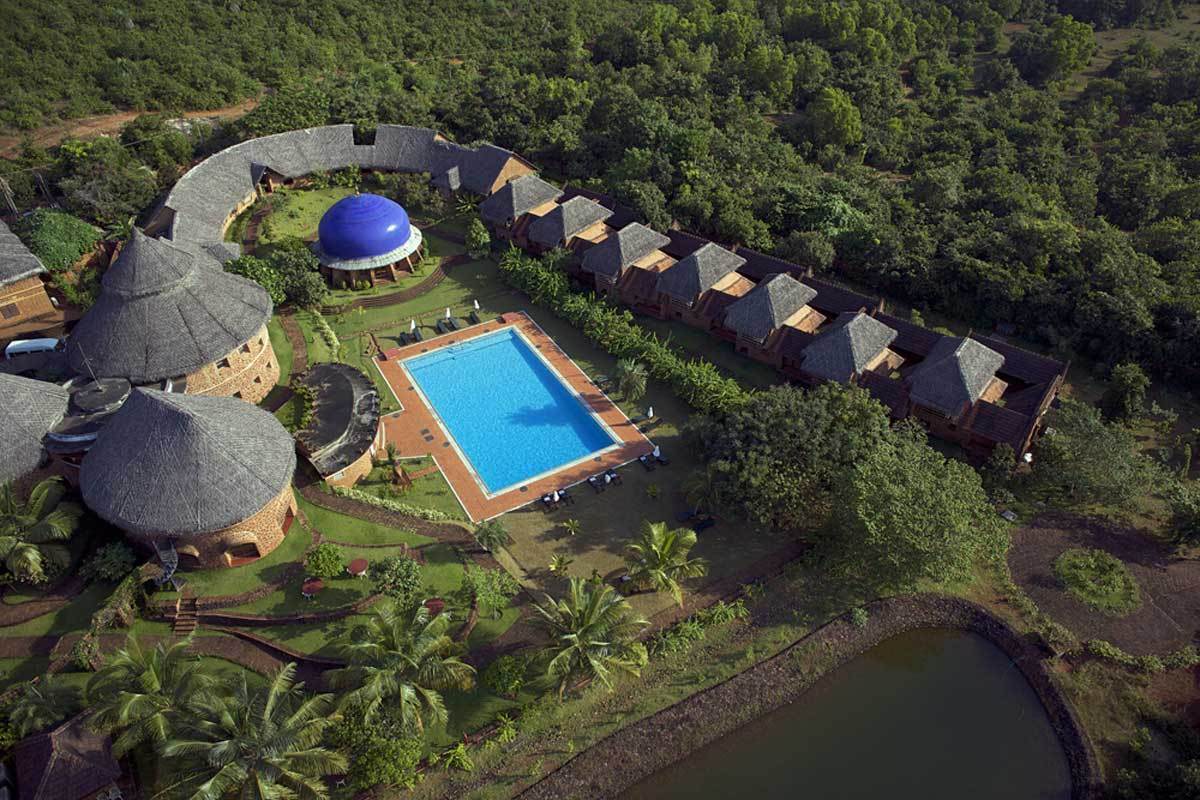 Aside from the usual offerings (yoga, ayurveda) that are available for soul-searching travellers, Swaswarna also places a heavy emphasis on art therapy. "The beauty of art is that there is no rigid definition of everything in life, and teaches tolerance and with unencumbered acceptance," says Mini Chandran, general manager. "It encourages people to think and look out of the mental boxes most of us have unconsciously interred ourselves in, and frees the inner child hidden within."
Built using the local architectural style along the Konkan coast, Swaswara presents a simple, but beautiful picture with its thatched roof villas (24 in all). The nearest airport is Goa's Dabolim Airport at approximately 170 kilometres away.
Aside from the art studio that is open to any guest, a resident artist holds a meditative art session every day, and is available to interact on a daily basis to encourage guests to embrace their creative sides.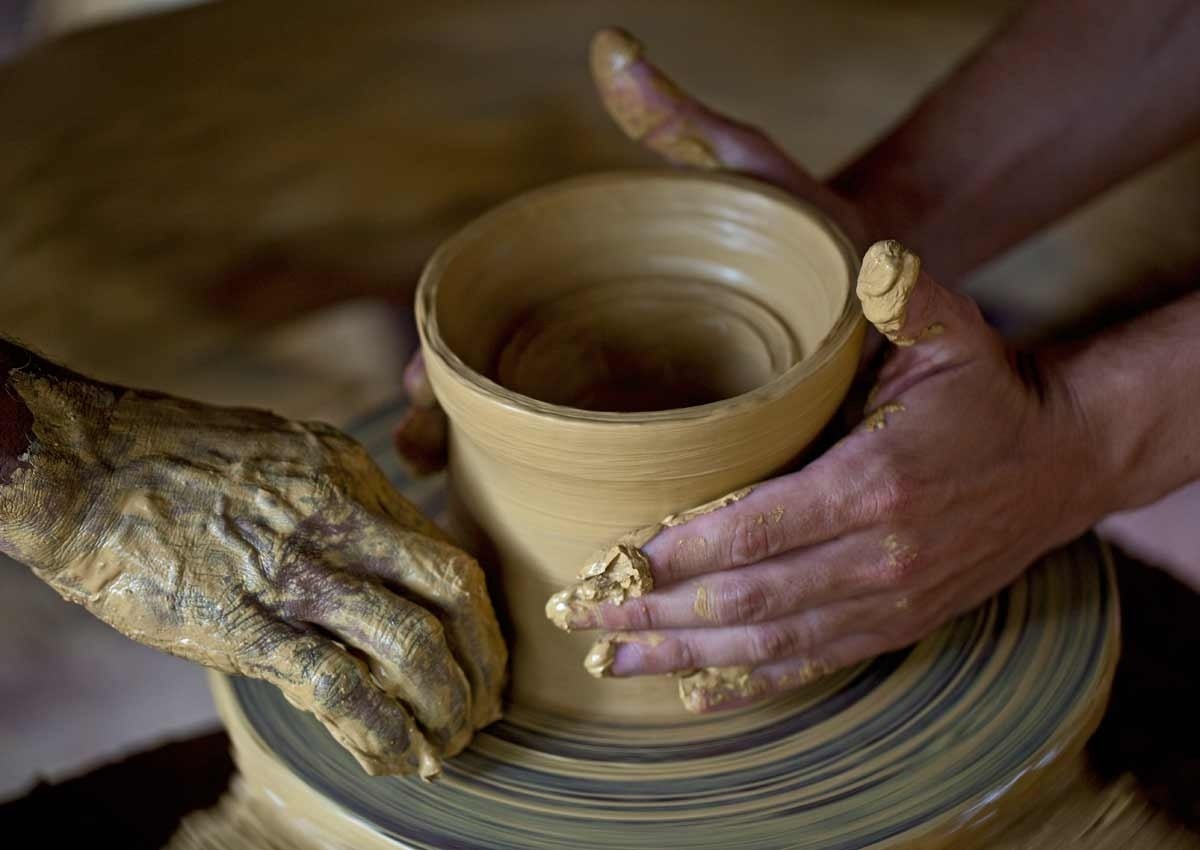 Pottery class at Swaswara
In addition to enhancing its artists-in-residence programme, (they're also open to featuring musicians, performing artists, writers and poets) the wellness resort is building a modern pottery studio that will be available to guests all year around, instead of relying on seasonal changes. Modern pottery is an art form that is gaining a reputation as a therapeutic creative activity.
Like Us On Facebook |

Follow Us On Twitter |

Contact HuffPost India

Also See On HuffPost: