FB page
On 20 October, 2011, 24-year-old Keenan Santos and 29-year-old Reuben Fernandes had stopped at a paan shop in Amboli in the western suburbs of Mumbai. It was around 10.30 pm, and the duo were accompanied by five others, including three girls. A while ago, they had stepped out of the Amboli Kitchen and Bar, a popular, crowded haunt a stone's throw away from where they lived. Soon after, Keenan and Reuben had gotten into a scuffle with a group of men who had tried to molest the girls in the group. In the process, the duo also slapped some of the harassers.
They lived nearby, they were frequent visitors to the area, the place was crowded - a cafe nearby was bustling with customers and the office of a political party was still open - and this was in Mumbai, considered one of the safest cities for women in India. What could have gone wrong for the group? Turns out, everything. The night ended with Keenan dead and Reuben sustaining grave injuries. Their bones broken, their stomachs stabbed repeatedly as their friends tried to save them in vain. Reuben succumbed to his injuries a week later in the hospital.
The molesters, who were rebuffed by the girls and then reprimanded by Keenan and Reuben, were local thugs. They returned with a group of 17 men brandishing knives, poles, bamboo sticks. They rained blows on the two boys, they kept on stabbing them and kicking them.
In her chilling account of the night, Priyanka Fernandes, Keenan's girlfriend remembered with shock that at least 50 people stood and watched. No one tried to intervene and help.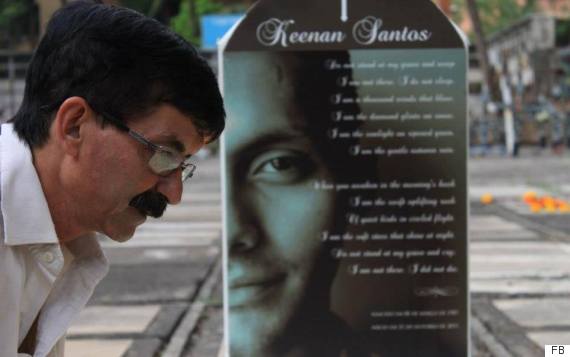 Keenan's father Valerian Santos by his grave.
Reuben's brother Benjamin recollected the sheer brutality of the man who murdered Keenan. "They stabbed Keenan first. Then Reuben came forward. They hit me with a bamboo stick on my head and I fell to the ground. I saw Keenan fall on his back. One attacker pressed him down with his knee, looked him in the eye, and stabbed him squarely in the chest. That's the stab that took Keenan's life," he told The Hindu.
Nearly a year after the murder, the case was transferred to a special fast track court and Ujjwal Nikam, who played a crucial role in the conviction of Ajmal Kasab, was appointed the state prosecutor. In 2013, the case was shifted to a Special Women's Court, which sentenced four perpetrators to life imprisonment today.
However, the road to justice was far from easy. The double murder shocked the daylights out of Mumbai, yes, but outrage comes with a shelf life in public memory. After the initial wave of media coverage ebbed and public interest died down, the battle was a difficult, lonely one for the families of the victims.
Valerian Santos, Keenan's father had told DNA in an interview, "Court hearings have been postponed more than 25 times. There are times when not even a single one out of the four defense lawyers is present in court. Even if one of them is absent, the hearing cannot take place effectively and needs to be postponed to a later date." He added that on several occasions, the accused were not brought to court which delayed court proceedings.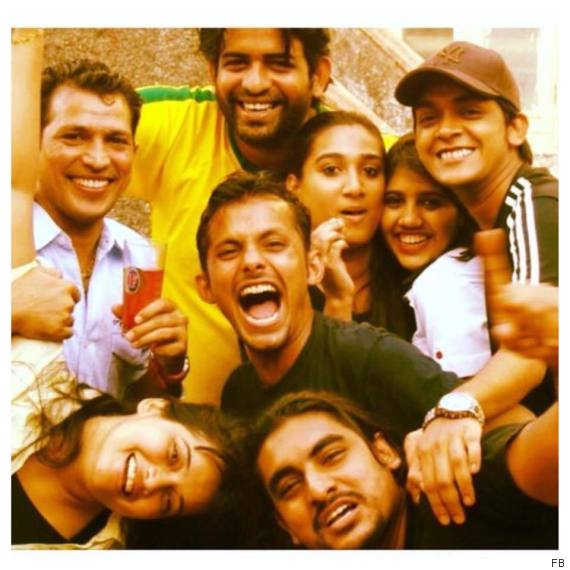 Keenan and Reuben with their friends in a group photo.
Santos, who works as a chief engineer at India Finance and Construction, was also relentlessly intimidated by the families of the accused. ""Uncle chup rehange nahi toh baad mein deke lenge (Uncle, if you don't keep quite now, we will show you what we can do to you)," the kin of the accused threatened Santos.
In fact, the accused are such hardened, ruthless criminals that they laughed when they were identified. Avinash Solanki, Keenan and Reuben's friend, who was also injured in the attack, said, "After identifying him, he told me: 'Phir milenge. We shall meet again.' I told him I would."
Keenan's girlfriend remembers screaming for help from the crowd of 50 odd people, and no one came forward. The violence, mixed with shocking apathy, was a reminder of how flimsy women's security was, even in a bustling metropolitan city.
Keenan and Reuben's story chilled us to the bones because the boys did exactly what we urge everyone around us to do in order to make public spaces safer for women - intervene and protest against harassment and violence. They had to pay with their lives. Just because 50 odd people, who could have very well overpowered 17, stood back and watched as they were being butchered.
Not just that, the incident also showed how the emergency response infrastructure in the city was in a shambles. Priyanka recollected that she kept dialling 100 (the emergency police number) when the goons attacked. When Keenan passed out, stabbed and bleeding, her call was still on hold - no one responded. Medical attention, therefore, came after a delay too.
It was not just a bunch of goons who killed Keenan and Reuben. Their home, too, failed to protect them.
Like Us On Facebook |

Follow Us On Twitter |

Contact HuffPost India

Also see on HuffPost: