Hindustan Times via Getty Images
DEHRADUN -- With major fires blighting around 1,900 hectares of forests in Uttarakhand, the government today decided to press two MI-17 helicopters into service as NDRF, SDRF and Army personnel struggled to douse the flames which have claimed six lives till now.
WATCH: IAF's Mi-17 v5 lifts water from Bhimtal (Nainital) & sprays it over areas affected by #UttarakhandForestFirehttps://t.co/cZVI0O9ts1

— ANI (@ANI_news) May 1, 2016
A total of 1890.79 hectares of green cover have been destroyed this fire season which had an early start on 2 February due to a dry winter.
Chamoli, Pauri, Rudraprayag, Tehri, Uttarkashi, Almora, Pithoragarh and Nainital are the worst-affected districts.
While three NDRF teams and one SDRF company are busy dousing the flames in different parts of the state, two IAF choppers have been sent to Nainital and Pauri districts, among the worst hit, to spray water over the burning jungles, Raj Bhawan officials here said.
IAF's Mi-17 v5 lifts water from Bhimtal lake (Nainital) & sprays it over areas affected by #UttarakhandForestFirepic.twitter.com/KqnY6xJVvc

— ANI (@ANI_news) May 1, 2016
ALSO READ: Forest Fire Claims 5 Lives In Uttarakhand, NDRF Forces Deployed
Enough funds have been made available to all affected districts besides required personnel and equipment to deal with any situation, they said.
"One MI-17 chopper has been stationed at Bhimtal near Nainital right which is being loaded with water collected from the waterbodies in the area and begin spraying water over affected areas from tomorrow," Chief Secretary Shatrughna Singh said.
Another IAF chopper sent to Pauri will operate in similar fashion, a Raj Bhawan official said.
With forest fires still raging three NDRF teams have been deployed in Almora, Gauchar and Pauri and one team of SDRF in Nainital to extinguish the flames, Principal Conservator of Forest B P Gupta said.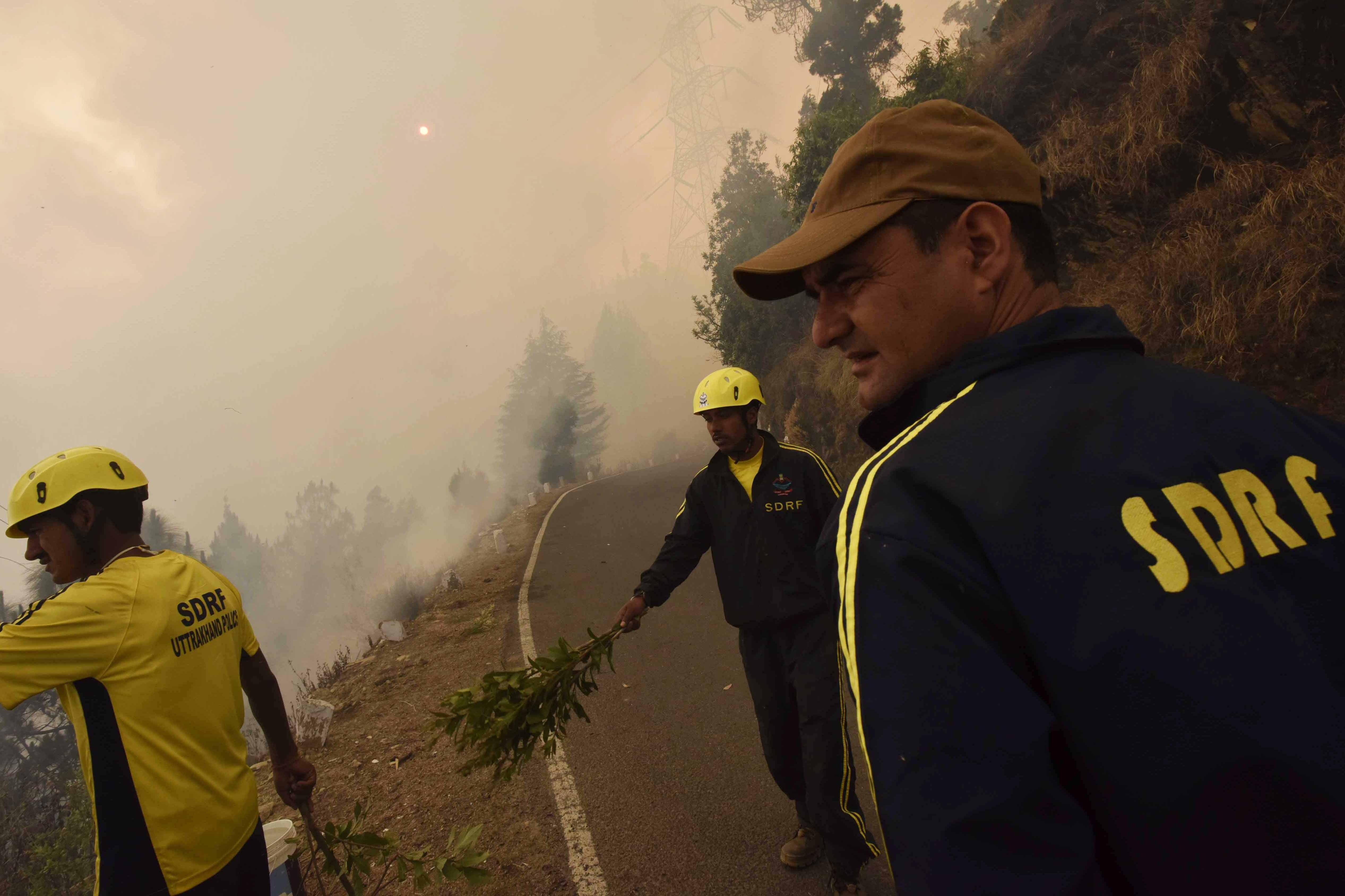 NDRF personnel douse the flames and conduct rescue operation at Pauri Garhwal District, on 30 April, 2016 in Uttarakhand, India.
Rudraprayag forest division is also taking help from the army for fire fighting operations especially along the highway, he said.
UPDATE: 2270 hectares of forest area affected by #UttarakhandForestFire (Visuals from Gangotri Marg) pic.twitter.com/FZScCrnXki

— ANI (@ANI_news) May 1, 2016
The casualties due to forest fires, which have spread to sparsely populated remote hill areas, have risen to six with another life claimed in Nainital district on Friday evening.
The deceased include three women and a child.
Since the beginning of forest fire season in the state in February, 922 incidents have occurred so far in which seven were injured and 1890.79 hectares of green cover being affected, Gupta told PTI.
Worried over forest fires which are still raging in different parts of the state, Governor K K Paul reviewed the rescue efforts underway via video conferencing with officials in the field and asked them to speed up their efforts.
From today we've started trial run of pre-fire alert.We are deploying it right away on trial basis-Prakash Javadekar pic.twitter.com/ATrbyEIAO7

— ANI (@ANI_news) May 1, 2016
NDRF companies assisted by expert teams and locals are conducting fire extinguishing and rescue operations in affected areas of Garhwal and Kumaon regions.
ALSO READ: Uttarakhand Doubles Staff Fighting Forest Fires To 6,000
IG Sanjay Gunjyal is coordinating with the NDRF, the district magistrates concerned and Principal Conservator of Forest to supervise the rescue operations.
Locals are being encouraged to report a fire incident to the district magistrate concerned as soon as they sight it so that it can be controlled in time.
Situation will soon be under control:Piyush Rautela,Exec Director Disaster Mitigation&Mgmt Center #UttarakhandFirepic.twitter.com/IlojNk0EZ9

— ANI (@ANI_news) May 1, 2016
The governor has doubled the number of personnel deployed to control the fires from 3000 to 6000 and asked all agencies including the SDRF, district administration and the rural population to contribute their bit in the exercise saying the forest department alone cannot accomplish the onerous task, Gupta said.
Forest fires are natural during summer but this time they have occurred on a bigger scale as the fire season which normally begins by 15 February and ends by 15 June, began on 2 February.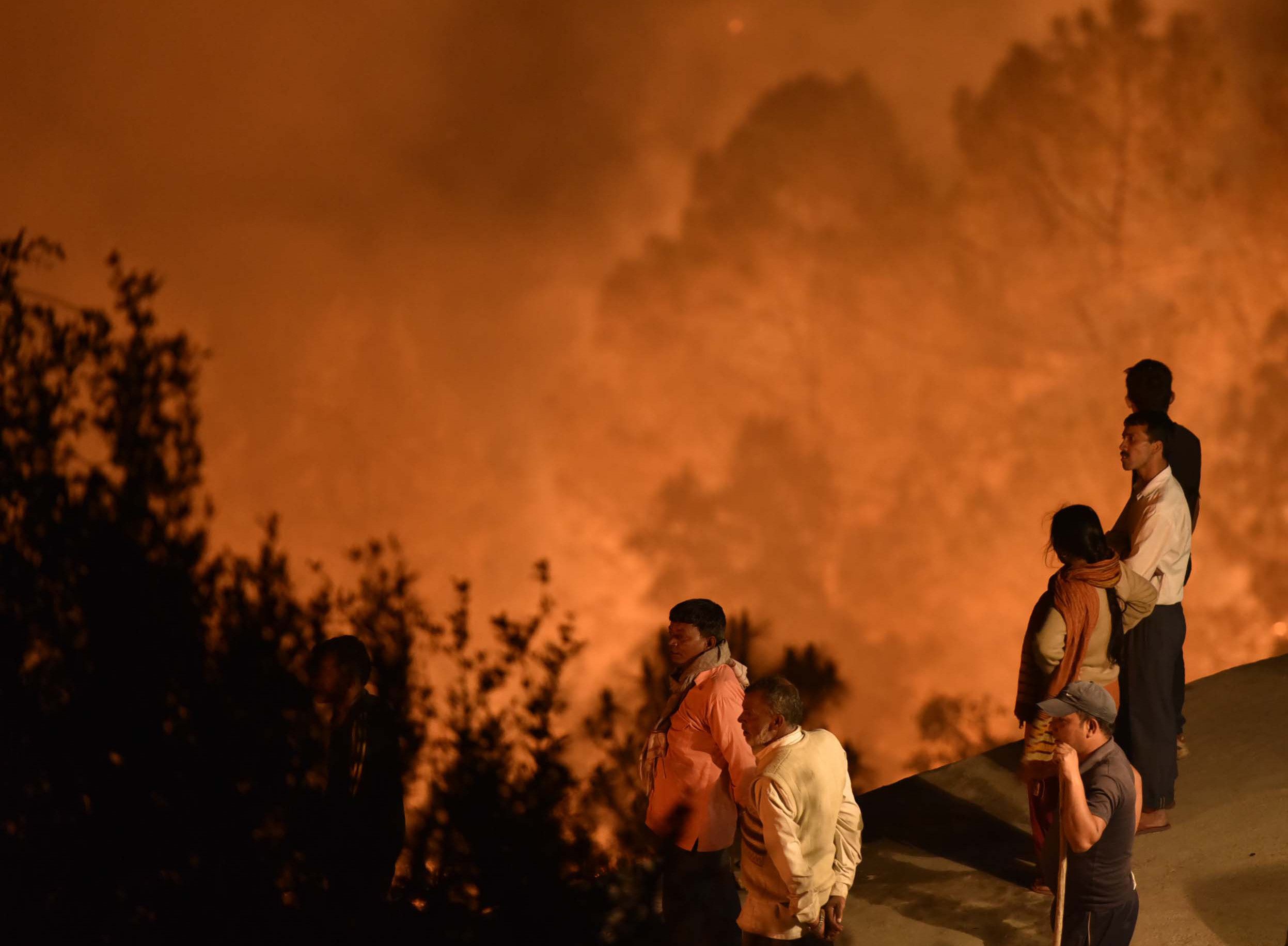 Forest fire in Pauri Garhwal District, on 30 April, 2016 in Uttarakhand, India.
Former chief minister Harish Rawat has asked the governor to declare Uttarakhand as a fire disaster struck state and involve locals as much as possible in fire extinguishing efforts.
Pradesh Congress president Kishore Upadhyay also wrote to party workers asking them to work unitedly to pull the state out of the crisis.
The PCF said the scale of forest fires in Uttarakhand this time has been bigger due to little or no rain during winter at most places.
Pre-fire alerts listing possible fire points over the next seven days in forest areas is being made available on forest department's website www.forest.uk.govt. an official release here said.
The governor today held a meeting held via video- conferencing at the secretariat with regard to forest fires and the preparations of char dham yatra.
He said the DMs must gather all resources required. The administration would provide the funds.
A system should be made in which the information about forest fires is obtained immediately and action taken immediately.
An incident response system should be activated. Control rooms in districts must work round the clock. DMs must ensure coordination among all departments.
Mass awareness campaigns be launched and gram panchayats, yuval mangal dals, mahila mangal dals and local people should be involved to ensure the control of the fires.
Spoke to Governor Uttarakhand;IOC rushing ATF refuellers to reach Haldwani & Srinagar by morning for firefighting by airforce helicopters

— Dharmendra Pradhan (@dpradhanbjp) April 30, 2016
Meanwhile, Petroleum Minister Dharmendra Pradhan said Indian Oil Corporation (IOC) is rushing Aviation Turbine Fuel (ATF) refullers to replenish IAF choppers deployed to douse the massive fire in Uttarakhand.
"Spoke to Governor Uttarakhand; IOC rushing ATF refuellers to reach Haldwani & Srinagar by morning for firefighting by airforce helicopters," he tweeted.
Like Us On Facebook |

Follow Us On Twitter |

Contact HuffPost India

Also See On HuffPost: