Madame Tussauds
Months after he posed for it, Prime Minister Narendra Modi has finally joined the ranks of prominent global leaders in the world famous wax museum Madame Tussauds. Besides London, his statues will also be in Singapore, Hong Kong and Bangkok.
The wax figure reportedly took four months to create and cost £150,000 (Rs.1.5 crore) each.
ALSO READ: How PM Modi Posed For The Wax Statue At Madame Tussauds
Dressed in Modi's trademark cream-coloured chooridar kurta and sleeveless jacket, the statue strikes a namaste pose.
We must agree that Modi's statue looks quite life-like if compared to the other statues of Bollywood stars and celebrities at the wax museum.
However, there are some striking differences between India's Prime Minister and his wax statue.
Take a look at the photo here: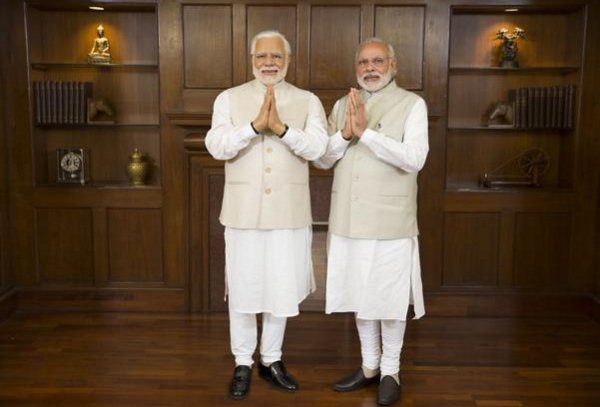 Can you spot the differences? It's not very difficult to, but in case you haven't, here they are:
1. The statue is slightly taller than Modi
2. Also, is it our imagination or does the statue have a little more hair than the Prime Minister?
3. And, the statue is a shade lighter than our PM's skin tone.
So, what did Modi think of it?
"What can I say? As far as art is concerned, the Madame Tussauds team is exceptional at what they do. What Lord Brahma does normally is what the artists there are doing. Today, I had an opportunity as the prime servant of my people to meet my wax figure," Modi was quoted as saying in the Madame Tussauds release.
Describing him as a "hugely important figure in world politics", the museum had said the Indian Prime Minister had given the museum's team of artists and experts a sitting at his residence in New Delhi earlier this year.
A new branch of Madame Tussauds is set to open in New Delhi as part of the India-UK Year of Culture in 2017, announced during Prime Minister Modi's visit to the UK last November.
Also See On HuffPost: