ASSOCIATED PRESS
The Kerala Director General of Police TP Senkumar said during an interview that he had objected to the back-to-back visits of Prime Minister Narendra Modi and Congress Vice President Rahul Gandhi shortly after the fire tragedy in Kollam. He was especially opposed to the idea of the Prime Minister visiting the area within hours of the explosion in the Puttingal temple in Paravur, which left over 100 people dead.
Speaking to The Indian Express he said, "I did object to the idea of the Prime Minister visiting the region within 12 hours of the accident. I told them it would be better for the PM to visit the spot a day after the disaster. But the PM wanted to visit that day itself. Our entire force had been working from early morning, engaged in rescue and relief work. So much work was still left and all of them were tired because there was no provision of even drinking water. We had to make arrangements for the safety and security of Prime Minister Modi and Congress vice president Rahul Gandhi too."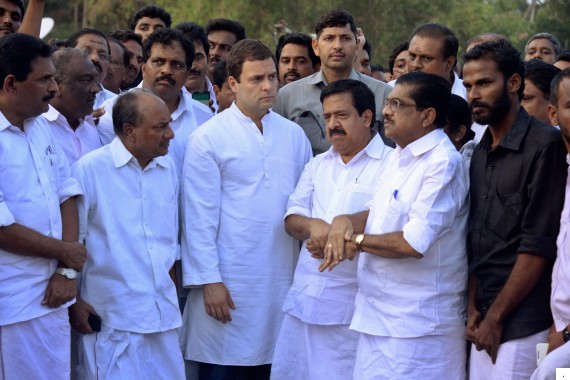 Rahul Gandhi at the site.
He said that some of the police personnel who were working round-the-clock for rescue operations and also had to be employed for the security of politicians were nearly on the verge of collapse. The district administration, he alleged, couldn't even supply them with drinking water.
Senkumar added that he had to coordinate with the SPG (Special Protection Group) for the visit. He explained that the protocol demands that during the visit of a VVIP, the secretary of the concerned department communicates with the police. However, this time, the Prime Minister spoke to Kerala CM Oommen Chandy, whose office asked Senkumar to expect a call from the SPG.
Following Senkumar's revelation, Chandy rushed to defend his government, the Prime Minister and all other politicians. "The PM's visit to the spot was a great relief for the people. National leaders visited and their presence and advice and help was a great thing for Kerala. All rescue operations were over in the morning. We all concentrated on treatment of the injured after 6 am," he said.
He even dismissed Senkumar's allegations as a 'non-issue'. Instead he contested the DGP's claims by asserting that the PM or Rahul Gandhi's convoys didn't hold up relief work at all.
"There is no harm in national leaders coming to the site. It helps the residents get maximum assistance," he said, not exactly specifying how these political leaders visiting would expedite and aid relief work being carried out by the police on the ground.
Union Minister Rajeev Pratap Rudy defended the PM's visit too and said that he only visited the site after the rescue work was over, at 5 pm that day. The PM is said to have flown down 15 burn specialists with him to help treat the victims.
Like Us On Facebook |

Follow Us On Twitter |

Contact HuffPost India

Also see on HuffPost: