FB page
Barely a week since Bhoomata Brigade's Trupti Desai raised a toast to breaking male bastions by entering the previously inaccessible sanctum sanctorum of the Shani Shingnapur temple, she had been attacked and abused for trying to enter another Maharashtra temple.
However, this case was slightly different from the preceding ones that Desai had dealt with. While trying enter the Mahalaxmi temple of Kolhapur and do a 'darshan' - which involves taking a glimpse of the idol and offering prayers - Desai and her peers from the Bhumata Rangarani Brigade were stopped by priests and other devotees. Till here, it sounds familiar, Desai had been meted out similar treatment in the Shani Shingnapur and Trimbakeshwar temples. However, in this one, Desai was not stopped for being a woman, she was stopped for being dressed in a salwar kameez, instead of the sari, which is apparently the pre-requisite for women to enter the inner chambers of the temples.
However, Desai argued that the country's laws are such that, they don't require women to follow a 'dress code' arbitrarily imposed by religious institutions or any institution for that matter. Before she tried to enter the temple, she had been apprised about the 'dress code' by Anil Deshmukh, police inspector in-charge of the Juna Rajwada. However, Desai refused to accept those terms.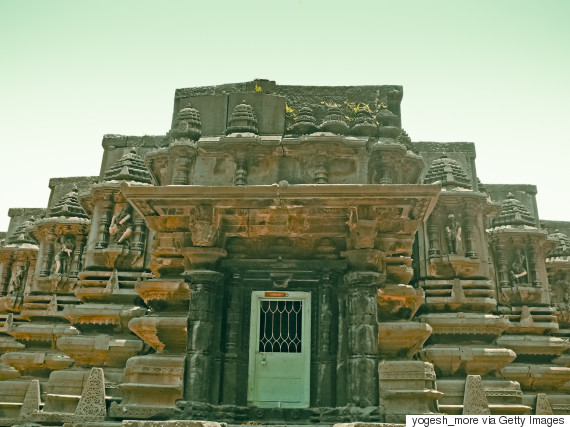 The facade of the Mahalaxmi Temple.
"Deshmukh called me and told me that I should wear a saree while entering temple. But, I explained to him that there is no such law, which forces one to wear a particular dress before entering the temple. No one can restrict us from entering the temple if we do not wear a saree. They cannot decide on what I should wear. I am aware about what to wear. I will enter the temple wearing full sleeves as the most important point is that I am coming to the temple for the darshan of Mahalaxmi," she said.
Desai was allegedly attacked, pushed around and abused by the priests of the temple when she made her way into the inner sanctum. A report on The Times of India suggests that, of her 11-member team, three women who weren't in sarees were denied entry.
Also Read: The Shani Shingnapur Decision Is Hardly A 'Victory' For Women
Desai, who ended up in a hospital after the alleged attack, said, "There were people who came to attack us, even the priest was abusing us. The attackers said dont let Trupti Desai get out alive. Doctor said I could've got paralysis attack."
Doctors treating her said, "Trupti Desai had low water intake, low BP and sugar level. Now she is conscious & recovering."
The priest of the temple, however, told India Today that he was trying to explain to Desai that the SC act that Desai had cited to demand entry, doesn't include entry into the sanctum sanctorum.
India Today reports: "Deputy SP Bharatkumar Rane said police tried to convince Desai against going in procession but she did not budge. She was taken into preventive custody for maintaining law and order, he said."
The situation the area became tense following the skirmish and Shiv Sena activists descended on the temple.
Like Us On Facebook |

Follow Us On Twitter |

Contact HuffPost India

Also see on HuffPost: