VasantKumar via Getty Images
Not even a week has passed since the Paravur fire took the lives of 108 and left hundreds injured and the Kerala government has announced that fireworks will not be restricted in the upcoming Thrissur Pooram festival. Fireworks form one of the highly-anticipated events of the nearly 200-year-old festival.
Kerala chief minister Oommen Chandy said, "No competitive fireworks will be permitted; crackers have to be within the prescribed limits." However, fireworks have not been completely banned from the festival, leading to speculations that if the ban on 'competitive fireworks' will actually lead to people exercising caution with them.
Chandy's announcement follows the decision of the Kerala High Court to make an exemption for the Thrissur Pooram festival. The court, which had banned fireworks in the state from sunset to sunrise, made an exemption for the Pooram festival and instead put some restrictions in place. It said that only low decibel fireworks should be carried out and petrol pumps in the vicinity should remain shut during the period.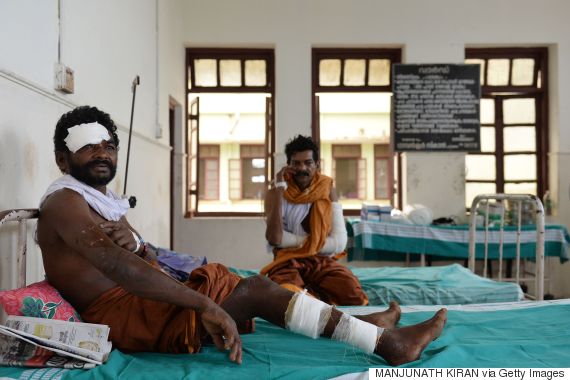 Victims of Paravur fire accident being treated in a Kerala hospital.
The court took the decision after hearing the plea of the people who fund the Thrissur Pooram extravaganza. The Indian Express reports: "The bench was hearing a plea by the private Paramekkavu and Thirvambadi Devaswoms, which fund the annual Pooram festival in the premises of the famous Vadakkunnathan Temple in Thrissur, for permission to hold fireworks display. The festival is currently on and will culminate on Apr 18."
The court observed that fireworks are a part of Kerala's culture.
Chandy announced during a press conference that his government was against the banning of fireworks in the state. ""We cannot completely ban fireworks in state. Chemicals used in fireworks need to be checked, disastrous material shouldn't be allowed," he said.
One of the highlights of the Thrissur Pooram festival is Vedikettu or fireworks. The fireworks display is something that not only locals look forward too, but also a high-point for tourists who visit the place at time.
The festival had run into another controversy last year when animal rights activists protested the parading of elephants as a part of the spectacle. Heavily decked up elephants are an integral part of the festival.
After Chandy's announcement, many wondered aloud on social media if the Kerala government is ready to go to any length to win the next elections. Kerala goes to polls this May. Chandy's announcement to not restrict fireworks in the festival, even in solidarity with the victims of the other tragedy in his state, is being read a vote-bank appeasing policy. The government seems to be trying hard to keep its voters happy and what better way than to let them have their way with their 'customs'?
Like Us On Facebook |

Follow Us On Twitter |

Contact HuffPost India

Also see on HuffPost: