AIR/Twitter
For the last three months, the Mexican Ambassador to India, Melba Pria, has been travelling across Delhi to attend meetings in a chauffeur-driven auto rickshaw. White in colour with a lovely floral pattern and the Mexican flag fluttering proudly above the indicator, her official vehicle might be too cool for school, but has often hit road bumps.
On Tuesday morning, the Mexican Ambassador was reportedly not allowed to park her auto at the India Habitat Centre (IHC). Ironically, she was there to speak at an event on air pollution.
According to this report, when the envoy's vehicle was denied parking space, the organizers of the event intervened.
The event organisers told India Today that there is a perception that people coming to such venues use cars and therefore there is no designated parking space for non-motorised transport.'
However, the office of Embassy of Mexico told HuffPost India that Pria didn't face any such hurdle.
"On April 5th, I attended the ConnectKARO event organised by the World Resources Institute that was held at India Habitat Centre to give a keynote speech about air pollution. India Habitat Centre allowed the entrance and parking of the auto rickshaw. We experienced no problems gaining access to the premises of India Habitat Centre while using this vehicle," she said.
While Pria may "love this form of transport" and thinks it's a "wonderful way to promote India", she definitely hasn't had it easy sometimes.
She is quite aware that her auto-rickshaw creates a sensation wherever she goes.
@vamhussain Sir, Mexican Ambassador Melba Pria @EmbMexInd rides an offcial auto #Simplicity!! pic.twitter.com/sJKuqXrecF

— Gurjeev Singh Walia (@gurjeevwalia) March 22, 2016
"The first thing that catches people's eyes is the fun design, which is inspired by our tourism promotion campaign and the beautiful spectrum of colours you can find in Mexico. I think some rickshaw wallahs are confused initially but they always find it amusing. Even my driver enjoys being a part of the experience," Pria said in a statement.
The envoy says she did not want to be any different from the millions of Indians who use the mode of transport every day.
"I think Delhiites have had positive reactions to this rickshaw, as it pays homage to Indian cultural tradition. They also appreciate the fact that it may be less polluting than a four-wheeler," the statement said.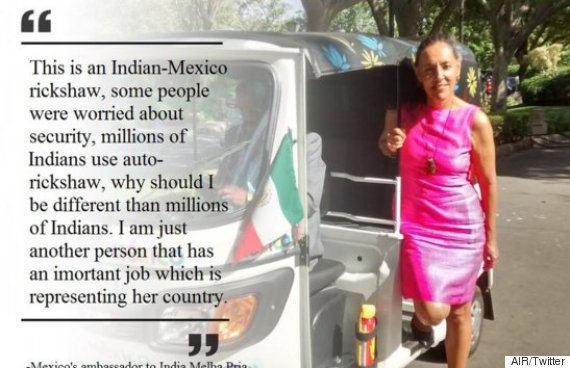 Days ago, when she went to meet the CEO of Rajya Sabha TV in her auto-rickshaw, she was stopped at the gate. Pria was told that three-wheelers are not allowed inside the Parliament House.
The auto-rickshaw is usually parked at Pria's Embassy in Anand Niketan. The vivid floral design on the canvas top has been painted by Mexican street artist Senkoe.
Also See On HuffPost: