Bertrand Demee via Getty Images
The appalling news that a woman allegedly killed eight puppies of a stray dog by dashing them against boulders in Bengaluru has horrified animal rights activists and in fact anyone who has a shred of human decency. The incident took place on the same day that a man in Delhi was caught on camera stabbing three dogs and beating a puppy to death.
According to Bangalore Mirror, the stray dog, adopted by the entire community in Krishnanagar and fondly called Ammu, has been howling since her 15-day-old puppies were killed, allegedly by the wife of a former honorary flight lieutenant.
The woman, who apparently stays in the area, killed the puppies to teach their mother 'a lesson' for 'daring' to give birth in a drain near her gate. The woman, reports NDTV, has now been arrested.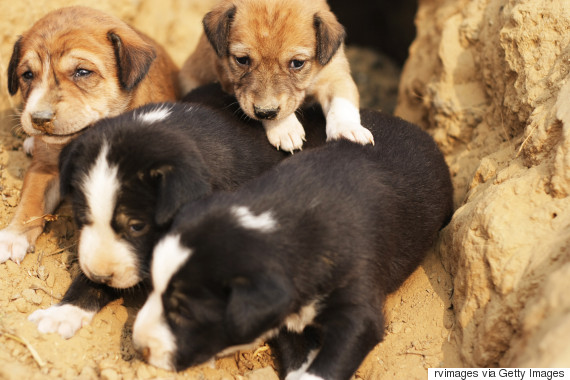 (Representational image)
The incident, which comes close on the heels of the brutal attack on the police horse Shaktiman during a BJP protest, and then the violent killings of three dogs and a puppy in Delhi, has ignited a debate about revisiting and revising the animal rights laws in India.
"The Prevention of Cruelty to Animals (PCA) Act was framed in 1960 and the penalties in the Act have not been revisited ever since... A fine of ₹50 is in no way a deterrent for an act so ghastly that it leaves a living being maimed for life," says DownToEarth.org.
Now, animal welfare activists from Compassion Unlimited Plus Action (CUPA) have decided to take help of the Animal Welfare Board of India (AWBI) and request the government to pass the 'Shaktiman Act', reported Mirror.
"The Shaktiman Act, should it be passed, will make the offence of killing an animal a cognizable one, compoundable with a drastic rise in the penalty," Suparna Ganguly, animal rights activist, and secretary, CUPA, told the Mirror. "The Prime Minister will look into the Shaktiman Act if a body of public opinion is involved. We will also pursue this matter with minister Maneka Gandhi. This incident will also be recorded as a case study… we want the case to be tried under the Act," she added.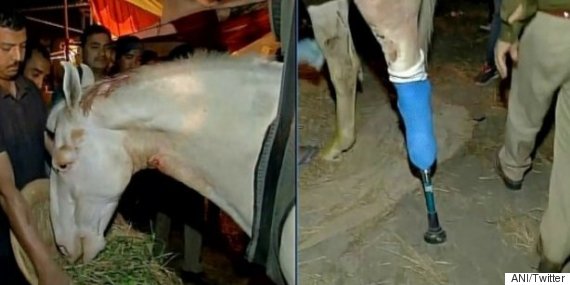 (Police horse Shaktiman with an amputated leg)
In the past few months, several shocking incidents of cruelty against animals, especially dogs, have been reported.
Earlier this year in January, some Chandigarh residents beat up a stray dog and hung it alive from a tree. A similar incident had taken place in Pune last year.
However, several progressive steps are also being taken to curb violence against animals in India, such as the stay order from Supreme Court on cockfights and the ban on jallikattu, among others.
Like Us On Facebook |

Follow Us On Twitter |

Contact HuffPost India

Also On HuffPost: