Hindustan Times via Getty Images
A horse, a horse! My kingdom for a horse. Specifically, a horse named Shaktimaan.
Those who dislike the BJP, see in the Shaktiman saga more proof of a bullying party that is happy to beat up all those who come in its way – protesting JNU students, a Muslim ironsmith in Dadri, even a horse. Those who support the BJP, see a story of its political opponents and media rushing to judgement, eager to pin the blame of any and all accidents on the BJP.
It was the ultimate "gotcha" moment for both sides.
A horse cannot be said to have ideological blinkers. It did not read the wrong kind of textbooks like a Kanhaiya Kumar might have. It cannot be accused of insufficient patriotism like an Umar Khalid. It's not a test case pushing the boundaries of freedom of expression with anti-national cries. No one can say "But why did you not shout 'Bharat mata ki jai'?" It was just a horse doing its job. And the video of BJP MLA Ganesh Joshi with a stick during the protest that hobbled the horse was enough to stir up a firestorm of outrage. Now there was clinching proof of rote brutality and it was seized upon triumphantly by the BJP's foes and not just because they are all animal rights activists.
Except sometimes images do lie or at best tell half-truths, leaving us to join the missing dots according to our own ideological blinkers.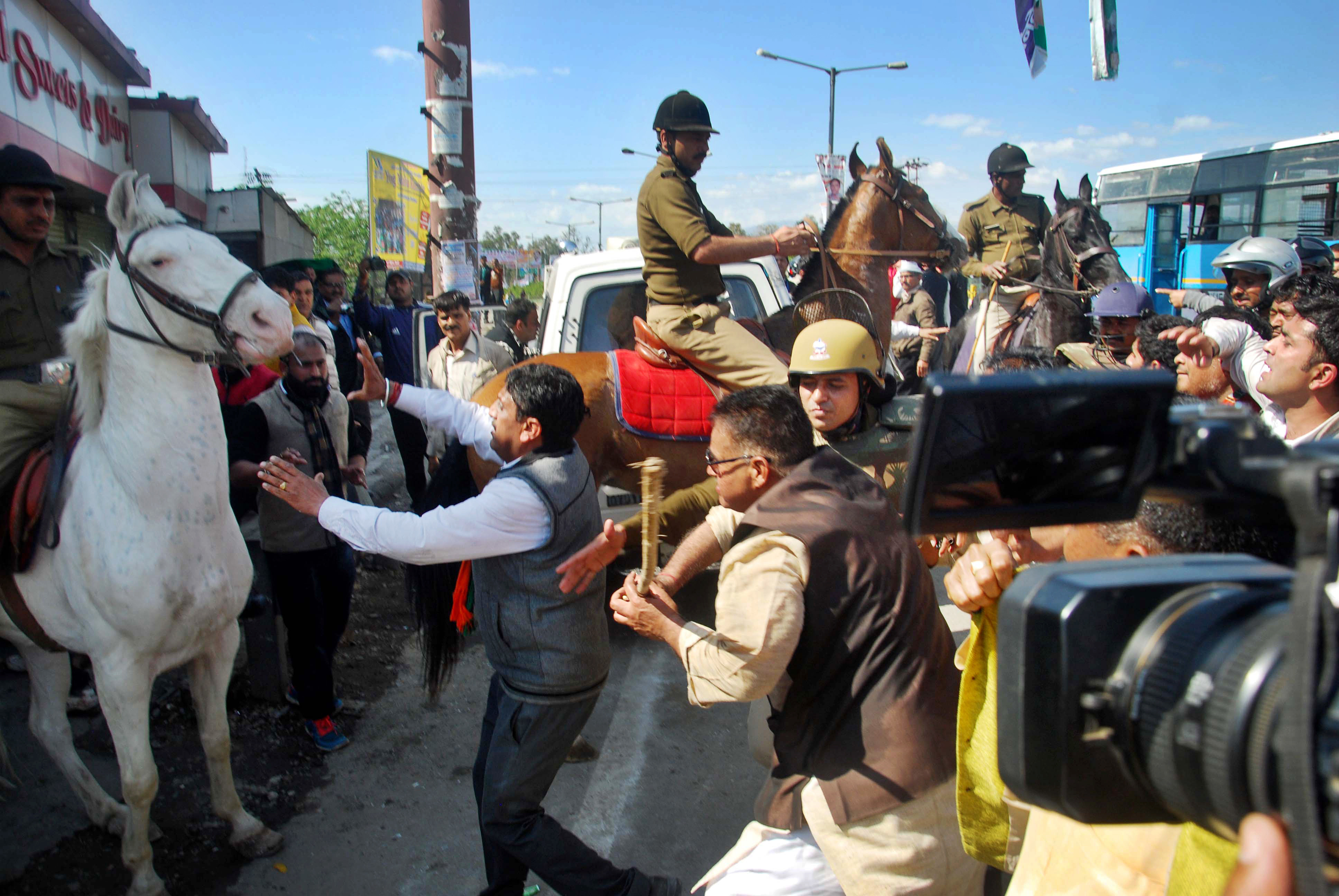 Now it turns out the BJP MLA Ganesh Joshi had seized a stick from a police officer and was hitting the ground with it trying to scare the horse. And another BJP leader Pradeep Bora has been arrested. He is the one accused of actually having pulled the animal's leash. The horse stepped back, fell and broke its leg.
Joshi has vehemently denied he hit the horse and offered to chop his own leg if it was proven he hit the horse and broke its leg. But in the process he seems to be admitting something else that could actually be more serious – that he seized the lathi from a police officer, a public servant on duty and then used it to try and scare the horse which proceeded to back away from him. If that is true, then it's fair to say that those who rushed to pillory Joshi as horse-abuser jumped the gun.
But Joshi's defence hardly covers him in glory either. Seizing a police officer's lathi and trying to scare an animal by hitting the ground in front of it is not exactly law-upholding role model MLA behaviour either. His daughter Neha Joshi offered up a spirited defence of her father calling it a witch hunt against him, bearing testimony to his love for animals including stray dogs, and reiterating that he was only trying to protest against the atrocities committed by the mounted police at the behest of the Congress government.
"There's a difference between brandishing a stick and brandishing a stick and hitting someone," she says. It's a difference we might able to see but the question is could the horse tell the difference as it backed away?
But in the curious ways politics plays out, especially in polarized times, both sides will claim victory.
Joshi will stick to his line – I did not hit the horse and break its leg. And he will be correct.
His opponents will say Joshi's actions caused the horse to be hurt and they too would have a good case. Even his daughter, to her credit, admits to a "moral responsibility".
A horse cannot be said to have ideological blinkers. It did not read the wrong kind of textbooks like a Kanhaiya Kumar might have.
"A picture does not tell the whole story," says Neha Joshi. She is right. We seize on the part of the picture that confirms our bias. And we know this truth not just from this video, but the Kanhaiya Kumar rally videos, as well as the images of journalist Pushp Sharma's now contested RTI response from the AYUSH ministry about Muslim yoga teachers. In all these cases an image broadcast by the media has actually made the waters murkier rather clarifying anything. We are being taught literally over and over again not to believe our own eyes and that cannot be a good indication for the future and is certainly a failure of Journalism 101. Broadcast first, ask questions later. Or worse, broadcast first knowing it's questionable.
But it is even more troubling that such is the "winter of our discontent" that it is so easy for us to believe (according to our ideological leaning) the worst about others – that they cannot bear to have a Muslim yoga teacher even though logically it should serve their cause and show all is well in India, or that they are brutal beasts who break a horse's leg in full public view or that the Ph. D student must have shouted slogans demanding the barbaadi of India. And all of this made worse by grandstanding on all sides leading to a fight that is more about politics than animal cruelty. The arrest of Joshi has precipitated a Uttarakhand government crisis with the BJP claiming 12-13 Congress legislators were in touch with them due to "growing resentment".
In her piece for Mint, Rajyasree Sen points out that the BJP seems to have a "morbid predilection for offering up various body parts as proof of innocence and virtue. HRD minister Smriti Irani offered up her head and now Joshi offers his leg."
It all makes for a rather macabre politics of dismemberment. But the saddest part is the one that has actually lost anything in this story is the hapless Shaktiman. He is the one that has had his leg amputated while we play politics with his plight.
"No beast so fierce but knows some touch of pity. But I know none, and, therefore, am no beast." - William Shakespeare, Richard III.
Like Us On Facebook |

Follow Us On Twitter |

Contact HuffPost India

Also On HuffPost: