HuffPost Staff
A day after details of legal notices sent by Hrithik Roshan and Kangana Ranaut to each other were reported in the press, a friend of the actress has revealed intimate details of their toxic, long-drawn-out relationship that lasted two years.
In an interview to Mumbai Mirror, this 'close friend', who remains unnamed, spoke about the equation between the two stars at length. It's impossible to say if this is completely factual, given that the source is anonymous. Meanwhile, Roshan has been responding to these developments on Twitter with the same blaseness as when he first rubbished news reports of having had an affair with Kangana.
This may not be a wise tactic to pursue for much longer, given that many details revealed about Roshan portray him as insecure and manipulative. Here is a breakdown of the details Ranaut's friend shared: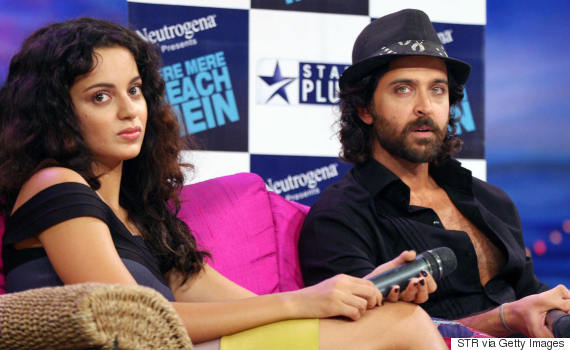 (From left) Kangana Ranaut and Hrithik Roshan on a talk show in 2009
How it started
"It started out as a friendship between two people who were both going through a rough patch, during the shooting of Kites in 2009. His marriage was in trouble and his relationship with his Kites co-star, Mexican model-actress Barbara Mori, wasn't working out. Kangana was going through troubles of her own and they found solace in each other's company and became good friends."
Roshan supposedly pursued Ranaut for a role in Krrish 3 (2013). Although initially she felt "rather uncomfortable" with his advances, they got into a relationship six months later after he confided that his marriage with Susanne Roshan had completely broken down — they were sleeping in separate bedrooms. He added, however, that he would never divorce his wife, which meant Ranaut could never disclose their relationship in public.
Kangana did a real-life Queen
After shooting for Krrrish 3, which she ended up doing, Ranaut went to Milan by herself, much like her character Rani went to Europe solo on her own honeymoon, for a shopping spree.
Hrithik proposed marriage to her in Paris
Roshan called Ranaut in December 2013, announcing that he planned to divorce his wife and his intention to marry her. A month later, he proposed to her in Paris. Arriving there with a ring, he reportedly told her: "You may think this is coming out of a rebound. But I have no doubts about our future happiness because you are the only person who has never judged me. And I have felt a strong connection with you from Day One."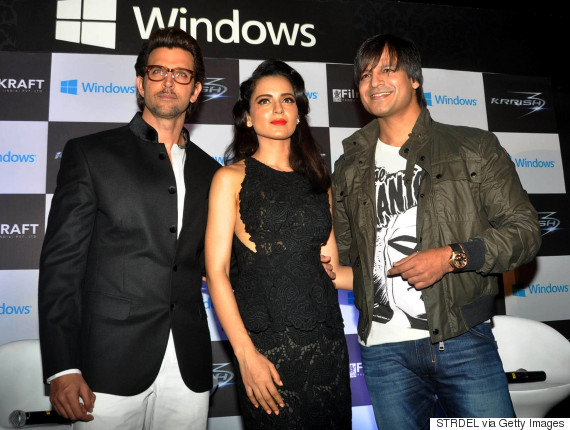 (From left) Hrithik Roshan, Kangana Ranaut, and Viveik Oberoi in 2013
Then, the relationship went downhill
On Valentine's Day, just a month after the proposal, Ranaut called Roshan, who was rumoured to be growing close to his co-star Katrina Kaif on the sets of Bang Bang (2014). Upon confronting him about it, he asked her if anybody knew about their engagement. Ranaut told him she'd told her family about it, to which he reportedly said "she had misunderstood his intentions". The relationship was over, and Ranaut decided it was time to move on. However...
Hrithik changed his mind
A month later, after she won the National Award for her performance in Vikas Bahl's Queen (2014), he called her and supposedly begged her to take him back.
He grew insecure...
At this point, between March and May, their relationship was described as "on-again, off-again". Ranaut's growing credibility as an actress led her to being pursued by a "young superstar", which led to Roshan feeling insecure. "He confronted her and asked if she wanted to tell him something. She told him not to be insecure about their relationship, but that didn't appease him," Ranaut's friend told MM.
... and may or may not have hacked into her email
In May 2014, at a party hosted by filmmaker Karan Johar, he confronted her about setting up "a date" with the younger actor. She was stunned as to how he'd known about the meeting and wondered if he'd managed to hack into her email account. Some of her emails, she later found, had disappeared. When she met the young star again, he asked her out, and it transpired that he had no knowledge of the developments with Roshan. She called up his father, filmmaker Rakesh Roshan, and threatened to file a cyber-crime complaint.
The relationship resumed, but only got more toxic as it progressed
Soon, however, things were smoothened out and the two were back together. Ranaut's friend, however, describes this time as a "downward spiral", revealing that Roshan asked for her email password (which she provided him with), continued to not acknowledge their relationship even after his divorce by projecting a "Casanova image", and not even tweeting about her releases in 2015, Tanu Weds Manu Returns and Katti Batti. He also stationed a man outside her apartment who would keep track of her movements, whom she was interacting with, and where she was going.
He allegedly spread rumours about her
Talk of Ranaut sending him erotic texts and asking his co-stars to stay away from him are only partially true, says Ranaut's friend. "Sure they exchanged intimate texts like any normal couple does, but she never texted his co-stars. We never imagined that he would stoop so low to tarnish her reputation."
Finally, he 'diagnosed' her with Asperger's Syndrome
Ranaut was approached by filmmaker Reema Kagti for her upcoming film Mr Challu for a role in which she'd be playing an Asperger's sufferer. In the film, this prevents her character from lying. "Hrithik visited her that night and she told him about Reema's script. He responded by pointing out that she also had the same problem and couldn't lie about their relationship. After that he often provoked her by mentioning the syndrome, even bringing it up in the notice, despite knowing that it is not a bipolar, medical condition and only reflects a rare straightforwardness," Ranaut's friend told MM.
Like Us On Facebook |

Follow Us On Twitter |

Contact HuffPost India

Also see on HuffPost: