.
On Wednesday, the world came to know about one of Bollywood's biggest fights. This time it wasn't SRK Vs Salman. The ugly spat was between Kangana Ranaut and Hrithik Roshan.
In a legal notice sent by the 42-year-old Bollywood actor through his lawyer, he alleged that he has a record of 1,439 mails from Kangana, most of them -- "senseless, personal and absurd".
The notice also read that the actor tried to ignore the emails before he decided to come out and speak up.
And like always, Twitter had something to say.
1. Accurate.
Hrithik's reaction upon searching "Kangana" in his mail box pic.twitter.com/S94aOPv8fj

— The-Lying-Lama (@KyaUkhaadLega) March 17, 2016
2. Thumbs up to this.
When Kangana types a mail with her fingers:
"Dear Hrithik..."

When Hrithik types a mail with his fingers:
"Dfear Kjangfana"

— scaryhairyman (@scaryhairyman) March 17, 2016
3. Oh those annoying spam mails!
Kangana Sent 1300+ emails to Hrithik Roshan. She has enough experience to work at Dr. Batra or HealthKart now.

— HINDUSTAN ZINDABAD (@HaramiParindey) March 17, 2016
4. Quite Deloitteful.
Looks like Kangana Ranaut sent 1,439 emails to Hrithik Roshan. Didn't know Kangana Ranaut was a Business consultant at Deloitte.

— Trendulkar (@Trendulkar) March 17, 2016
5. Or just ask Jaadoo for help.
Has @gmail tweeted to Hrithik and Kangana to increase their email storage?

— Shan (@klpe) March 17, 2016
6. Love the optimism.
All praise for Kangana for still using email as the preferred channel of communication and keeping away from that nonsensical WhatsApp.

— N (@ennwhee) March 17, 2016
7. Tanu meets Duggu.
Kangana sent many mails to Hrithik and sent some more even after getting no reply because pic.twitter.com/Cjmr4KnbLj

— अंकित (@indiantweeter) March 17, 2016
8. YES.
Forget India vs Pakistan ! The most nail biting match going on this week in India is Hrithik vs Kangana

— Atul Khatri (@one_by_two) March 17, 2016
9. Aur bahot mail aaya.
Hrithik is #nowplaying Koi Mail Gaya.

— Shan (@klpe) March 17, 2016
10. Photoshop skills on point.
WTF Kangana Ranaut pic.twitter.com/xktF2554Hw

— Godman Chikna (@Madan_Chikna) March 17, 2016
Looks like he has already read these jokes.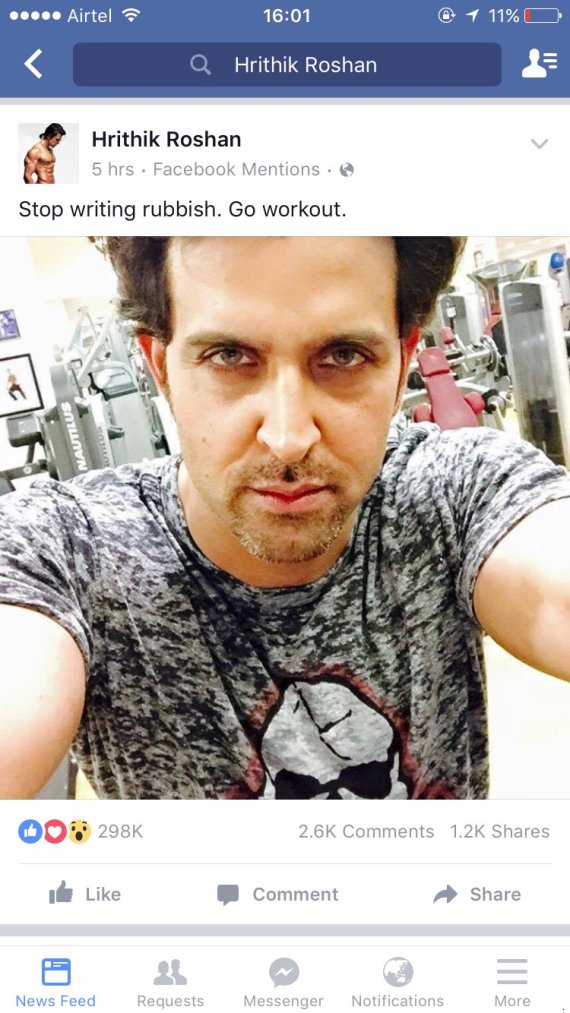 Like Us On Facebook |

Follow Us On Twitter |

Contact HuffPost India

Also On HuffPost: