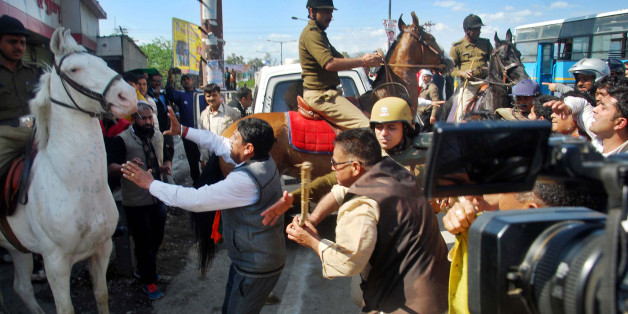 Hindustan Times via Getty Images
Union minister Maneka Gandhi, who is also the founder of India's largest animal rights group 'People for Animals', has called for immediate expulsion of BJP MLA Ganesh Joshi from the party for allegedly attacking a police horse which suffered severe injuries in one of its hind legs, leading to nationwide outrage from animal lovers. The MLA has said he is ready to face penalties if charges against him are proven.
"The entire BJP has come to disrepute because of this one man's actions. He should be expelled from the party without delay", said Gandhi.
The entire BJP has come to disrepute because of this one man's actions. He should be expelled from the party without delay.
ALSO READ: My Father Is Not An Animal Abuser, Says Daughter Of BJP MLA Accused Of Crippling Horse
Meanwhile, a Change.org petition urged Gandhi to make sure that a prosthetic leg is provided to the horse which requires surgery and amputation of the injured leg for it to survive, according to veterinary doctors.
"The maimed horse should be provided with a prosthetic leg and transferred to animal shelter so it could lead the rest of its life in peace," the petition said.
People for Animals, Uttarakhand, has said it will be happy to assist in arranging expert equine veterinarians or to shelter the disabled animal at the equine shelter run by PFA in Sahaspur, Dehradun. A complaint letter from trustee Gauri Maulekhi to the Director General of Police, Uttarakhand, has also called for stringent action against the culprit.
JOSHI'S DEFENCE
Joshi initially said he wasn't present during the protest on Monday during which the brutal incident happened. But on Tuesday he changed his stand and said he was ready to face penalty if found guilty.
He told India Today Television that the CCTV footage is misleading.
"When I saw that my party workers were being attacked by the police, I took the lathi from one of the cops and hit it on the ground. I did this to save my people. I did not hit the horse. In the video footage that is being circulated, you can clearly see that there is sufficient distance between me and the horse... I allow animal activists to take action against me if the charges against me are proven. Chop off my leg if am proven guilty," he told the channel.
Several videos were being circulated on the Internet. From one angle the MLA is seen beating the stick on the ground. The startled horse, when it tried to back away from the attack, falls on its hind leg. In most photos available of the incident, Joshi is seen with a stick raised.
Like Us On Facebook |

Follow Us On Twitter |

Contact HuffPost India

Also on HuffPost:
Delhi's Most Popular Street Food