Alex Wong via Getty Images
NEW DELHI -- Now, hear this. A woman in Guwahati has applied to change her surname to match that of the President of The United States.
Archana Ozah, a woman in her mid-thirties, reportedly applied to change her surname to Obama on 3rd March 2016.
Ozah released an advertisement in a local daily which read, "I, Archana Ozah, had changed my surname legally from Archana Ozah to Archana Obama vide court affidavit dated 03.03.2016 sworn before the Notary Public, Kamrup (M) at Guwahati."
In the past, she would allegedly pray to a portrait of Obama, and light incense sticks in his honour.
Her application may not come through, but Ozah's determination to establish herself with a link, however remote to the president of the United States, remains undeterred. "I have not been able to live with Obama, but I will die an Obama," she said in an interview.
Ozah, as it turns out, is not alone in her devotion to Obama Obama, who was Twitter's most followed world leader last year, has quite a fan following in India:
HuffPost India reached out to this Gurgaon-based litti chokha cart seller, who said that he loves Obama, and would be honoured to meet him. Since he doesn't have money to go to America, he was content with featuring him on his cart. "Some people love the Indian Prime Minister, but I love Barack Obama," he said.
View post on imgur.com
Gopal even admitted that sometimes he fibs about Obama eating at his stall.
A design website discovered an ad by a restaurant that was using Obama's face to quite literally lift people's 'spirits':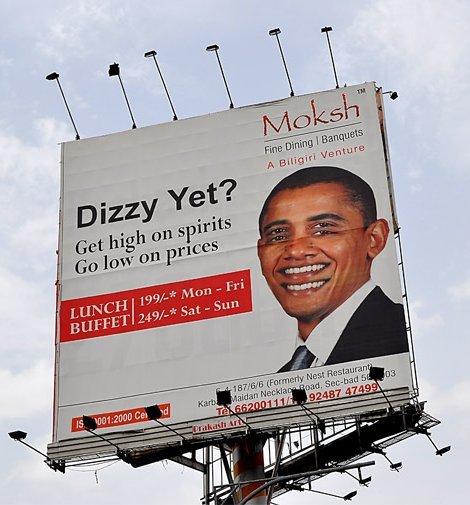 And then there's Barack Bhau Obama....
View post on imgur.com
Like Us On Facebook |

Follow Us On Twitter |

Contact HuffPost India

Also See On HuffPost: