Hindustan Times via Getty Images
NEW DELHI--The Delhi high court on Tuesday asked two JNU students charged with sedition -- Umar Khalid and Anirban Bhattacharya – to surrender at a place of their choice.
The Delhi Police strongly objected to the suggestion of Khalid's lawyer to surrender at a location and time of his choice.
Earlier, the students, citing the attack on Kanhaiya Kuma had while being taken to the court for bail hearing, moved the High Court for protection to surrender and requested that they be allowed to do so at a secret location.
The police, however, told the court that they would not be able to manage law and order at a location chosen by the students.
The court said: "You can't use your whim and fancy. You have to follow the procedure, surrender or arrest. You have to be produced before a magistrate and he will decide whether you go into police custody or jail."
Till tomorrow, the students have no protection from arrest.
They can be arrested any time.
Earlier, the HC agreed to hear a plea filed by Khalid and Bhattacharya seeking security before they surrender to the court.
The court refused to grant them interim protection from arrest till Wednesday, when it will continue hearing the plea seeking security.
Two more students of the varsity - Rama Naga and Anant Prakash Narayan – have filed anticipatory bail pleas in the HC.
Meanwhile, in a complete U-turn, police today opposed in the High Court the bail plea of JNUSU President Kanhaiya Kumar, arrested in a sedition case, in which the court has asked for a status report by tomorrow.
When the matter came up for hearing as directed by the Supreme Court last week, Additional Solicitor General (ASG) Tushar Mehta, appearing for the police, told Justice Pratibha Rani that they were opposing the bail plea of Kanhaiya, who was arrested 11 days ago.
Delhi Police Commissioner B S Bassi, who had last week said that police would not object if Kanhaiya applied for bail, today justified the change in their stand saying that the circumstances have changed.
"The circumstances when I had said so, those have totally changed," he said.
But, Delhi hasn't stopped protesting.
In the second such protest in less than a week, thousands of students from various universities across the country today took to the streets in the national capital demanding justice for Dalit scholar Rohith Vemula and protesting the JNU crisis.
The students marched from Ambedkar Bhawan in central Delhi's Jandewalan to Jantar Mantar, the capital's protest hotspot, where they were first joined by Congress leader Rahul Gandhi and then by Delhi Chief Minister Arvind Kejriwal.
The protesters, including hundreds of students from University of Hyderabad and Osmania University, raised Ambedkarite slogans such as "Jai Bhim" and demanded justice for Vemula, alleging that the Centre was responsible for his suicide.
Students from universities in the national capital, such as Jawaharlal Nehru University, Delhi University, Jamia Milia and Ambedkar University, joined the march condemning the police action in JNU while demanding immediate release of JNUSU president Kanhaiya Kumar.
Vemula's mother Radhika and brother Raja also participated in the march.
In his address, Rahul mounted a shrill attack on the Modi government and RSS, accusing them of crushing voices of dissent of college and university students across the country.
ALSO READ: Jat Violence Vs JNU Slogans: Modi Govt's Divergent Response Is Telling
He also pitched for a law to protect them from "discrimination" and "suppression".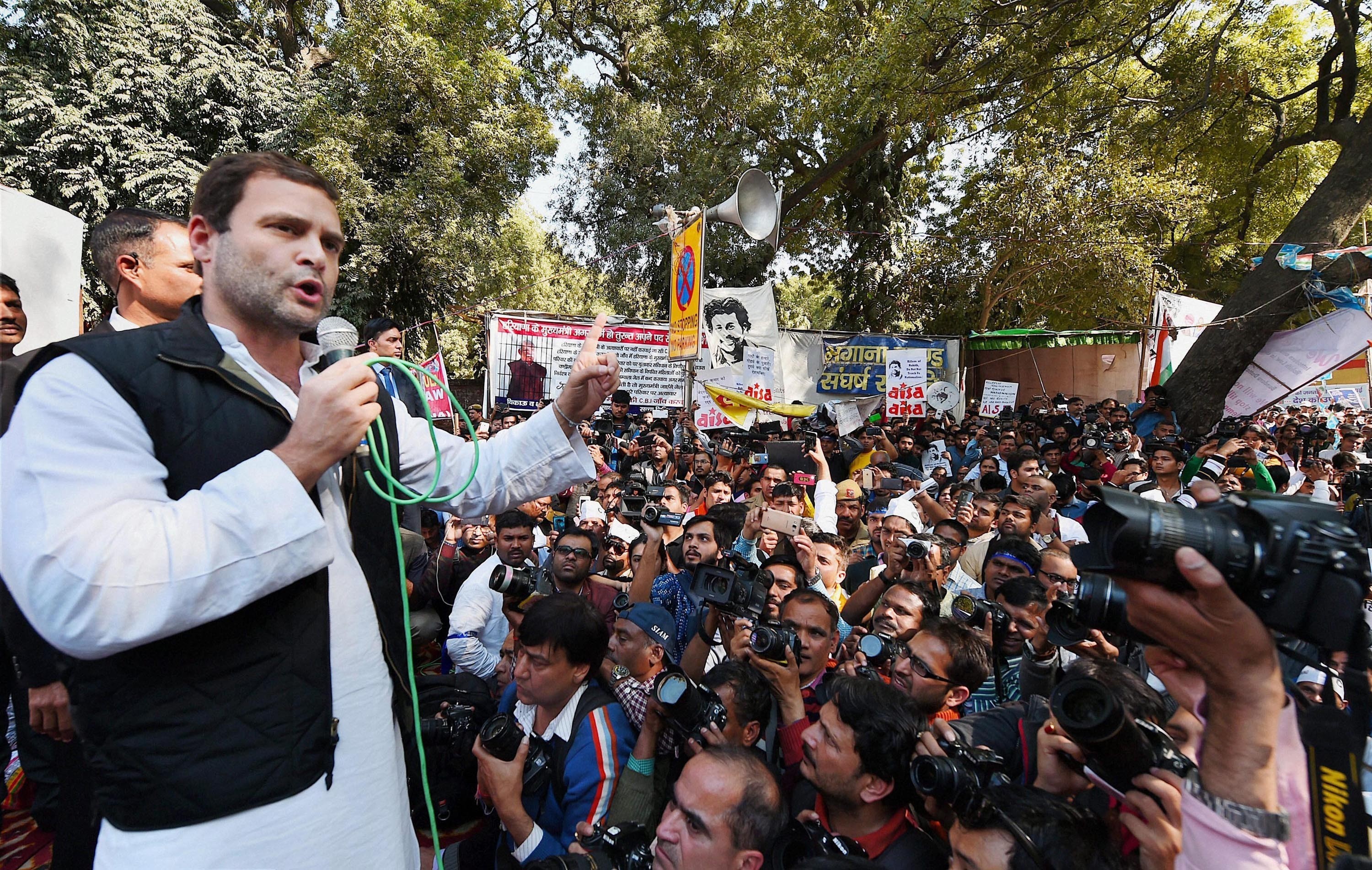 "We need a law to ensure that students in colleges and universities do not face discrimination and their voice is not stifled," he said.
Accusing the Centre of muzzling the voice of students across universities in the country if they differ with ideology of RSS, Rahul said Congress will fight for bringing a law to check such "suppression".
He alleged that government was trying to suppress not only the youths but also the Adivasis, Dalits and other weaker sections.
In his address, Kejriwal said the Centre was at "war" with the students of the country and asked the Prime minister to "mend his ways". Otherwise, he said, students will "teach him a lesson".
"If Modiji does not mend ways then very soon the youth and students will come together to teach him a lesson," Kejriwal said, adding "I had said earlier, 'Modiji students se pange mat lena' (don't mess with students). Otherwise they will rock your government and you won't have a clue," he said, amid loud cheers.
A major protest against the JNU row was organised in the city last week where a large number of students, academia, intellectuals and rights activists had participated.
(With inputs from PTI)
Like Us On Facebook |

Follow Us On Twitter |

Contact HuffPost India