PTI
Chandigarh--Fresh incidents of violence were reported today in Haryana as the Jat stir for quota intensified. Protestors torched a railway station in Jind even as the Army conducted a flag march in two curfew-bound districts and used helicopters to reach parts of the blocked Rohtak district.
As the violence by Jat protestors demanding quota continued unabated, Chief Minister Manohar Khattar issued yet another to maintain peace.
Life was crippled in Rohtak, the epicentre of the ongoing agitation, and Bhiwani. Traffic was hit and shops, commercial establishments and schools remained closed.
A report on The Indian Express says, "In order to deal with any situation of clashes with the security agencies or Army, Jats have put women and children as their shield. Women, too armed, are shouting slogans in various parts of Rohtak."
Haryana DGP holds a press conference on the crisis.
The Army conducted flag march in Rohtak and Bhiwani today where curfew remained in force.
The Army could not enter Rohtak through road as protesters had put up blockades on Delhi, Hisar, Rohtak, and Fazilka highways, forcing the authorities to air drop them, official said. Roads had been dug up preventing Army trucks from entering.
As the protest intensified, some unidentified persons set the Budha Khera Railway Station on fire in Jind district this morning.
The furniture, record room and other articles were set on fire at the railway station, which falls in the Jind-Panipat rail section, police said.
Haryana DGP Yashpal Singhal said, "I accept there may have been some lapses which could have been avoided. Forces may not have been deployed in the right manner. We will inquire that later.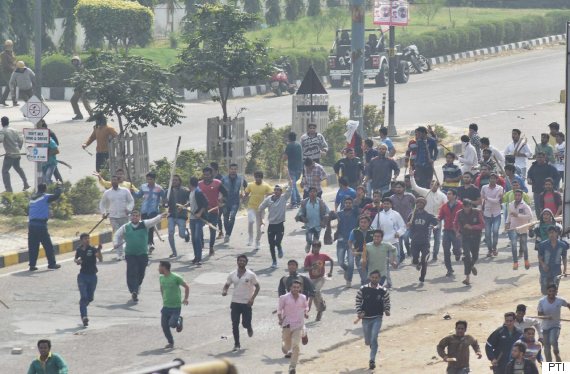 Jat protesters in Haryana.
IBN Live reports, "The police chief also made an appeal to khaps in Haryana to avoid meetings so that it would be easier for security forces to control the situation.He also requested elders in the family not to allow young men to move towards cities to take part in the agitation. He said it is "sad" that the agitation is "leaderless" as it makes it more difficult for the administration to communicate with them. Singhal also said he would not rule out the involvement of "outsiders" in fomenting trouble in the state."
Sporadic incidents of violence and arson were reported at several places overnight despite authorities imposing curfew and issuing shoot at sight orders at Rohtak and Bhiwani besides prohibitory orders in Hisar, Jhajjar, Jind, Kaithal and Panipat.
Haryana government had yesterday called the Army in nine districts while curfew was imposed in two districts along with shoot-at-sight orders after one person died and 25 were injured during the Jat stir for quota which turned violent with mobs resorting to widespread arson.
The Centre has also rushed 3,300 personnel of paramilitary forces to control the rampaging mob.
With inputs from PTI
Like Us On Facebook |

Follow Us On Twitter |

Contact HuffPost India

Also see on HuffPost: