YouTube
Karnataka Home Minister G. Parameshwara is in urgent need of some Racism 101.
Under fire after the attack on the Tanzanian student in Bengaluru, Parameshwara is doing his best to dodge the R-word. "It was not a racial attack but just a violent response to the accident," he told he media.
And then to drive home the point further, he said "Had the incident (where a Sudanese student mowed down a pedestrian) not occurred, the assault would not have happened."
By his logic the attack on Balbir Singh Sodhi, the Sikh gas station owner, lynched and killed in Arizona for his turban and beard after 9/11 would not be about racism. By Parameshwara's reasoning the attackers could say "it was just a violent response to 9/11" and "had the incident not occurred the assault would not have happened."
"Race is a huge and ugly part of this story."
Racism, Mr. Parameshwara, does not occur in a vaccum. You don't have to wear KKK hoods and burn torches to announce its presence. The trigger might be an accident, or jobs, or an altercation about parking space, or 9/11 but when a Tanzanian is pulled out of a car and thrashed because she is African just like the Sudanese man actually responsible for the accident, it is racism.
It was not an irate mob pulling anyone and everyone out of their cars to beat them up. They were targeting Africans. For being Africans. That is racism. There is no beating around the bush about that no matter how much the minister wiggles.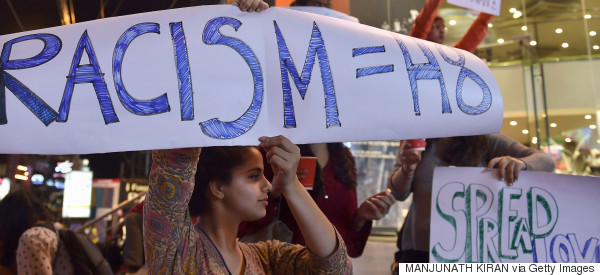 Let's put it this way to Mr. Parameshwara. If a Bangladeshi or Sri Lankan student had killed a pedestrian in Australia in a car crash and a few hours later an Indian passerby had been thrashed, would we not be crying racism?
And justifiably so. Australia has had a history of a spate of race attacks on Indians and this attack would fit into that sordid history. Just because the shoe is now on the other foot, it does not mean it does not fit anymore. Racism by Indians against Africans is as real as racism by Australians against Indians. We cannot deny one and rail against the other.
"It was not a racial attack but just a violent response to the accident."
And it does not help out case to have officials expending more time to tell us what it was not. City police commissioner N. S. Megharikh tells The Telegraph that the woman was not stripped and paraded. "She was not stripped completely. Her top came off in the melee," he said as if she had been stuck in particularly bad rush hour at Rajiv Chowk metro station. Parameshwara tells the Hindu she was not sexually assaulted.
"The attackers manhandled the woman and tore her clothes. She escaped and tried to board a BMTC but the passengers refused to help her.
However, one Iranian student helped her to reach a safe place." A busload of people refuse to help a terrified woman with torn clothes and we should take comfort in the fact that at least she was not sexually assaulted!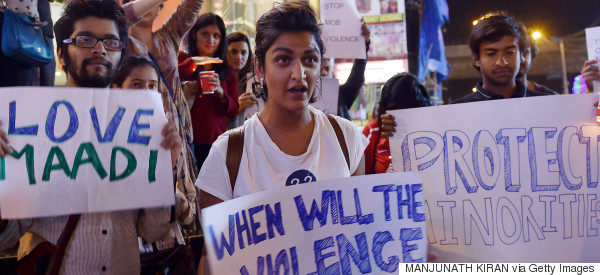 The issue as Bosco Kaweesi, the local African Students Union leader has put it, is about an innocent person being attacked because she was an African at the wrong place at the wrong time.
Whether the top was pulled off or came off is a distinction that does not lessen the horror of what happened. What was horrific about Dadri was that a man got lynched because of suspicion about what he was eating. Whether it was eventually discovered to be mutton or beef does not really matter.
Perhaps the commissioner should spend more time finding out what actually happened than issuing statements about what did not. Were there indeed two police officers there who did not help? Did a police officer resist filing an FIR as has been claimed?
"Racism by Indians against Africans is as real as racism by Australians against Indians."
And finally there's always the one bad apple excuse. Foreign ministry spokesperson Vikas Swarup while assuring "stringent punishment for those behind it" also says. "As far as we are concerned this should be seen as an isolated incident."
Mr Swarup must be willfully blind to not know that racism against those darker than us is alive, well and kicking in India. This is not to say there might not be problems about drugs, prostitution, money as local communities have alleged. But when you tar the entire community with the crimes of some, you are being racist. This is a reality in India and it did not just begin with Bengaluru and the Tanzanian.
Back in 2009, Diepiriye Kuku, an African American wrote about his experiences in India as a Ph D student in Delhi for Outlook:
"It is harrowing to constantly have children and adults tease, taunt, pick, poke and peer at you from the corner of their eyes, denying their own humanity as well as mine. Their aggressive, crude curiosity threatens to dominate unless disarmed by kindness, or met with equal aggression.
Once I stood gazing at the giraffes at the Lucknow Zoo only to turn and see 50-odd families gawking at me rather than the exhibit."
If that sounds more like the curiosity about the unfamiliar than racism, read on.
"Discrimination in Delhi surpasses the denial of courtesy. I have been denied visas, apartments, entrance to discos, attentiveness, kindness and the benefit of doubt. Further, the lack of neighbourliness exceeds what locals describe as normal for a capital already known for its coldness."
What happened in Bengaluru was the racism escalated to the point of crime as opposed to garden-variety discrimination. It made news. Embarrassingly so. To now pretend it is "isolated" or has nothing to do with race, but is only an overly heated reaction to an accident, is just shocking.
Race is a huge and ugly part of this story. But public officials, by sleight of hand, want to make it into a story only about road rage rather than race. That is adding insult to injury.
Like Us On Facebook |

Follow Us On Twitter |

Contact HuffPost India

Also see on HuffPost: