Hindustan Times via Getty Images
Gaurav Kawduji Sahastrabuddhe was just 15 years old when he rescued four younger friends from drowning in the lake near his house in June 2014. The Nagpur boy swam for 20 minutes, pulling out his friends and dragging them safely to the shore. As he was saving the last drowning boy, even though he managed to bring him out of the lake safely, he himself passed out and drowned. This Republic Day, he will be posthumously awarded the coveted Bharat Award for his bravery.
Two states away, 13-year-old Shivansh Singh from Faizabad in Uttar Pradesh was a medal-winning swimmer who died while trying to save his friend from drowning in the Saryu river.
The stories of the three girls and 22 boys to be honoured for the National Bravery Awards this year are inspiring, to say the least.
Shivampet Ruchitha from Telangana is the youngest person who will receive the national bravery award this year. She has been given the Geeta Chopra award for saving two of her schoolmates when a train hit her school bus in July 2014. Though she was not able to save her younger sister, who was in the same bus and died in the incident, she managed to push two other people out of the window of the bus just as the collision took place.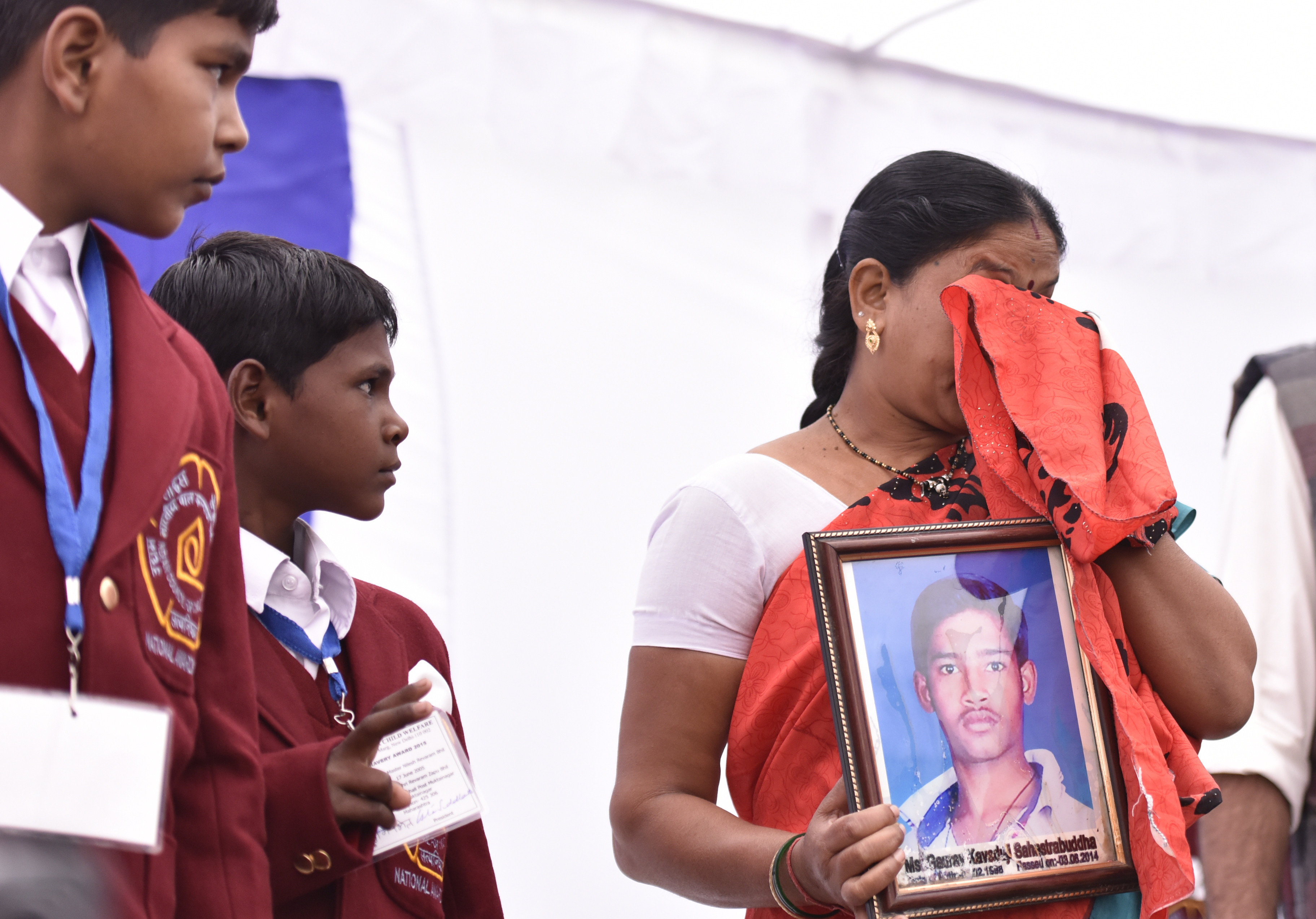 Mother of Gaurav Kawduji Sahastrabuddhe of Maharashtra, who will be honoured (posthumous), weeps during a press conference.
Meanwhile, Arjun Singh fought off a tiger that entered their home in Uttarakhand, saving his mother's life. According to reports, the tiger entered their home in July 2014 while Arjun's mother was feeding cattle. While she fainted at the sight, the 16-year-old boy showed great presence of mind and rushed inside one of the rooms and grabbed a sickle to fight the tiger. Realising that the weapon wasn't long enough to hit the tiger without getting too close, he picked up a stick and waved it towards the big cat until others in his village reached and the tiger ran away because of the crowd. He will be awarded the Sanjay Chopra award.
The Bapu Gaidhani awards this year are being given to three boys who put their lives at risk for complete strangers. While Mizoram's Ramdinthara, 15, pulled out two boys stuck on a transformer fence with his bare hands and took them to the hospital, 13-year-old Rakeshbhai Shanabhai Patel of Gujarat saved a boy who fell into a 14-foot deep well. Kerala's Aromal SM, 12, saved two ladies from drowning.
Dishant Mehndiratta from Haryana helped save his entire family when the 12-year-old snatched a knife from an armed robber who was threatening to slit his mother's throat. Pretending to entreat the robber to spare his mother's life, he threw himself at the man's feet and managed to throw him off balance.
While Mehndiratta was driven by the urgency to save his mother, 10-year-old Joena Chakraborty ran after a thief because of what she saw as pure injustice. After a man snatched her father's phone in Delhi, she ran after him and tackled him by his legs even though she knew he may have a knife.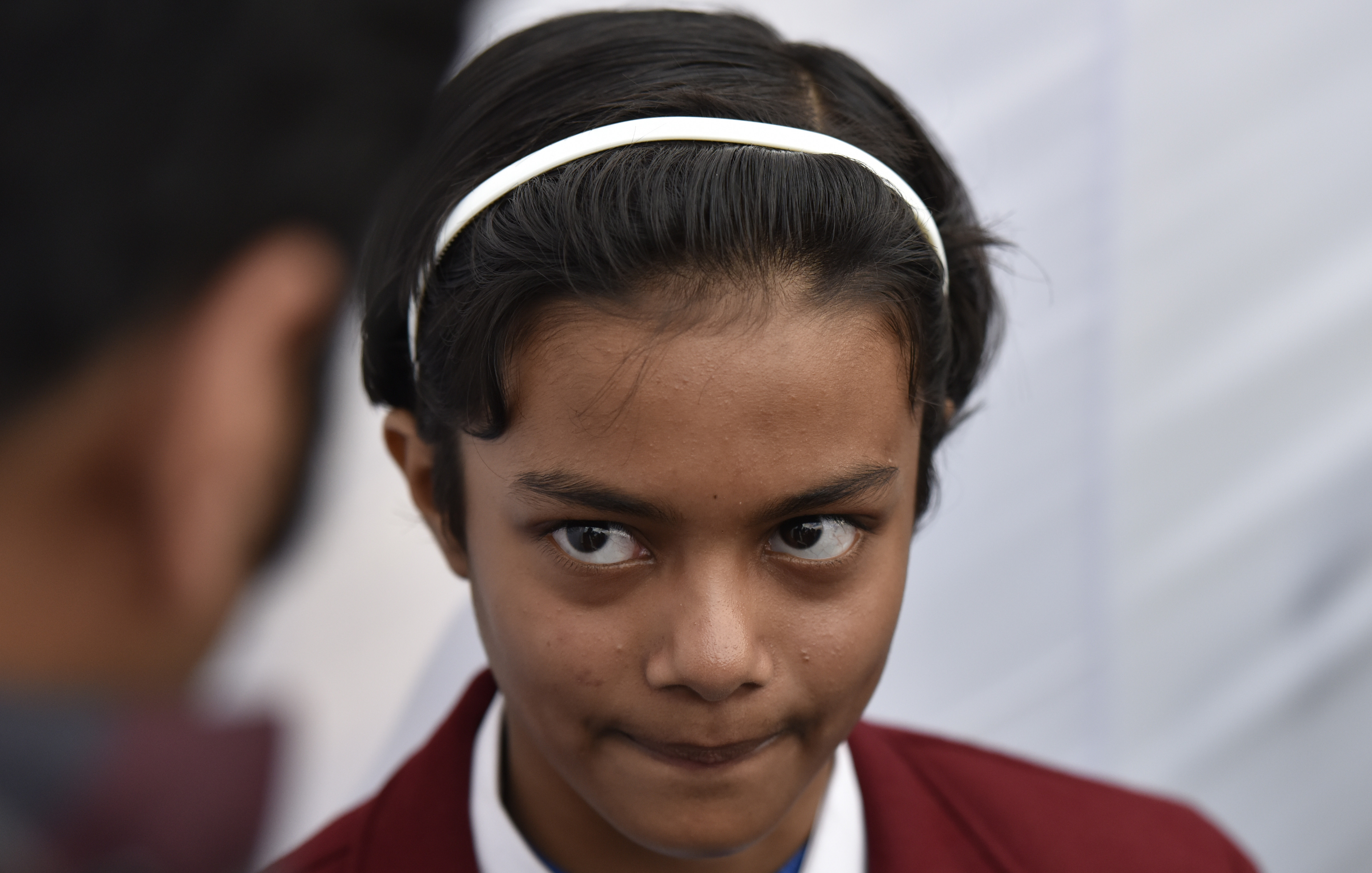 Joena Chakraborty, 10, is a bravery award winner from Chhattisgarh.
It's not as if these kids weren't scared even though they displayed bravado. Chongtham Kuber Meitei from Manipur told The Telegraph that he was afraid to jump into a 10-foot deep well where a girl was drowning last year in March. But the 13-year-old said that he "had to" jump in to save her after he heard her screams. Meitei had been playing football nearby and was retrieving it from near the well when the incident happened.
Meanwhile, not far away the same day, Maurice Yengkhom was saving his best friend. The two were playing when, suddenly, his friend got an electric shock. He would have likely been electrocuted to death if Yengkhom didn't have the presence of mind to pick up a cane chair nearby and hit his friend with it repeatedly, which ultimately saved his life.
Others who won the national bravery awards this year include 10-year-old Kashish Dhanani from Gujarat who protected his 15-months-old sibling from a ferocious German Shepherd, Angelica Tynsong, 13, from Meghalaya saved her seven-month-old brother from a fire, and Sai Krishna Akhil Kilambi, 15, from Telangana whose timely act saved his mother from electrocution.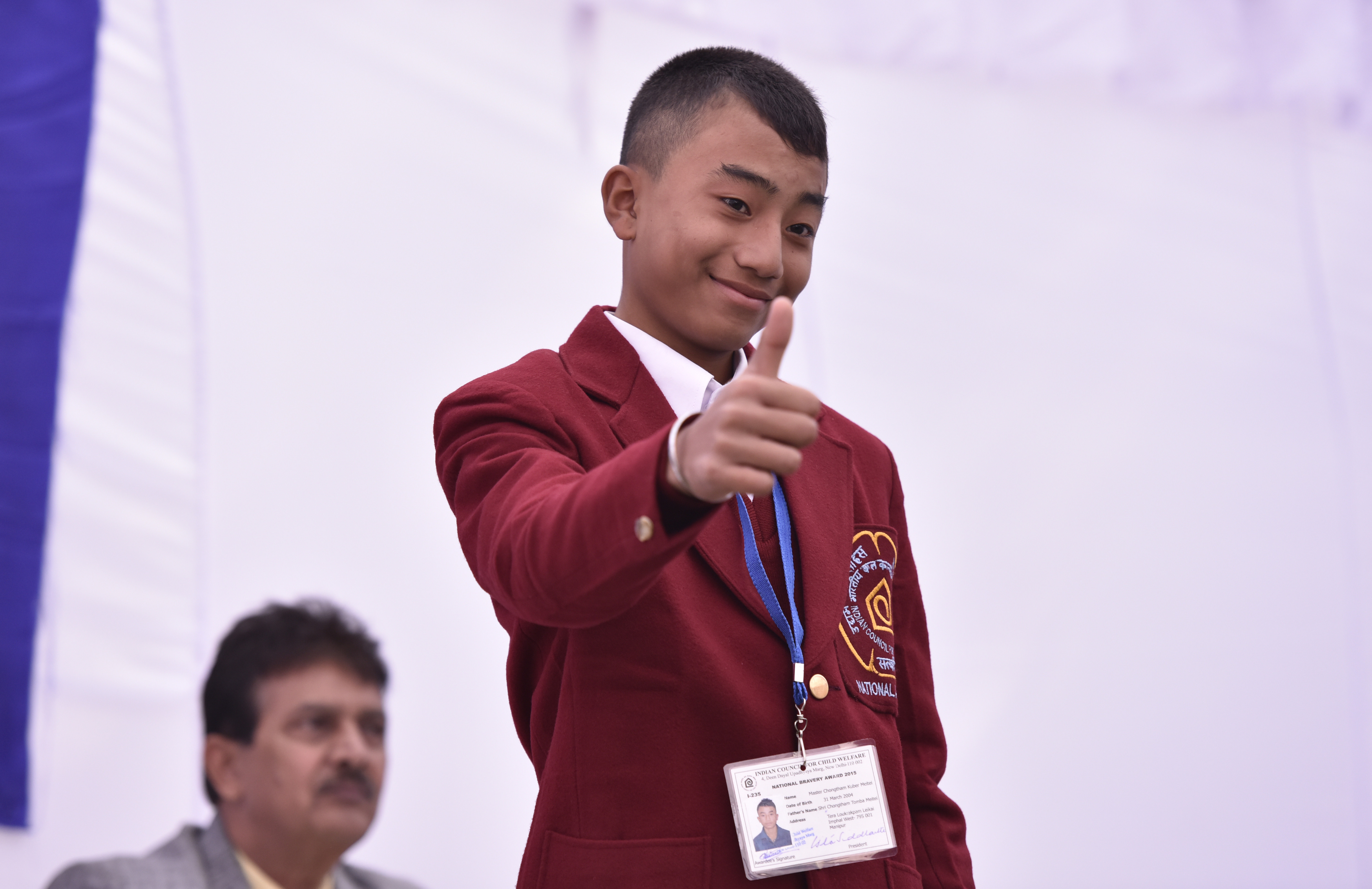 Chongtham Kuber, 12, from Manipur has won a bravery award.
The list also includes Sarwanand Saha from Chhattisgarh, Abinash Mishra from Odisha, and Bhimsen alias Sonu from Uttar Pradesh. Five children from Kerala — Beedhovan, Nithin Philip Mathew, Abhijith K.V., Anandu Dileep, and Muhammad Shamnad — and three from Maharashtra — Mohit Mahendra Dalvi, Nilesh Revaram Bhil, and Vaibhav Ramesh Ghangare will also be recognised.
They will join the 920 brave children — 656 boys and 264 girls — who have been given these awards since 1957 when they were instituted. The awardees receive a medal, certificate and cash.
Eligible awardees will be granted financial assistance until they complete their schooling. Some state governments also provide financial assistance to them. In addition, ICCW provides financial assistance under its Indira Gandhi Scholarship Scheme to those undertaking professional courses such as engineering and medicine. For the others, this assistance is provided till they complete their graduation. The Government of India has reserved some seats for the awardees in medical and engineering colleges and polytechnics.
Like Us On Facebook |

Follow Us On Twitter |

Contact HuffPost India

Also on HuffPost: