Hindustan Times via Getty Images
Sunanda Pushkar, late wife of Congress MP Shashi Tharoor, died of 'unnatural' causes, confirmed a viscera report by the All India Institute Of Medical Science (AIIMS). However, Pushkar did not die of radioactive poisoning, Delhi Police Commissioner BS Bassi said on Friday. He was referring to a report from the US Federal Bureau of Investigation, which had examined some samples sent to them to check for polonium poisoning.
"What was told to us by that FBI was that the content of the samples had no radioactive materials," Bassi said. "The radioactive levels were found within the acceptable range, also certain other chemical compounds were found." The FBI has endorsed the AIIMS report which concluded that Pushkar had been poisoned, Sudhir Gupta, head of AIIMS Forensic Science department, told reporters. In fact, the FBI has added that a "dangerous chemical" was present in her body that may have killed her, PTI reported.
However, Bassi did not confirm this. "I have no knowledge on the mention of any dangerous chemical in the FBI report. The FBI report had said none of the samples contained any radioactive material," he said. "I can confirm there's no radiaoactive material but certain other findings are there. We had given the entire report to the medical board which has examined and gave us a report."
The police then sent the report — which is 11 pages long with a 32-page annexure — to the AIIMS board, who have assessed it. Special Commissioner of Police (Law and Order) Deepak Mishra is reviewing the progress in the case. Tharoor may be questioned again in the matter, according to police sources quoted in a CNN-IBN report.
Have been told that Medical Board's advice in late Sunanda's case has been received. Deepak is reviewing progress. Merits shall be ensured

— BS Bassi (@BhimBassi) January 15, 2016
Sunanda Pushkar, 51, was found dead at the Leela Hotel in New Delhi in January 2014. While it was initially considered a suicide, Delhi Police later registered a murder case in the matter. Pushkar's viscera samples were sent to the FBI lab in Washington in February last year after a panel of doctors from AIIMS said that the alleged 'poison' could not be detected in Indian labs.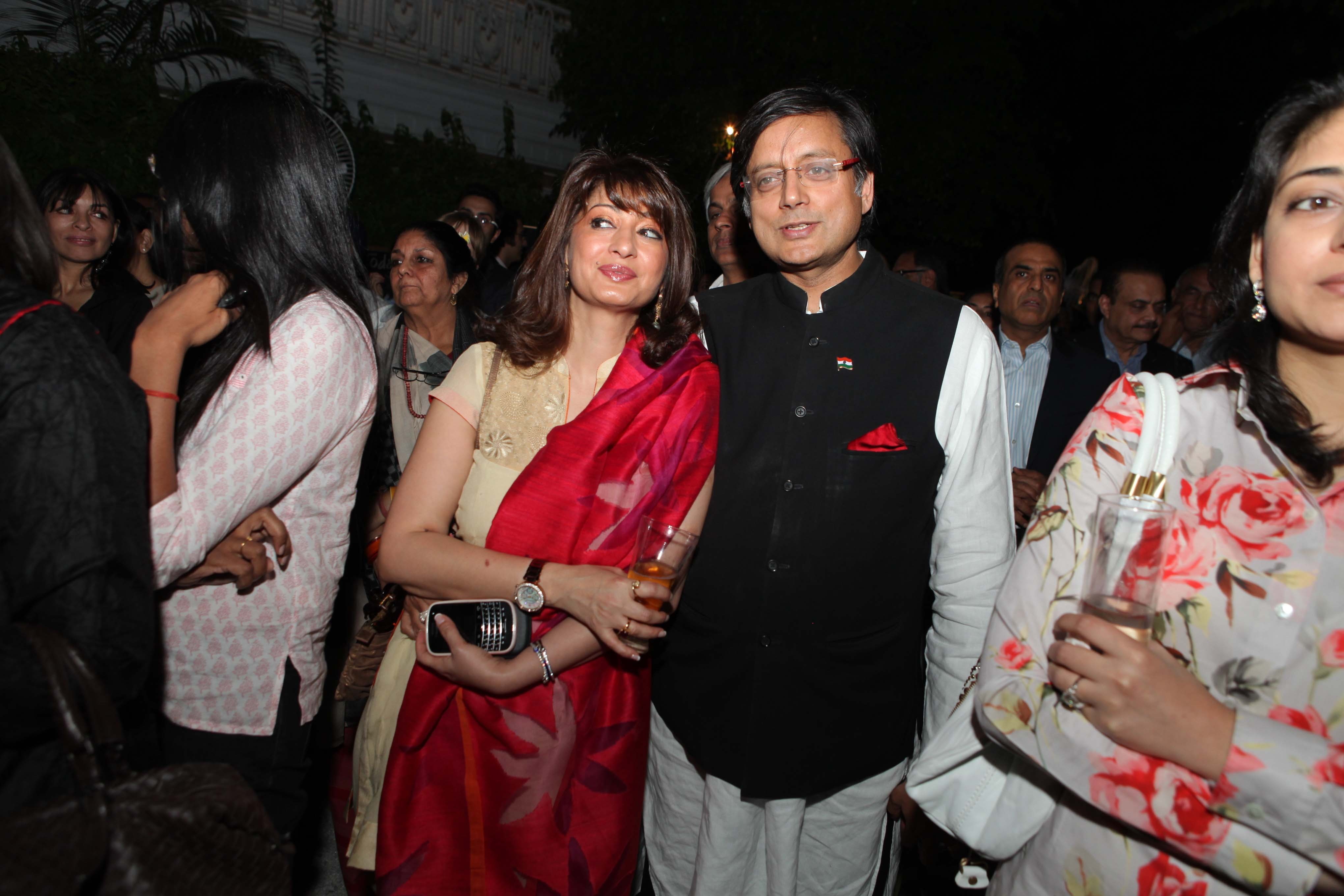 Congress MP Shashi Tharoor with his late wife Sunanda Pushkar Tharoor in April 2012.
Pushkar's death attracted a lot of conjecture, as she was involved in a very public spat just a day earlier with Pakistani journalist Mehr Tarar on Twitter over the latter's alleged affair with Tharoor.
FBI additionally mentioned the presence of a dangerous chemical which may be cause of the death of given injectable: Sources #SunandaPushkar

— ANI (@ANI_news) January 15, 2016
The FBI report has virtually ruled out the theory of 'polonium poisoning' having caused her death. However, after Delhi police failed to draw any conclusion on basis of the findings, the report was handed over to a medical board for examination before further proceedings in the high-profile case.
The investigators have so far conducted polygraph test on six persons, all prime witnesses in the case, including Tharoors' domestic help Narayan Singh, driver Bajrangi and Sanjay Dewan, a close friend of the couple. Tharoor has been questioned in the case.
(with agency inputs)
Like Us On Facebook |

Follow Us On Twitter |

Contact HuffPost India

Also on HuffPost: