It turns out that Mamata Banerjee is no Baba Siddiqui. Unlike the Mumbai Congress MLA, who 'united' Bollywood's counterparts of warring Lannisters and Baratheons, Salman and Shah Rukh, Banerjee had no such luck. Come to think of it, even Westeros would shudder at the thought of having Arvind Kejriwal and Arun Jaitley on the same stage at this moment. But Banerjee was not only unperturbed by the winter that prevails between the two, she also thought nothing of having Mukesh Ambani share a stage with Kejriwal. Now, that's a Red Wedding waiting to happen.
However, the chief minister of West Bengal had all of them put on their best behaviour and rally around her like they were in a Sooraj Barjatya wedding instead.
That didn't stop them from giving each other some cold vibes either, despite Didi watching over. For example, Jaitley acknowledged everyone on the stage after the conclusion of his speech with a 'namaste'. Kejriwal -- who had the visage of a Delhi man who has mistakenly stepped out with an 'odd' car on an 'even' day -- returned his namaste. Jaitley, however, marched right past him exuding a very 'talk to the hand... err... the lawyers' vibe.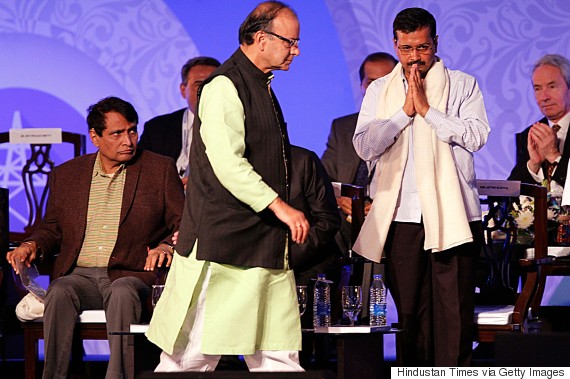 Kejriwal and Jaitley at the event.
Jaitley has filed a criminal defamation suit worth Rs 10 crore against Kejriwal in a Delhi court. He has filed a separate civil defamation suit against the Delhi CM and five AAP ministers. Kejriwal and AAP on their part, have gone all guns blazing, at Jaitley alleging that he indulged in corruption in the Delhi and District Cricket Association (DDCA), of which the Union Finance Minister was the president till 2013.
Then came industrialist Mukesh Ambani's turn to address the audience. He walked past Kejriwal who kept staring into the vacuum till Ambani spoke and moved around in front of him. Ambani, while beginning his address, acknowledged the West Bengal CM as 'honourable and most-respected chief minister Mamata didi'. Both his adjectives and filial sentiments vanished while referring to Kejriwal. So the Delhi CM was referred to by Ambani as just that 'Delhi chief minister', the one he shall not name.
It's in common knowledge that Ambani and Kejriwal are only as friendly as beef and BJP. While Kejriwal had ordered an FIR against Mukesh Ambani, the latter had sued TV channels for airing press conferences where the AAP chief hurled allegations of corruption against the industrialist.
That said, full marks for trying Ms Banerjee!
Like Us On Facebook |

Follow Us On Twitter |

Contact HuffPost India

Also see on HuffPost: