Hindustan Times via Getty Images
LUCKNOW -- Politically vibrant Uttar Pradesh will ring the curtain down in 2015 after a tug-of-war between Raj Bhawan and Akhilesh Yadav government on Lokayukta issue and the horrific Dadri lynching, even as ruling Samajwadi Party pulled up its socks for Assembly polls a year away.
In the run-up to the 2017 elections, Chief Minister Akhilesh Yadav sent a strong message that he means business when he carried out a massive reshuffle in his council of ministers dropping non-performers and striking a subtle balance between youth and experience.
The year also saw a festering feud between SP supremo Mulayam Singh Yadav and IG-rank IPS officer Amitabh Thakur, who was suspended after leaking to media the purported telephonic threat meted out to him by the SP patriarch.
The litigation reached the doors of the judiciary, which also hogged the headlines for its rulings on appointment of 1.72 'shiksha mitras' (primary teachers), who took the matter to Prime Minister Narendra Modi during one of his visits to Varanasi.
Court rulings on suspended Noida chief engineer Yadav Singh's movable and immovable properties kept making news all the year round and threatened to become an albatross around the ruling SP's neck.
In the Dadri incident, 50-year-old Ikhlaq was beaten to death and his 22-year-old son Danish critically injured by a 200-strong mob which barged into their house in Bisara village on a September night following rumours that the family had consumed beef.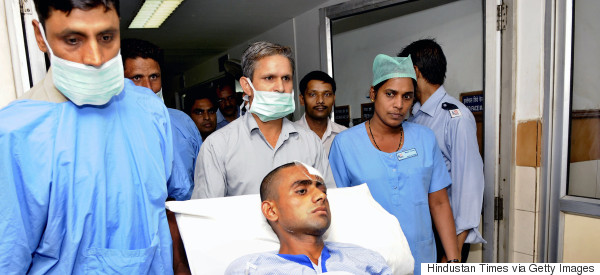 The matter snowballed into a major political issue as the timing was around Bihar Assembly polls and every party tried to score a brownie point.
The Dadri incident coupled with the killing of Kannada scholar MM Kalburgi triggered a spontaneous outrage from India's intellectuals who have earned recognition, with a string of litterateurs returning their Sahitya Akademi awards, concerned over the silence of the august body over rising intolerance.
Also Read: Dadri Lynching: Isolated In Their Grief, Muslim Family Contemplates Moving Out Of Village
It is in this context that President Pranab Mukherjee underlined the need to retain diversity, plurality and tolerance as the core values of Indian civilisation.
Chief Minister Akhilesh Yadav went into an immediate damage control mode and announced a Rs 45 lakh assistance to Ikhlaq's family as embers of communal hatred flew thick and fast.
On the political front the state saw hectic activities in both Samajwadi Party and Opposition Bahujan Samaj Party camps, with both sides holding a series of strategy sessions keeping in mind UP Assembly polls due in early 2017.
Though the state-earned notoriety for a spate of rapes, the SP supremo sought to project a better image of his son's government saying it was not possible for four persons to rape a woman, but in the process waded into a fresh controversy, similar to one when he had said, "Boys are boys, mistakes do happen."
The mood in Congress suddenly became upbeat towards the end of the year after the party's good showing in Bihar assembly polls.
An interesting term -- holiday politics -- was coined in UP with the state government declaring official holidays on anniversaries of eminent people and prominent festivals, apparently keeping vote bank in mind, taking the number of such holidays to 40.
This marked a 50 per cent increase in the state government's list of public holidays in the past 10 years, drawing sharp criticism from different corners.
The year began on an ominous note with illicit liquor claiming over 40 lives in Lucknow and its neighborhood Malihabad in January.
At least 38 people were killed and around 150 others injured on 21 March when the engine and two adjoining coaches of the Dehradun-Varanasi Janata Express derailed near Bachrawan Railway Station in Rae Bareli district.
Over 100 skeletons literally stumbling out of cupboards in police lines in Unnao and large scale recovery of human bones from Bahraich, Gorakhpur and Moradabad districts sent shock waves across the state.
The controversy over appointment of Lokayukta remained alive all through the year with Governor Ram Naik refusing to accept the name of Justice (retd) Raveendra Singh asking the chief minister to follow proper procedure for selecting the ombudsman.
In view of the delay in making the appointment, the Supreme Court also issued notice to Uttar Pradesh government asking as to why contempt proceedings should not be initiated against it for non-compliance of its order to appoint a new Lokayukta. .
Naik has returned the file concerning the appointment of a new Lokayukta in Uttar Pradesh to the state government a number of times.
Another contentious issue that acquired media glare was the proposal for nomination of five MLCs to the Legislative Council, with the Governor seeking fresh names for consideration. The state government had sent a list of nine names for the nominated category, but the Governor gave his approval to four, holding back the rest.
After the BJP scored a landslide victory bagging 71 of the 80 seats in the state in the 2014 Lok Sabha elections, it was a bad news for the saffron party which suffered a big jolt in the Cantonment Board polls in UP when all the candidates supported by it in Varanasi - Prime Minister Narendra Modi's parliamentary constituency - and Lucknow lost while winning just one in Agra and coming second in Bareilly and Mathura.
In Lucknow, the home turf of Union Home Minister Rajnath Singh, BJP lost all the eight wards to Independents.
Towards the end of the year, the zila panchayat elections were held in which ruling Samajwadi Party suffered shock defeat in some pockets with many relatives of ministers and senior leaders losing, while BJP-supported candidates won only in 8 of the 48 seats in Modi's Varanasi constituency.
Opposition BSP emerged as a surprise front-runner in the elections with most of the candidates it supported, registering victory.
With Assembly elections staring at their face, these results catapulted key political players to get their acts together for the big fight about a year hence.
Like Us On Facebook |

Follow Us On Twitter |

Contact HuffPost India

Also see on HuffPost: