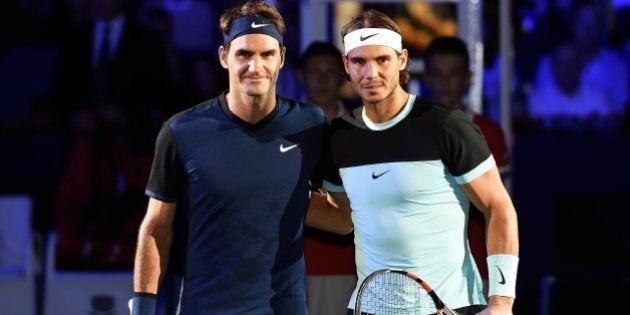 Tennis has always been about rivalries. It brings out the best in the players while keeping spectators at the edge of their seats.
Rivalries like Jimmy Connors-John McEnroe, Boris Becker-Stefan Edberg and Pete Sampras-Andre Agassi are the stuff of legends. And it doesn't get any bigger than the much-anticipated face off between Roger Federer and Rafael Nadal.
It is no surprise that Fedex-Rafa clash during the Delhi leg of the #CocaColaIPTL Season 2 is the most awaited one.
Other than their exemplary talent and hunger to win, there is nothing in common among the two all-time tennis greats. While Federer is all about poetry in motion, Nadal brings brute power and a never-say-die attitude.
For all their off-court camaraderie and mutual respect, they are their best at opposing ends of the court. Each of their 34 meetings has been an epic round.
Federer is undisputedly the greatest tennis player ever, but the King of Clay boasts a dream 23-11 win-loss record against the Swiss Master. Ever since Nadal as a 17-year-old shocked top seed Federer in the third round of the 2004 Miami Masters, their rivalry hasn't shown any signs of abating.
Until Novak Djokovic emerged as the man to beat a couple of years ago, it was this duo that dominated the rectangular 23.77x8.23-mt court. The records speak for themselves.
On the ATP Tour, Federer and Nadal as a pair have finished six consecutive calendar years as the top two ranked players between 2005–2010. This includes a record 211 consecutive weeks of sharing the top two rankings from July 2005 to August 2009.
They are the only players in the current tour to have completed a career Grand Slam (winning all four Grand Slams). But in recent times with Nadal, 29, fighting injuries and Djokovic's star on the rise, this rivalry has a new twist. Federer has shown that even at the age of 34 he continues to be better than most of his younger compatriots.
Federer showed that he still has that vintage touch when he defeated Nadal after three and a half years during their 34th and latest outing at the Swiss Masters.
This means that when Nadal and Federer, who will be playing his first match in IPTL Season 2, take on each other, sparks are sure to fly. Nadal will be keen to avenge his Swiss Masters defeat and Federer would like to stamp his authority.
It is time for Delhi to be taken over by the silken touch of Federer and rippling muscles of Nadal, as spectators enjoy their furious face off in Coco Cola IPTL Season 2.