ASSOCIATED PRESS
As incessant rains brought Chennai to a standstill, laying bare the city's crumbling infrastructure, all eyes were on Vikram Kapoor, Chennai Corporation Commissioner and the bureaucrat in charge of running the relief and rescue operations.
The Jayalalithaa government has faced scathing criticism not only for being grossly unprepared to handle calamities such as this, but also for failing to coordinate the proper distribution of relief material pouring in from across the country.
Kapoor, however, has no time to worry about critics right now. From cleaning up the staggering amount of garbage in the flood-ravaged city to making sure samples of drinking water are checked regularly, he has his work cut out.
Here are excerpts from an exclusive interview with HuffPost India.
Question (Q): Are rescue operations still on?
Answer (A): We're through with the rescue operations. We've rescued 1,27,580 people. Most of them were residents of slums situated on the banks of the Adyar, Cooum and Kosathalaiyar rivers. Like you know, Chennai has quite a number of slums, which have mushroomed over the years along the rivers.
Q: What about the people who live in multi-storied buildings?
A: Our rescue teams reached out to them too. Some of them wanted to be rescued. But, many people wanted to stay in their own buildings and moved to upper floors instead of going to relief camps. So except them, we have evacuated everyone who wanted to be moved out.
Q: How many areas in Chennai went under water? Now, that the rains have stopped, has water been pumped out of all these places?
A: Thankfully, there's been a respite from heavy rains since Friday. Around 859 wards went under water after the rains. Of them, we have pumped out water from 423 locations. We're in the process of pumping out water from the other locations now.
Q: What kind of resources have you deployed for clearing the waterlogging?
A: We've deployed 470 heavy-duty pumps, 75 super sucker vehicles. We've also deployed 49 vehicles belonging to the Fire and Rescue Services Department to clear the waters as fast as possible.
Q: What about distribution of relief material to the flood-affected people?
A: We've set up 97 relief centres across Chennai. Of the 127580 persons rescued, 62,267 people have been housed in these centres. We're ready to shelter others too but they said they preferred to live with their friends and relatives. So, we let them go their own way. The people at the relief centres are welcome to stay so long they want to and the government is ready to feed them.
Q: There have been complaints that stranded people were left without food or drinking water…
A: In the relief centres, we're providing breakfast, lunch and dinner. Besides, on an average, we've been distributing 8 to 10 lakh food packets a day to the flood-hit people. On the drinking water front, you should know that water-tanker trucks make a minimum of 3000 trips across the city everyday supplying drinking water to the needy.
But, some people did not want drinking water from trucks. So, as an alternative measure, we decided to distribute bottled water to them and on an average 1 lakh bottles of water are being supplied a day now.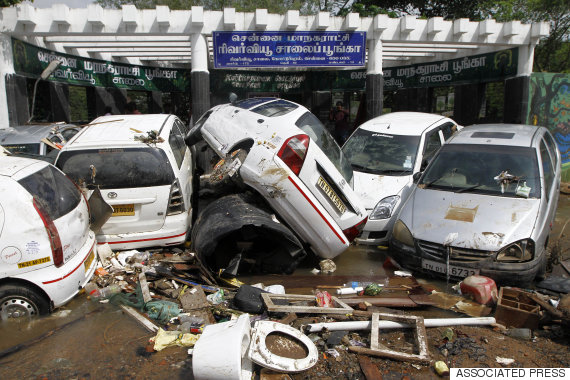 Q: What's the situation in the health front? Have there been cases of water-borne diseases like diarrhea or cholera?
A: There have been some minor cases. But, there is no epidemic-like outbreak as such. We've so far conducted 3700 medical camps and over 7 lakh people came in for check-ups and were given medicines if required.
Q: Were all these procedures put in place in the last 4-5 days?
A: Some of them, yes. However, Chennai has been receiving rains sporadically since end-October. So some of these processes were already in place. We just revved up the procedures in the past few days.
Q: There are allegations that the government was slow in reaching to people in distress?
A: Those who understand the ground realities won't make such an accusation. Chennai is a unique city and has three rivers, Adyar, Cooum and Kosathalaiyar running through it.
On December 1, Chennai received 30 cm rainfall. It was the heaviest rain in the history of Chennai.
Besides, neighbouring districts like Kancheepuram and Tiruvallur too received 45 cm rainfall on the same day. All the water bodies in these districts started overflowing. Naturally, all the excess water flowed into Chennai through these rivers. And, just imagine, this water flow is over and above the heavy rainfall in Chennai!
During the worse phase of flooding, about 30000 cusecs of water flowed into Chennai through Chembarampakkam and Poondi reservoirs.
When Mother Nature decides to exhibits her fury, it's not that easy to tackle it.
Q: The flood seems to have left behind tons of garbage in the city. How do you plan to clean it up?
A: That's true. And, the volume of garbage is increasing by the hour as people are cleaning up their homes and disposing things damaged in the floods. That is the biggest challenge we are facing now.
As for cleaning up, we have an existing workforce of 20000 sanitation workers. Besides them, we've already got 1070 more workers from different parts of the state. They've reached Chennai with 52 trucks and other equipment needed for cleaning the city up.
We had to bring in the workers from other parts, because, it is difficult to find workers in Chennai right now. Many of the workers are themselves coping with the losses suffered in the floods. Soon, we will deploy 1500 more workers equipped with 50 more trucks.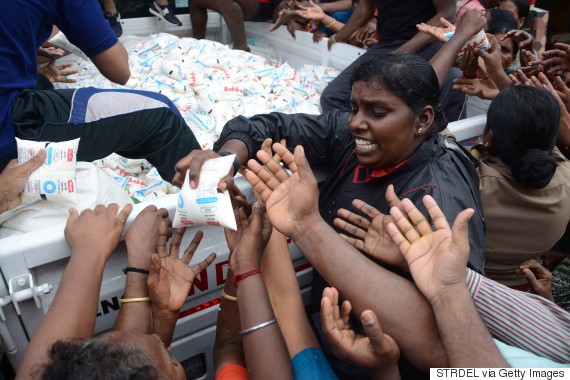 Q: How long do you think it will take to clean up the city?
A: At present, we're receiving rains in the range of 2 to 3 cm a day and we don't expect any more rains for the next few days. So, going by our calculation, we should be able to clean up the entire city in week's time.
Q: Have you assessed the total damage caused due to the flood? Some reports put the figure at Rs.15000 cr. Is it true?
A: Honestly speaking, we've not found time to assess the real damage. We know that damage has been colossal. But, we're yet to make any realistic assessment. This will be done soon.
Q: There are concerns that the recent rains may have polluted drinking water as it got mixed with sewage water…
A: There's no need to worry about this. We keep checking the samples and the RC levels. We do the purification process and ensure that the water is safe for drinking before it's supplied.
Q: There have been complaints that shopkeepers were charging Rs.100 per milk packet. Will you crack down upon such elements?
A: This actually does not come under our jurisdiction. But, I believe it's not right to generalise a situation based on a few isolated cases. Aavin (Brand owned by Tamil Nadu Co-op Milk Producers' Federation Ltd) supplied 8 lakh litres of milk in the city on Friday. And, on Saturday, it resumed its normal supply. Now that the supplies are regularised, I don't think there's any room for extortion.
Like Us On Facebook |

Follow Us On Twitter |

Contact HuffPost India

Also see on HuffPost: