PIB
In keeping with the times, the Press Information Bureau on Thursday turned into Photoshop Images Bureau.
It took a picture of Prime Minister Narendra Modi doing an aerial survey of the Chennai floods and did some major photoshop work. It tweeted the atrocious photoshop job, embarrassing the prime minister, late on Thursday.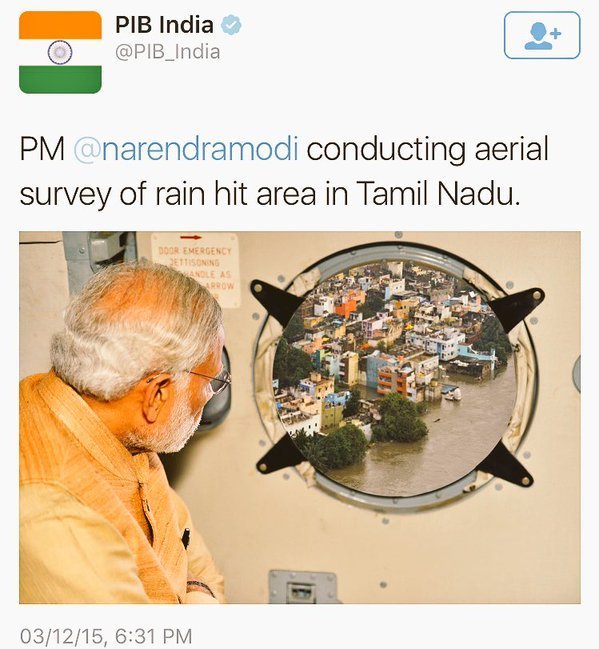 Twitter was quick to spot the deception and pointed it out. PIB deleted the tweet but is yet to apologize. But Twitter took it upon itself to turn the botched job into a memorable meme. And it delivered in spades.
The older photo showed Modi surveying the flood-hit areas of Chennai and its suburbs, Kanchipuram and Tiruvallur districts from a helicopter.
1. Original pic

2. Photoshopped pic tweeted by @PIB_India ! (Now deleted) pic.twitter.com/a2t5TGgEVK

— कोमल :) (@Komal_Indian) December 3, 2015
When questions were raised about the authenticity of the picture, PIB took it off from its website.

But it was too late.
Real unedited pic of Modi surveying damage on Twitter after PIB photoshop tweet pic.twitter.com/dbAtlXTzgQ

— ... (@bwoyblunder) December 3, 2015
#ModiInWonderLandpic.twitter.com/Mq9rR0lii0

— BB (@brownbrumby) December 3, 2015
Saheb Chennai ka Hawai daura kartey huye pic.twitter.com/3gk1SHJfct

— Intolerable Goswami✘ (@thebakwaashour) December 3, 2015
Ok then pic.twitter.com/JYupZeV1NG

— BB (@brownbrumby) December 3, 2015
I was bored. pic.twitter.com/TmTzCwUVYq

— Vikas Munipalle (@PabloVikasso) December 3, 2015
When bae is mad at you for not inviting her to your secret Bachelorette Party.

#Photoshopping is so cool 😍 pic.twitter.com/riVK01LeXs

— Altruism (@Altruism___) December 3, 2015
Hi @PIB_India , let's make it little more believable. @narendramodipic.twitter.com/foJLkVU61z

— Rofl Gandhi (@RoflGandhi_) December 3, 2015
Had to be done. pic.twitter.com/ElB40TwfO5

— Jay (@CruciFire) December 3, 2015
@Komal_Indian Stop spreading fake pics. This is the actual one. @PIB_Indiapic.twitter.com/ah2macaYjx

— Shree Manu (@shreemanu) December 3, 2015
It was asking for it. pic.twitter.com/XkUZZj1jW4

— Sychlops (@Sychlops) December 3, 2015
When you want to go to beaches and checkout some hot chicks around but you're forbidden to go there.That. pic.twitter.com/azoLs1f8kO

— Altruism (@Altruism___) December 3, 2015
umm pic.twitter.com/QEuNgYn009

— k (@krazyfrog) December 3, 2015
HAHAHAHAHA pic.twitter.com/VZyXKki4H5

— oculus (@daddy_san) December 4, 2015
Unexpected... pic.twitter.com/nlzcVEGXTX

— BB (@brownbrumby) December 3, 2015
This is one meme that is likely to come back at frequent intervals.
(With inputs from PTI)
Like Us On Facebook |

Follow Us On Twitter |

Contact HuffPost India

Also On HuffPost: