ASSOCIATED PRESS
As Chief Minister J Jayalalithaa prepares for an aerial tour of the inundated city on Thursday, the metereological department has no immediate good news for Chennai. The weather office predicted three more days of torrential rains in all of Tamil Nadu, already struggling under heavy flooding that has forced thousands out of their homes and closed down the airport.
"There will be no respite," Laxman Singh Rathore of the India Meteorological Department was quoted as saying by Reuters on Wednesday.
Experts say the seasonal northeast monsoon was responsible for the flooding in the city of six million, but was amplified this year by El Nino, a warming of the eastern Pacific Ocean that can have far-reaching climate effects.
Tamil Nadu is a major rice and sugar cane producing region, and a senior member of a local farmers' association said floods had washed out up to four agricultural districts.
Here are the helpline numbers:

Tree fall, Waterlogging: 1913

Sewage overflow: 45674567, 22200335

State Emergency: 1070

District Emergency: 1077

Electricity: 1912

Fire & Rescue: 101
With the Chennai airport closed till December 6, the nearby naval air station at Arakonnam will serve as a makeshift airport for commercial flights from today, PTI reported. As part of the drill, Air India landed an Airbus A320 carrying passengers from Hyderabad at the Rajali naval air station at Arakkonam at 20:47 hours.
No flight has taken off from or landed at the Chennai airport since 8 pm yesterday.
The Hindu reported that the Army, Navy and Air Force and the National Disaster Response Force joined the State Fire and Rescue Services and the police in rescuing the stranded. The Navy has deployed a rescue ship from its Eastern Command in Visakhapatnam. The Coast Guard is flying in choppers from Mumbai and Goa, the report said.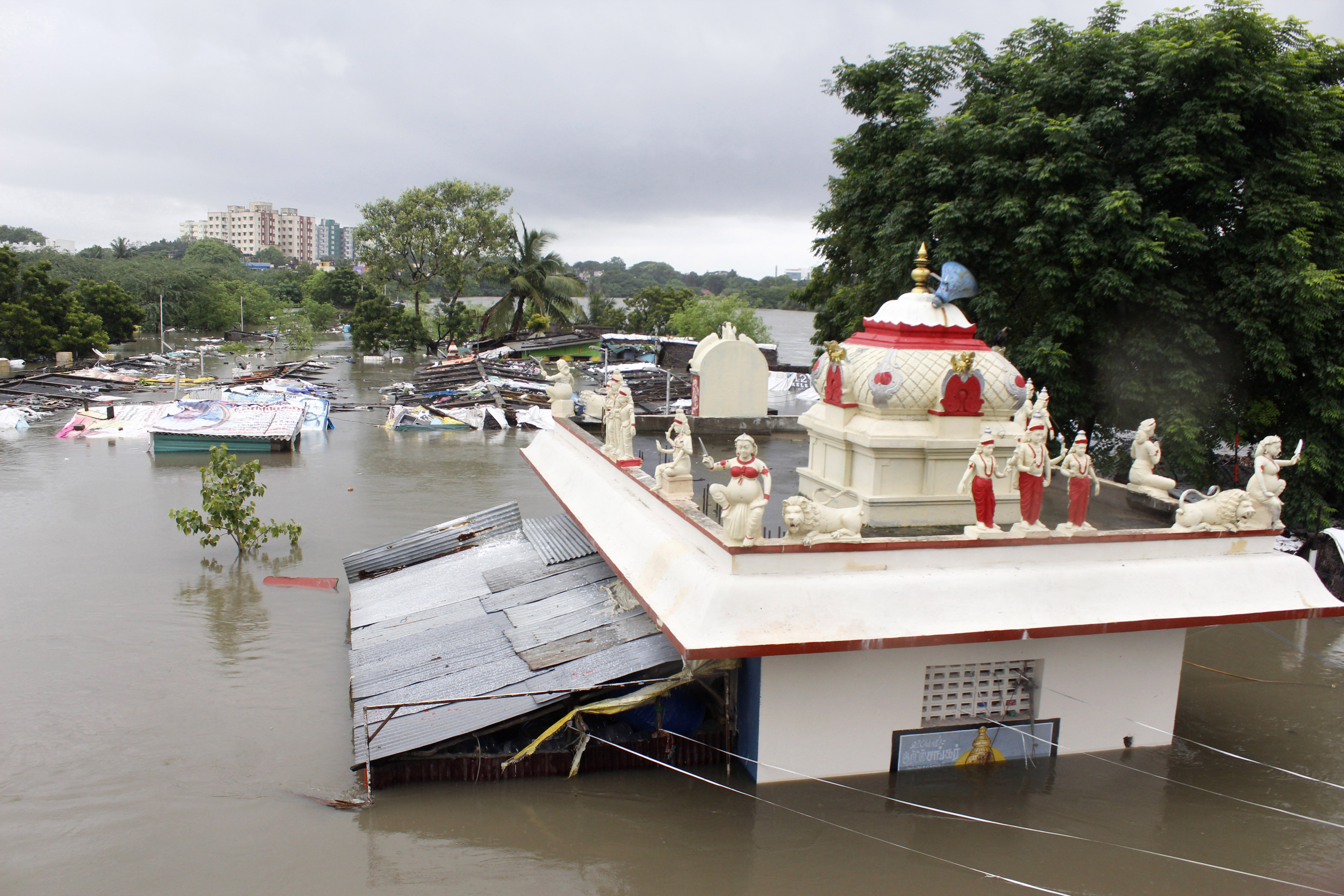 The Navy has rushed INS Airawat with five additional boats besides six integral boats to bolster the rescue and relief efforts, PTI reported. The ship is also carrying 20 divers, medical supplies and other relief material, defence sources said.
No deaths were reported in the latest floods, but since heavy rain set in on Nov. 12 there have been 150 deaths in Tamil Nadu. More than 200 people were critically injured over the past 24 hours in Chennai, a senior home ministry official said.
Prime Minister Narendra Modi has blamed climate change for the deluge, injecting urgency into the debate at global climate talks in Paris and highlighting the vulnerability of tropical nations like India to extreme weather.
Also Read: Experts Link Deluge To El Nino Activity
Most mobile networks were down in the city and food supplies running low.
Chennai, India's fourth most populous city, is a major auto manufacturing and IT outsourcing hub. Ford Motor, Daimler, Hyundai and Nissan told workers to stay at home, while US listed outsourcing firm Cognizant shut its 11 local offices.
In a limited initial relief effort, four helicopters dropped food, water and medicines, while fishing boats commandeered by the military were collecting stranded residents. A major relief effort by 5,000 soldiers was promised within 24 hours.
"The entire state machinery has collapsed. Most officials are forced to sit at home. It's a very frustrating situation," said a home ministry official, who requested anonymity because he was not authorised to speak on the record.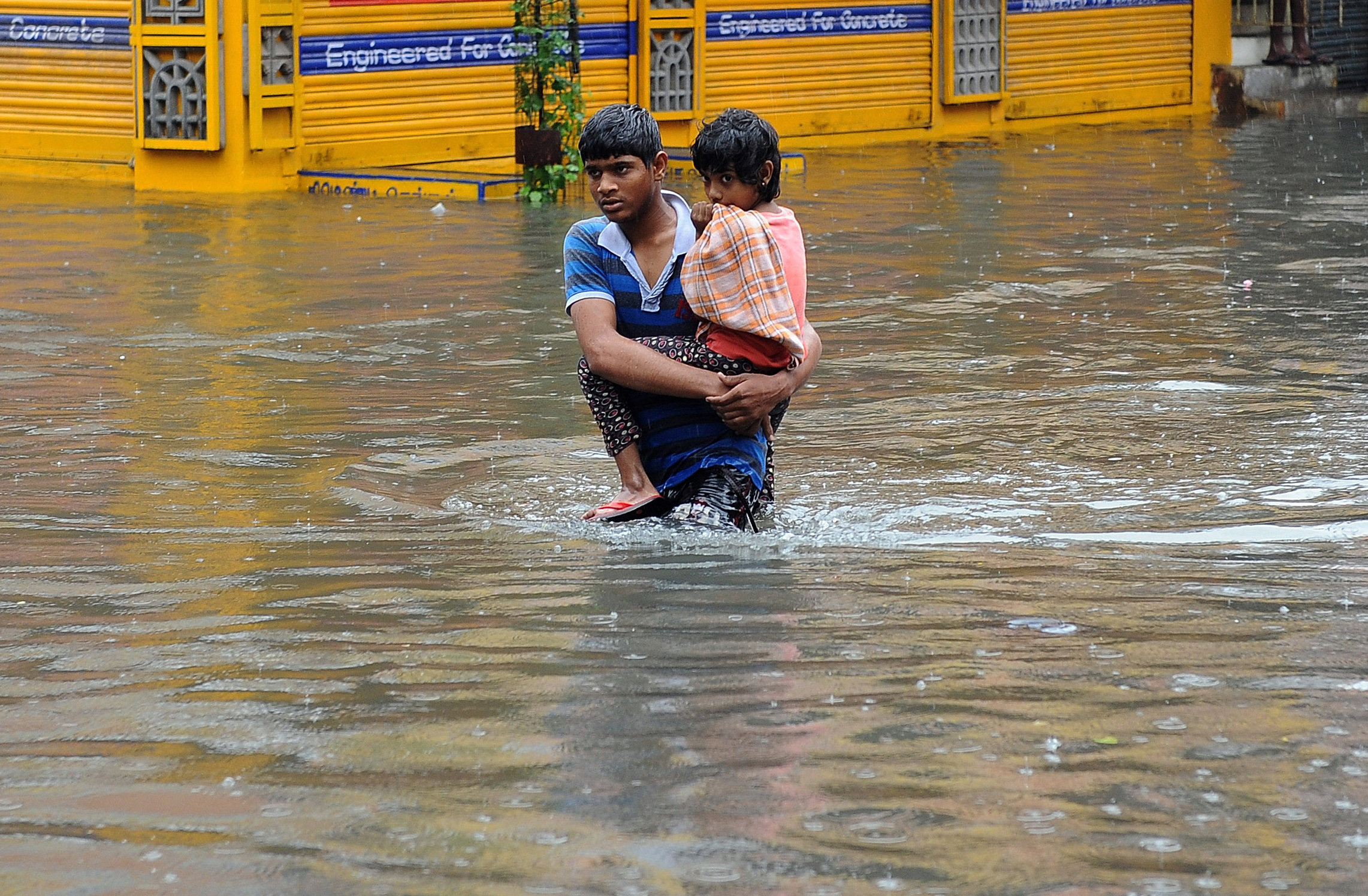 Modi has ordered rescue teams and paramilitary forces to launch an extensive relief and rescue operation in Chennai.
He had blamed climate change for the heavy rains that hit the southern state last month, tweeting before attending the U.N. climate summit in Paris this week: "We are feeling the impact of fast-paced climate change."
Hundreds of divers and army rescue teams entered inundated homes, taking the injured to hospital. Authorities said more than a million people were affected by the flooding, with some residents bemoaning the slow response of the relief teams.
Social media networks carried many appeals for help, while others offered assistance. Siddarth, a popular Tamil film actor who goes by one name, was coordinating a relief effort on Twitter.
(Additional reporting in Reuters by Rupam Jain Nair, Krishna N. Das, Frank Jack Daniel, Nidhi Verma,Manoj Kumar and Mayank Bhardwaj in New Delhi; Sumeet Chatterjee and Clara Ferreira Marques in Mumbai; Writing by Krista Mahr and Douglas Busvine; Editing by Miral Fahmy, Nick Macfie and Mike Collett-White)
Like Us On Facebook |

Follow Us On Twitter |

Contact HuffPost India

Also On HuffPost