ASSOCIATED PRESS
As Chennai struggled to stay afloat, the army launched a massive relief and rescue operation to get the stranded and the homeless out of the worst-hit areas on Thursday while Prime Minister Narendra Modi flew to the city to take stock of the situation. Home Minister Rajnath Singh told Parliament that 269 people have died in Tamil Nadu last month following the heaviest rainfall in the state in over a century.
The Hindu reported thousands of residents have fled north Chennai, which has not received essential supplies in two days and where no rescue services have been operating.
The government has described the situation in Chennai as "worrisome". For the first time in over 40 years, the water has risen rapidly on the river breaching the road and the Maraimalai Adigal bridge in Saidapet cutting the arterial Anna Salai (Mount Road), rendering it out of bounds for motorists, PTI reported.
Rains have abated in Chennai giving relief to people tormented by the heavy downpour of the last three days but excessive discharge of water last night from Chembarambakkam lake on the outskirts flooded new areas of the city threatening to uproot people from their homes.
The fresh flooding of the streets in the heart of the city in areas like Kodambakkam and T.Nagar and Ashok Nagar has been caused by the release of an estimated 30,000 cusecs of water from the Chembarambakkam lake, one of city's source of drinking water.
The sky is overcast without any fresh rainfall and people are worried about the forecast of showers over the next three days.
North Western Railway (NWR) said four trains from Rajasthan to Chennai have been cancelled. Chennai Petroleum Corp Ltd shut its 210,000 barrels per day (bpd) Manali refinery on Wednesday night, Managing Director Gautam Roy told Reuters on Thursday.
Chennai Petroleum is a unit of the country's biggest refiner, Indian Oil Corp.
Chennai Bulletin :--- pic.twitter.com/EI4Hmjm1Wu

— Ministry of Railways (@RailMinIndia) December 3, 2015
#Accenture company at #Chennai

#ChennaiRains#ChennaiRainUpdates#tnrainspic.twitter.com/dnPx6BiOwS

— Mahesh Kumar (@maheshkumarse) December 1, 2015
Modi, who has blamed climate change for the deluge, travelled to Chennai to get a first-hand view of a rescue effort that has so far been halting.
"Chennai has become a small island. This is unprecedented," Singh told parliament. "Rapid rescue and relief is the need of the hour. We are working very hard to restore normality."
There was sporadic rainfall on Thursday, after a 24-hour cloudburst dumped as much as 345 mm of rain on the city earlier this week. Floods cut off more than three million people from basic services and hampered rescue efforts by the army, which has so far evacuated 18,000 people from rooftops and outlying villages.
City authorities were deploying bulldozers and bags of concrete to repair collapsed roads, while several bridges were under water as urban lakes in the low-lying coastal city of six million overflowed.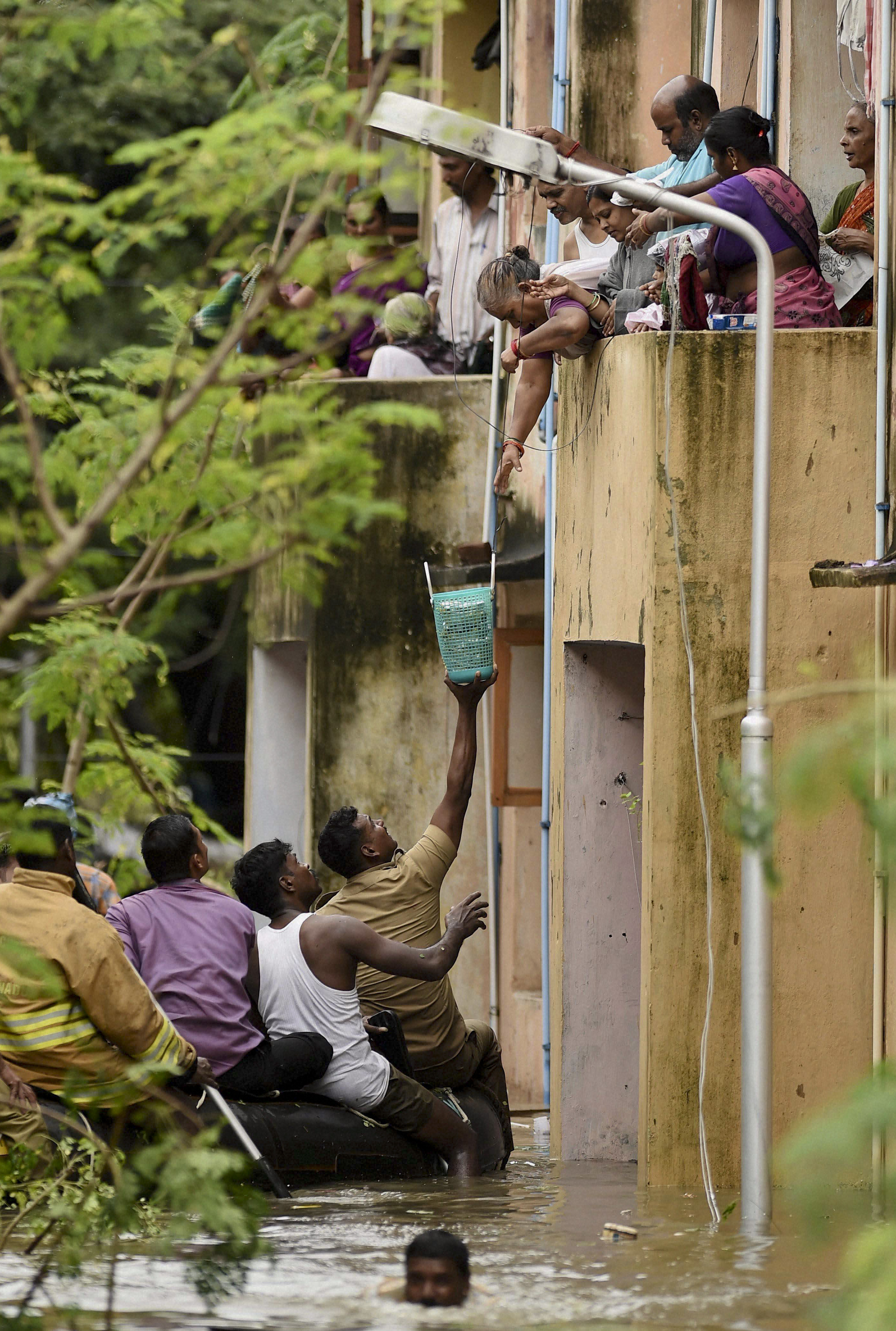 Train services and flights to Chennai, capital of the southern state of Tamil Nadu, remain cancelled and the navy has pressed fishing boats into service to evacuate people from the worst-hit suburbs to temples, schools and wedding halls.
A senior official said more than 1,000 people had been critically injured and were rushed to government hospitals by paramilitary forces.
"We want to do everything but the problem is beyond our control. The airport is flooded, train networks have collapsed and the weather is still not conducive," Home Ministry spokesman K.S. Dhatwalia said in New Delhi.
Additional rainfall of 100-200 mm was predicted from Thursday through Sunday, meaning the situation could remain critical for several more days. The federal government pledged $141 million in immediate relief and launched a survey to assess losses to life and property.
Experts said haphazard construction work, faulty drainage and a build-up of garbage has contributed to the flooding.
"Chennai is stinking and it is shocking to see how it has collapsed in the last 48 hours," said Anant Raghav, 56, a professor at the University of Madras.
More than 5,000 houses were under water with many people still trapped on rooftops, while others crowded in relief camps.
About 30 families have been sleeping rough under a flyover in central Chennai for the last week after their huts and small concrete houses were washed away.
(With PTI and Reuters inputs)
Like Us On Facebook |

Follow Us On Twitter |

Contact HuffPost India