Mark Zuckerberg/Facebook
In an open letter to his baby girl Max, Facebook CEO Mark Zuckerberg earned the approval of thousands of social media users with by vowing to give away a massive portion of his wealth to charity.
The tech leader took to the Facebook on Tuesday to announce the birth of his first child and the formation of the Chan Zuckerberg Initiative, which he said will "join people across the world to advance human potential and promote equality for all children in the next generation."
In a more than 2,000-word epistle titled, "A letter to our daughter", Zuckerberg announced: "We will give 99 per cent of our Facebook shares -- currently about $45 billion -- during our lives to advance this mission. We know this is a small contribution compared to all the resources and talents of those already working on these issues. But we want to do what we can, working alongside many others."
The philanthropic couple's move earned a lot of goodwill for them in the form of warm comments exchanged on the post.
From Microsoft co-founder Bill Gates' wife Melinda...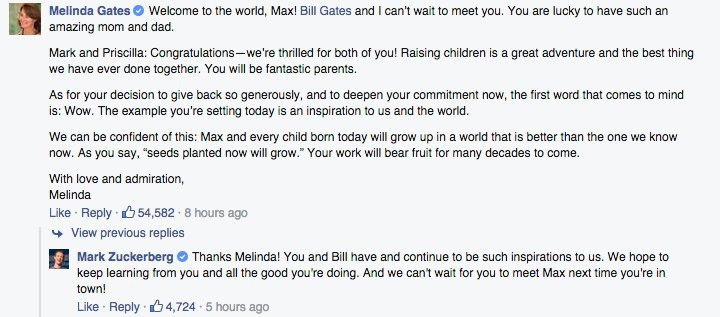 ... to noted journalist Vindu Goel

... and even pop singer Shakira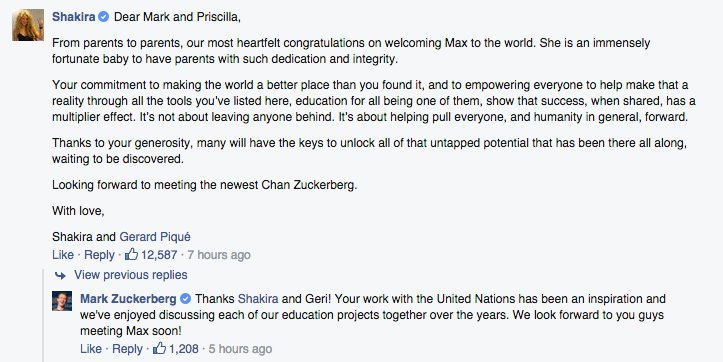 Impressed by #MarkZuckerberg and his selflessness but I wonder if there is a way to use some of that money to help #StopImperialism

— Joe O'Neill (@JoeManager) December 1, 2015
Absolutely brilliant! Just fantastic. Thank you #MarkZuckerberg - I wish you and your family every happiness 💚 https://t.co/uDhZJCj2mY

— Douglas Booth (@DouglasBooth) December 1, 2015
But there were also the others who were not so impressed with Zuckerberg and Chan's philanthropic choice, commenting on their net worth and the fact that they were investing in a charity fund set up by themselves.
A few weeks before Max's birth, Priscilla and Mark took a morning to reflect and record their hopes for their daughter and all children of her generation.

Posted by Chan Zuckerberg Initiative on Tuesday, 1 December 2015
In a satirical piece Vanity Fair made fun of the letter that the couple to their little daughter, rewriting the original one saying:
"...Your mother, Priscilla Chan, and father, Facebook founder Mark Zuckerberg, almost didn't 'yet have the words' when they announced your birth to 42 million followers, but they somehow managed to write you a 2,200-word letter and post it to Facebook anyway."
An article in the US edition of the Huffington Post notes that according to an SEC filing, Zuckerberg owns 419 million shares in Facebook and that the Tuesday's closing price of $107.12, his pledge to give away 99 per cent of these shares to his newly formed initiative would be worth $44.3 billion. It also notes that Zuckerberg would keep $449 million worth of shares of the company he founded, along with a majority of Facebook's B shares, which provide voting rights in the company.
​​
Like Us On Facebook |

Follow Us On Twitter |

Contact HuffPost India

Also On HuffPost: