ASSOCIATED PRESS
One of India's most fabled jewels, the Kohinoor, is being passed off as a British crown jewel. Now if Dr. Subramanian Swamy is to be believed, India's other precious family heirloom is actually British property but being passed off as Indian. Dr. Swamy is alleging that Rahul Gandhi is a British national and is brandishing documents to show that he described himself as such while setting up a company there. Dr. Swamy has written to the Lok Sabha Speaker demanding that the Ethics Committee decide whether he should be disqualified as MP because he is "guilty of gross violation" of ethics. What seems more intriguing is what this short-lived mysterious company Backops was all about anyway but no one seems terribly interested in that.
The Congress indignantly dismisses the charge as "entirely false" but honestly, if it were true, it could be a blessing in disguise for the beleaguered grand old party. There would finally be a face-saving way to get the Gandhi albatross off its shoulders. In electoral terms Rahul Gandhi has proved to quite the lemon and this could be a golden opportunity to make lemonade and be done with it.
As a party, the Congress has reached its nadir in terms of parliamentary numbers. It is out of power in most states. While it was part of the winning Mahagathbandhan in Bihar, it was decimated when it went it alone during the previous Assembly elections. An editorial in The Telegraph says: "Given its current decline, the party can hope to put up a credible fight against the BJP only in the company of other secular parties. Many of these parties may have been the Congress's rivals at other times. But it cannot afford to let the past cloud its strategies for the future."
The Congress indignantly dismisses the charge as "entirely false" but honestly, if it were true, it could be a blessing in disguise for the beleaguered grand old party.
The future seems quite bleak — stuck between the choice of being an also-ran or a junior partner. While Rahul Gandhi might be doing his best to try and reinvent the party, the greatest obstacle to Congress becoming a "normal" party is that it's top post is always de facto reserved for the Family. Mani Shankar AIyar might have sneered at a chai-wallah who aspired to be Prime Minister but the BJP is at least a party where that kind of aspiration is even possible. The Congress instead ends up with too many sycophants, hangers-on, Doon School buddies. With its declining power in the states, where regional parties are eclipsing it, the prospects of a Congress chief minister are dim in many parts of the country. So where's an ambitious Congress politician to go? Pranab Mukherjee's elevation to the presidency is really compensation in ways for the Prime Minister he never got to become.
And the other lot the Congress attracts are the likes of Mani Shankar Aiyar who has lost his deposit in an election but remains a fixture on the political landscape saying outrageous things rather like the tipsy uncle at the family party. The veneer of an accent separates them but in many ways there's little to distinguish between a Mani Shankar Aiyar and a Mahesh Sharma. Or for that matter a Sakshi Maharaj. The USP of all of them is making incendiary remarks. That's why they are such media favourites as well, guaranteed TRP-boosters. It's just that Mani Shankar Aiyar, with his Doon School and St. Stephen's background, makes them with more of a single malt Lutyens polish and we take him more seriously. And unlike the irascible Sakshi Maharaj, he gets to speak for the party. But this is a man who makes no bones about his class bias when he dismisses someone's education because he is a Hansraj college graduate. As Rajyasree Sen writes in the Economic Times, "elitism and bile make a noxious combination in Aiyar", making him one of India's worst advertisements for secularism.
To reinvent a party saddled with more than its fair share of the likes of Aiyar on one hand and nonentities on the other is a thankless task. And Rahul has his work cut out for him. But as the farce of Sonia and Rahul taking "responsibility" for the Lok Sabha rout showed, ultimately the Congress is not a party where anyone can really say the Emperor has no clothes. At least the grumpy old men of the BJP and a Shatrughan Sinha get to make front page news by slamming the party leadership for hiding behind "collective failure" after Bihar. The Congress, on the other hand, removed the very articulate Shashi Tharoor as a spokesperson because some did not like his occasional praise for specific acts of Narendra Modi, even if it was tempered by reservations.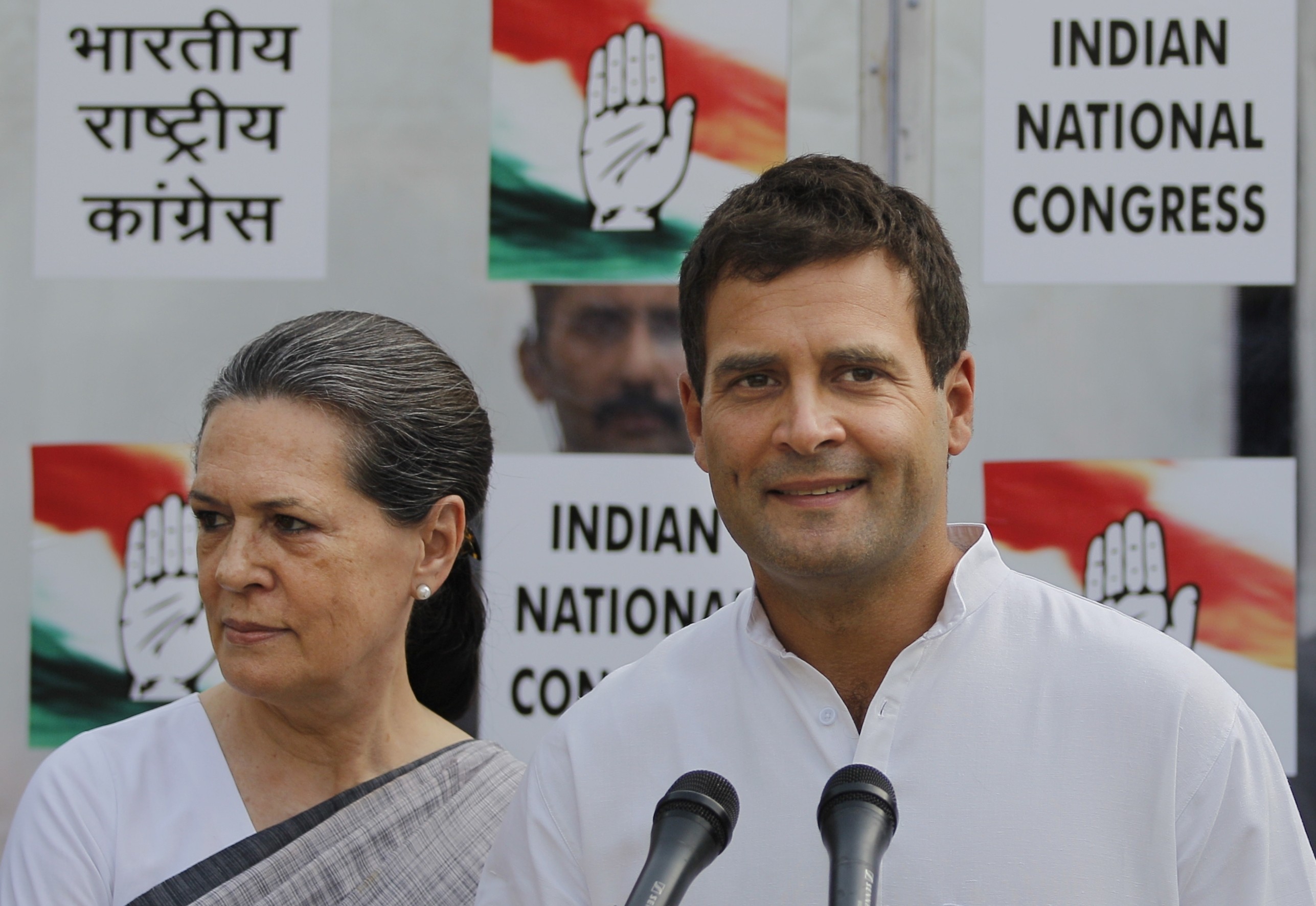 Congress party Vice President Rahul Gandhi and his mother and party President Sonia Gandhi address media after their most crushing defeat in its 128-year history during the general election last year.
Every few months there are stories about how Rahul Gandhi is trying to reinvent and democratize the Congress from the grassroots but eventually all of those efforts peter out. That's partly because the entrenched old guard has no interest in the grassroots and is determined to cling on to what's left of the gravy train. But it's also because Rahul Gandhi has been a leader with a charisma deficit and hard to take seriously. He appears to be play-acting as Congress leader instead of really wanting to be one. And if the current avatar of Rahul Gandhi is being hailed by anxious Congressmen as a new Rahul, that's because the bar has been set so low. As Meghnad Desai quipped once, "The country was lucky in Rahul Gandhi. The Congress Party was unlucky in Rahul Gandhi."
If (and given Swamy's penchant for conspiracy theories that's a big if) there is any truth to this new citizenship twist, it could be a silver lining in a dark cloud. Rahul Gandhi who never seemed to want the job could say he was just doing it out of noblesse oblige and family duty but now can go back to private life. The Congress Party could finally function like a more normal party with normal backstabbing intrigue rather than as a family business.
Citizenship is a relatively easy thing to check and it should be possible to check it without waving around random documents with crossed-out entries. It is not hidden behind layers of shell companies and kickbacks. But if it is true, one must give some credit to the much maligned Rahul for being able to pull such wool over everyone's eyes for so many years, including that tenacious sleuth of a Subramanian Swamy.
Really, who's the buddhu now?
Like Us On Facebook |

Follow Us On Twitter |

Contact HuffPost India

Also see on HuffPost: