Hindustan Times via Getty Images
Haryana Chief Minister Manohar Lal Khattar, who has stirred up the controversy over beef ban by saying that Muslims in India have to give up cow meat in the course of an interview with the Indian Express, went into an overdrive on Friday first denying, then explaining and eventually apologising for his comments about the minority community.
Khattar had also brushed aside the violent killing of a Muslim man in Dadri as a "misunderstanding" by saying that the fault lay with both sides -- both Mohammad Akhlaq who was lynched by a mob and his murderers. He said the victim had made some casual remarks about the cow that Hindus hold sacred.
"Muslim rahein, magar is desh mein beef khaana chhodna hi hoga unko," Khattar said. He said no individual's personal liberty can come before the nation. No one has "unlimited liberty". His comments have sparked off a heated political debate on eating habit versus religion -- always a sensitive subject in plural India.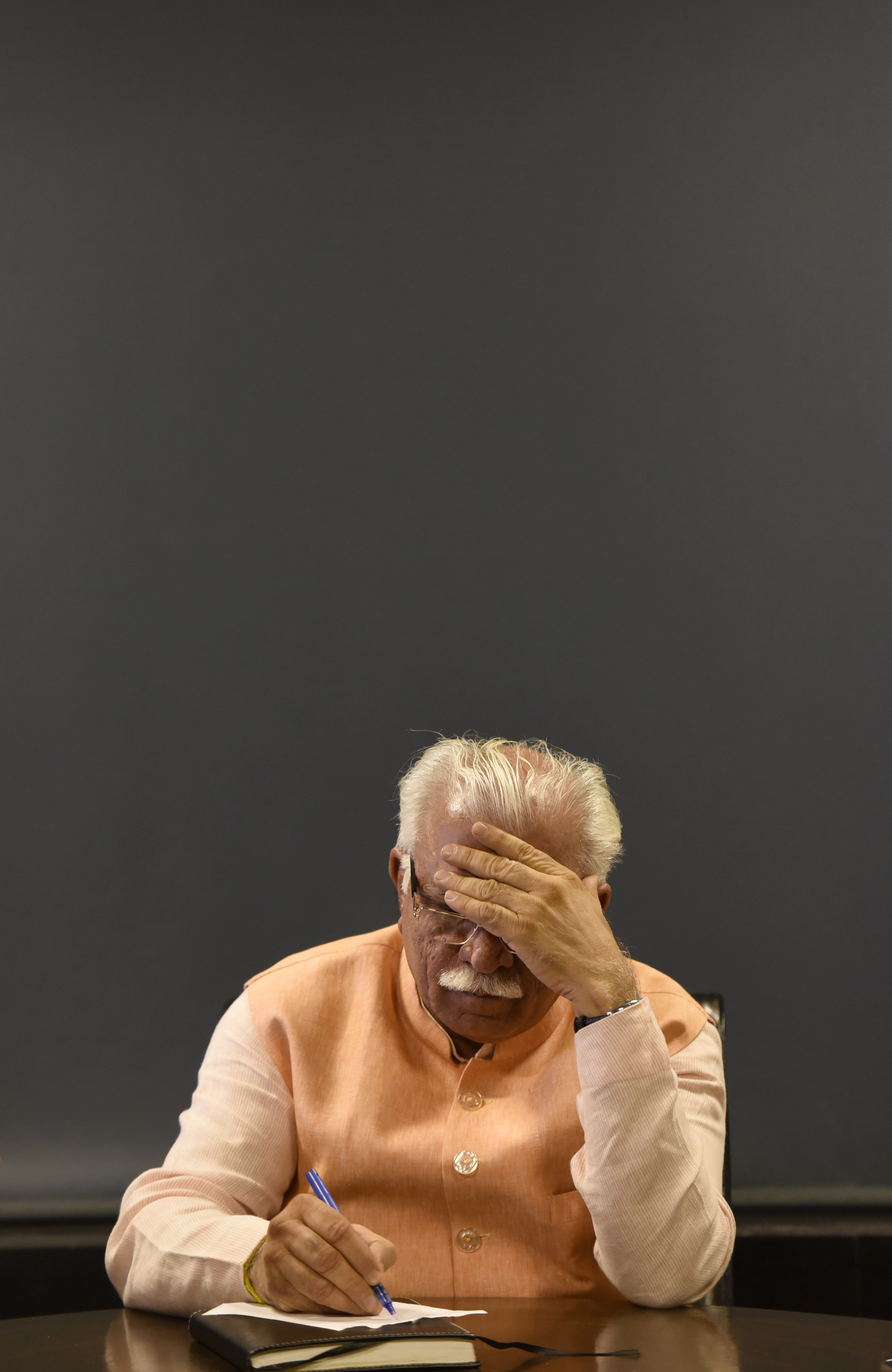 The BJP promptly dissociated itself from the views of Khattar.
"The views expressed by Khattar are not that of the party. I will talk to him and will advise him. It is wrong to say like that," Parliamentary Affairs Minister M Venkaiah Naidu said. "This is not the BJP's position.... It is not correct to link eating habits to religion. People have to keep in mind the sentiments of others and eating is a personal choice of people," he said.
Naidu said no civilized person will support the killing of anyone for his eating habits and termed the Dadri incident as "highly condemnable". The Prime Minister and BJP chief Amit Shah have also expressed their disapproval of the incident. He, however, said the Dadri incident was a law and order issue concerning Uttar Pradesh and its chief minister Akhilesh Yadav and the Samajwadi Party government should be questioned on it, instead of putting the blame on the BJP-led central government.
Meanwhile, former Samajwadi Party leader Kamal Farooqui lashed out at Khattar saying that he must not threaten any community.
Congress leader Rashid Alvi also echoed similar sentiments on the issue and said Khattar has no right to continue as the Chief Minister. "I want to ask what he has to say about no-Muslims who eat beef. I demand his resignation, if he does not resign then PM should dismiss him," Alvi told ANI.
"They can be Muslim even after they stop eating beef, can't they? It is written nowhere that Muslims have to eat beef, nor is it written anywhere in Christianity that they have to eat beef," Khattar had said.
As soon as media outlets headlined the comments, Khattar went into a defensive saying that his words have been distorted.
"My words have been distorted. I never made such a statement. But if the sentiments of anyone have been hurt with my words, I am ready to express my regret," Khattar said.
The Chief Minister's Advisor Jawahar Yadav even said that Khattar never made such a statement.
"The Chief Minister has himself denied that he made such a statement. He did not say what has been published by a newspaper. The CM has said cow is a subject of faith for crores of people in the country. Khattar had given an example of his recent visit to Mewat where Gau Shalas are being run by Muslims and where some people expressed views that Muslims should avoid eating beef," he said.
However, Express on Friday released the recording of the interview. Listen to it.
(With inputs from PTI and ANI)
Like Us On Facebook |

Follow Us On Twitter |

Contact HuffPost India