Bloomberg via Getty Images
Online retailers have geared up to blitz through unsold inventory by offering deep discounts ahead of the festive season. Like last year online shopping portals such as Flipkart, Snapdeal and Amazon appear determined to apply every available tactic--from extended days of discounted shopping to taking potshots at each other--to come within swiping distance of the online shopper.
"This is going to be the most hotly-fought Diwali and online retailers are going all out with promotions and very aggressive discounting," says Arvind Singhal, founder and chairman of New Delhi-based retail consultancy, Technopak Advisors told Forbes India, "The stakes are high as the season accounts for 40% of the whole year's sales."
All e-commerce firms including Flipkart, Snapdeal, Paytm and ShopClues have together raised more than $4 billion so far this year. Snapdeal, the second largest online retailer, said on Monday the company saw a 17 times growth in GMV (gross merchandise value, or the cost of goods sold) during the Electronics Monday sale, which had discounts on smartphones, laptops, other electronics and home appliances.
"We are well on track to reach $100 million sales on our Electronics Monday Sale," Rahul Taneja, vice-president, category management, Snapdeal, told Mint on Monday.
India's largest e-commerce firm Flipkart which is gearing up for its first app-only festival sale is spreading out its so called Big Billion over five days beginning Tuesday and, according to NDTV, they are facing some glitches like last year.
Amazon India (promoted by Amazon Seller Services Pvt. Ltd) is holding a five-day sale during the same time, setting up a direct battle with its local rival. According to the Economic Times, Amazon India has tripled its warehousing capacity to 5 million cubic feet since last Diwali and has lined up 1 million products for next-day delivery. Rival Flipkart has 17 warehouses covering 1.5 million square feet of storage capacity.
According to Mint, online marketplace ShopClues, run by Clues Network Pvt. Ltd, too goes live with its festive sale, #EkZeroKam, on Tuesday. The company expects to sell goods worth Rs.1,500 crore between October and November, nearly a 10-fold increase over products sold during Diwali season in the previous year, Mint reported in September.
The Diwali season, follows the cue of Black Friday (following Thanksgiving) as an event that unofficially kickstarts the Christmas shopping season in the US. The week prior to Dussehra here in India is fast developing into one that heralds the start of Diwali festive sales season.
The country's online retail market is expected to boom to $75 billion by 2020 from $4.5 billion in 2014, according to an estimate by Google India. The big numbers represent GMV or Gross Merchandise Value which is industry speak for the total value of goods sold. Customer acquisition costs are high and profits are nowhere in the horizon. But that hasn't deterred a slew of high-profile investors such as SoftBank and Tiger Global from pumping in hundreds of millions of dollars into the segment.
By all accounts, online retailers could burn through a few hundred million dollars of cash in offering discounts this festival season. "Most players want market share over profits and will discount heavily; Price is still the only clear differentiator," said Singhal in the same Forbes report.
Akin to prize fighters in the ring, executives at Snapdeal and Flipkart are engaging in some passive brinkmanship.
On Sunday, Snapdeal product head Anand Chandrasekaran put up a picture of Flipkart's website being temporarily unavailable. On Twitter, he said, "Guess this is part of the app only strategy."
A few hours later, Flipkart chief product officer Punit Soni responded, "Anand, my friend :) we were testing our servers to prep for BBD (Big Billion Day). Sorry you had issues. Best of luck for the festival season!"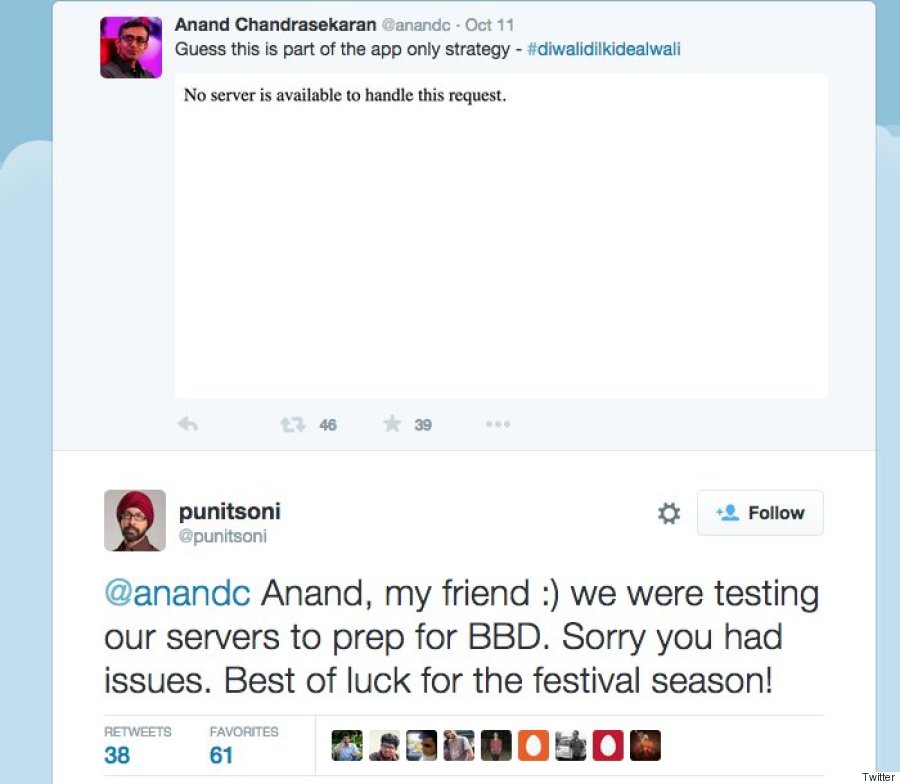 Like Us On Facebook |

Follow Us On Twitter |

Contact HuffPost India
(e