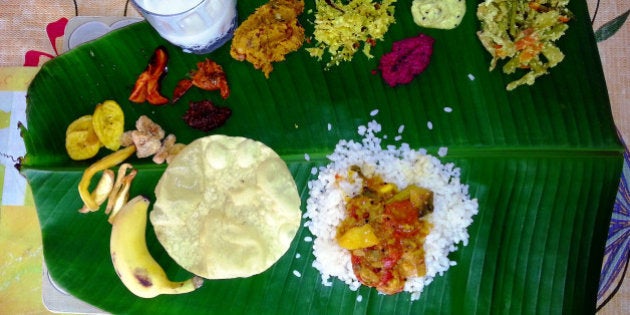 There are two things that come to mind when I think of Anandavalli aunty. The first is the jingle of her anklets, so distinct that I could hear it from across the street as she walked up to our house for a tea-time gossip with mum. The second is her Onam sadya.
Every year, Anandavalli aunty and her family hosted the traditional festive lunch for all the Malayali families that lived in Pantnagar, a small university township in Uttarakhand were I grew up. We were a close community of 15 families. How so many Malayalis migrated so far north from Kerala to this remote university campus, almost 3,000 km away from their homes, was a question I never gave much thought to as a child.
It seemed nothing out of the ordinary to live on the cusp of two distinct cultures.
My sister and I, we blended in with ease on both sides. The campus was a beautiful place. That it specialized in agriculture and horticultural technology was evident everywhere. Rows of houses flanked by Ashoka trees and covered under vines of bougainvillea, bountiful kitchen gardens, college grounds sporting exotic and indigenous varieties of plants, all bore testimony to the university campus' love for its flora.
We had access to more than a 100 varieties of ornamental plants from the nursery. In the summer, the roads were a leaf out of a painter's binder, hidden under a carpet of yellow and purple blossoms from the canopy of Cassia fistula and Pride of India trees.
When the pods of the ancient and massive cotton tree near our house swelled and cracked open, the breeze brought with it white cotton balls like giant snow flakes. For days, it snowed cotton — they were silky and featherlike, but with a seed cradled inside. May be the Malayalis came like that too, in a mighty gust of wind, blown away far and wide, riding a seed of opportunity within themselves. Most of them arrived as university employees in the early 80s as singles and couples. And then they took root, got married, had children and retired at 60 and went back to Kerala where they now live, still in touch and happy to talk about the good ol' days of Pantnagar.
Despite having lived in the university campus for a greater part of their lives (more than 35 years for most), making great friends in their local circles, the boisterous Malayali community kept its ethnic identity intact. And what I mean by that is, you could still guess the Malayali in the crowd, and bet on it as soon as he started talking.
They spoke Hindi with a heavy accent that somehow never got better with time. It was often a great source of entertainment for us, the children, the second generation north Indian Malayalis. Idhar aavom. Tumko meim ekk baad badada hoom. (Come here. Let me tell you something.) We'd make loud jokes about it as we frolicked in the bedroom while the adults played a game of 28 in the parlor.
Our prime reason for bonding was the shared mother tongue and culture. Onam was about being a proud Malayali far away from Kerala.'
Festivals were great binders and a reason to get-together. One of them was Onam. It didn't matter that most of us were Christians with only a handful of Hindus. Our prime reason for bonding was the shared mother tongue and culture. Onam was about being a proud Malayali far away from Kerala.
A typical Onam sadya can have up to 28 different types of dishes. We made it a mini-carnival. The biggest woks were sent to Anandavalli aunty's place for heavy-duty cooking. Those who could, contributed to the feast by making a dish or two. My father would take the day off to help make payasam.
On the day of the sadya, Anandavalli aunty's kitchen ran on full throttle and her house was a beehive. People were frying papadams, scooping out pickle, scrubbing dishes, pushing furniture to make space, sorting banana leaves, or waiting to be fed. Our yearly trips to Kerala happened mostly during the summer holidays in May and June. We had never witnessed the Onam festivities there.
I guess the reason our parents insisted on celebrating Onam in Pantnagar was to keep the cultural fire burning in this faraway land, and also to let the children get a glimpse of a tradition they'll otherwise never know of. This is why even though Onam was a regular working day, everyone turned up in mundu and set saris, carrying big bowls of festive treats. We rushed back from school, sometimes still in our uniforms, and plonked ourselves in front of the banana leaf.
We sat in batches on the floor, cross-legged and eager for the serving to begin. Mango chutney, upperi, banana chips, papadam — all the crispy bites were gobbled up in a flash, and the chutneys were licked off even before the rest of it was served along with brown rice — paripu, sambar, pulisheri, rasam, kaalan, olan, aviyal, thoran, pachadi, paavekya theeyal, and finally at least two varieties of payasam. By the time we were done, we could barely move.
It was that time of the year when I felt the most Malayali. Thiruvonam, was the final day of the 10-day Onam festivities, mum told us each year. Thiruvathira (the dance), pookolam (floral carpet) and Puli Kali (tiger dance) were all the new words we learnt and then soon forgot, until next year when they were taught again.
I can't say what Onam meant to the adults, but to me it was a reminder that there was more to my world than I could see. It told me that I had two homes, and more festivals than my friends did. I was a Malayali north Indian, and a north Indian Malayali. Onam came and went in Pantnagar, but the spirit of this harvest festival never left us.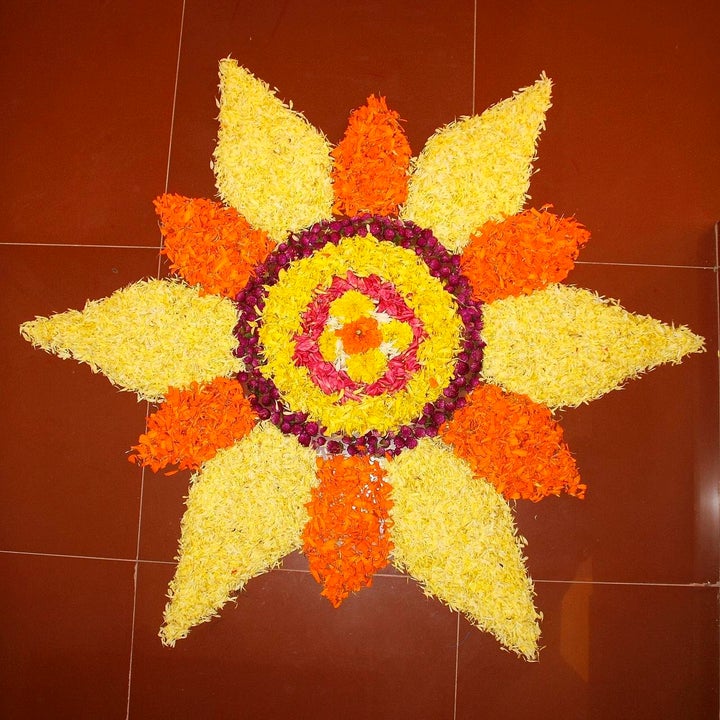 My father was an enthusiastic farmer with a kitchen garden so robust it could have sustained our four-member household on its own. There isn't a thing he didn't grow: onions, tomatoes, garlic, chilies, potatoes, cabbage, cauliflower, brinjal, okra, spinach, coriander, curry leaves, beans, peas, and so much more. Fruits too: mango, lychee, papaya, lemon, guava. Nathu, the gardner, and dad were a long-standing team. The agricultural university had a massive nursery for food crops spread across 3 hectares with about 50,000 plants to choose from, so sourcing the seeds and saplings wasn't hard.
But what dad most prided himself on was his collection of indigenous varieties of edibles in his garden, carefully packed and brought from Kerala. This included his banana plant (he called it cheru pazham), tapioca (kappa), chilies (Kandhari molagu), and the elephant foot yam (chena). The small bananas were the sweetest, and hugely popular within the community. When the harvest was good, it was rationed out to close friends. Kappa was a favorite. In fact, growing these treats of Kerala in the backyard became so popular with the families that often a visit included a gift from the kitchen garden.
May be that was the spirit of Onam, a harvest party. In that way, we were more Malayali than the Malayalis of Kerala. The kappa stem pulled out of Kerala's red soil, carefully packed and transported, and lovingly grown in Uttarakhand's alluvial earth tasted just as good, often better.
It was a great reason to invite a few close friends for a dinner party. "We're making kappa and meen curry, want to join?" And the answer was always, always an enthusiastic "yes!"