NARINDER NANU via Getty Images
All three terrorists who stormed a police station complex in Dina Nagar in Punjab on Monday have been killed, Punjab Police chief Sumedh Singh Saini told reporters.
The total tally of those who died in the 12-hour gun battle was at least nine, Reuters reported. Those who died on Monday included at least one Superintendent of Police (Detective), Baljit Singh; a Punjab provincial service officer; two home guards; and two policemen, besides the three fidayeen in army fatigues. Several others are injured and the toll may go up later.
Even as reports suggested that the attackers were from Pakistan, the foreign affairs ministry there said they condemned the terrorist attack.
"We condemn in the strongest terms the terrorist incident in Gurdaspur, India, today, in which a number of precious lives have been lost. There are reports of others having suffered injuries. Our thoughts are with the bereaved families," said a press statement from the Pakistani government.
"Pakistan reiterates its condemnation of terrorism in all its forms and manifestations. We extend heartfelt sympathies and condolences to the Government and people of India and wish the wounded speedy and full recovery."
The terrorists attacked a police station in Dina Nagar in Gurdaspur district today at around 5.30 am, spraying bullets on a roadside eatery and moving bus before storming the station. It is the first major terror attack in the state in eight years, reported PTI. The terrorists are suspected to be members of either Pakistan-based Lashkar-e-Toiba (LeT) or Jaish-e-Mohammad (JeM).
READ: Sequence Of Events In Attack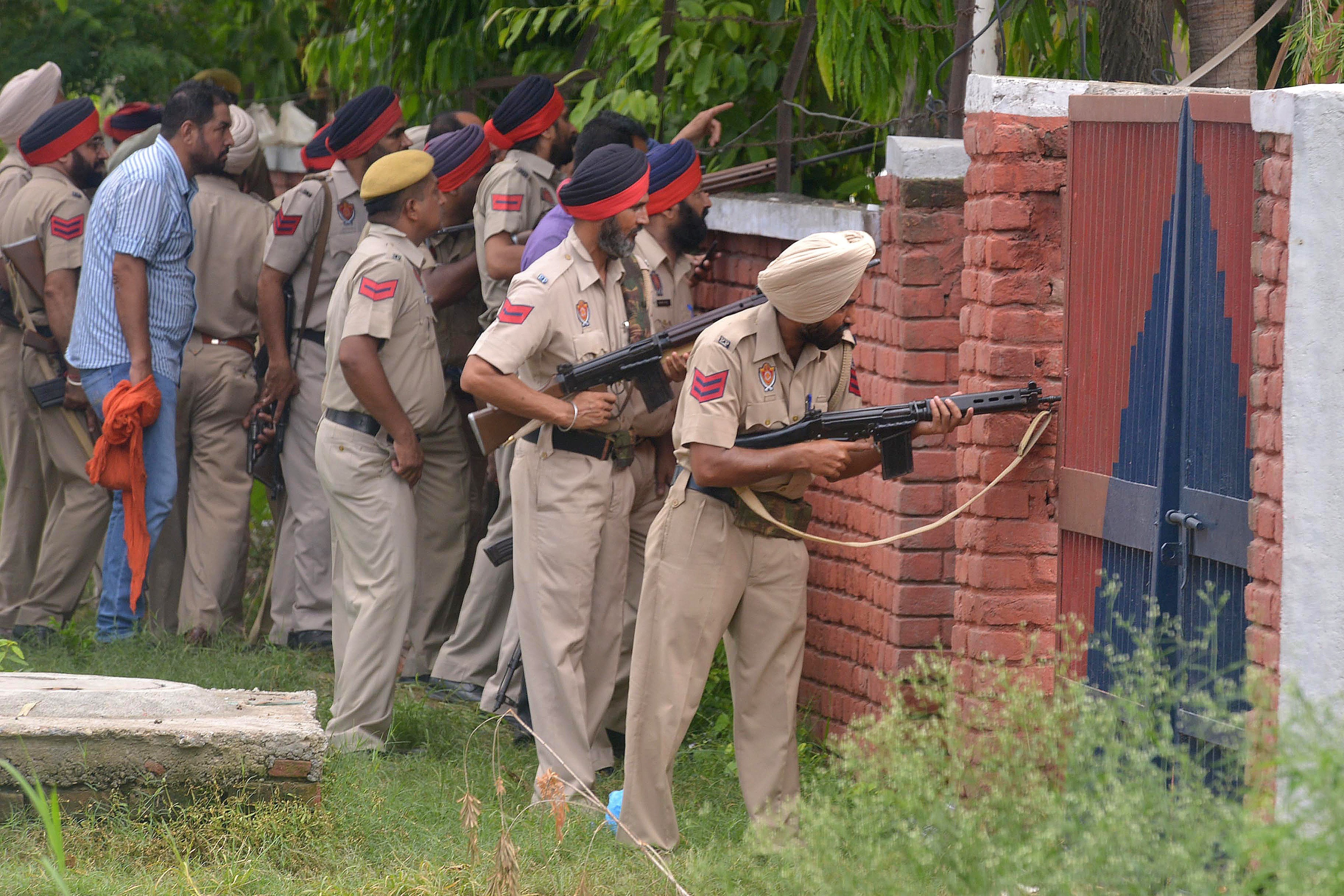 Punjab police personnel take position during the encounter with armed attackers at the police station in Dina Nagar town.
Three heavily-armed fidayeen in army fatigues, believed to have come from Pakistan, today sprayed bullets on a moving bus and stormed a police station, killing eight persons, including an SP, while all the terrorists were gunned down in a day-long operation.
Though there was no official word on who the attackers were, but they are suspected to have sneaked into India from Pakistan through the unfenced border between Jammu and Pathankot or Chak Hira in Jammu district.
Earlier this year, terrorists belonging to JeM whose fidayeen combatants, clad in Army fatigues, stormed a police station in Jammu and Kashmir's Kathua District on March 20 killing six persons, including three security force personnel.
"The operation is over," a top Punjab police official said at the end of a fierce gunbattle involving Punjab police and commandos of the elite Special Weapons and Tactics Team (SWAT).
Police said out of those brought to civil hospital at Gurdaspur, seven seriously injured were referred to Amritsar. They were aged between 15-55 years.
Jitendra Singh, a junior minister in Modi's office whose onstituency in the Jammu region borders Gurdaspur, said he did not rule out Pakistan's involvement.
"There have also been earlier reports of Pakistan infiltration and cross-border mischief in this area," said Singh to Reuters, whose constituency in the Jammu region borders Gurdaspur.
Meanwhile Pakistan-based Kashmiri separatist leader Syed Salahuddin denied his men were involved in the attack.
"They are not Kashmiris ... According to my information definitely not... They could be home-grown militants," he told Reuters by telephone.
(with agency inputs)
Like Us On Facebook |

Follow Us On Twitter |

Contact HuffPost India