.
Patna's skyline and landscape are so awash with political hoardings you'd think the Bihar assembly elections are next week (they are a couple of months away). Nitish Kumar's hoardings are huge, but the Bharatiya Janata Party (BJP) has five of them to counter one by the incumbent chief minister. On Friday, a day before prime minister Narendra Modi landed in Patna, the hoarding wars got worse.
The BJP unleashed a new set of posters across the city, this one promising a super-fast speed of development if the party came to power, and announcing half a dozen central government projects Modi is to inaugurate. The Janata Dal (United)'s response was to set the Patna Municipal Corporation upon the BJP's hoardings, swiftly removing the illegal ones. Despite the removals, it is difficult to bat an eyelid in the capital city without seeing mugshots of either Nitish or Narendra, both of them with their fingers pointing at the skies.
CM versus PM
It's a battle between a chief minister and a prime minister. For now, the BJP is pitching this as a Modi election. All the BJP's local leaders sat on Amit Shah's stage, everyone knowing fully well that Sushil Kumar Modi is the most likely CM candidate. The BJP's reluctance to declare a CM candidate is less because of fears of infighting in the party and more because it fears it does not have a leader who could match the stature of Nitish Kumar in Bihar politics today. Not even Sushil Kumar Modi, who was deputy chief minister to Nitish until 2013.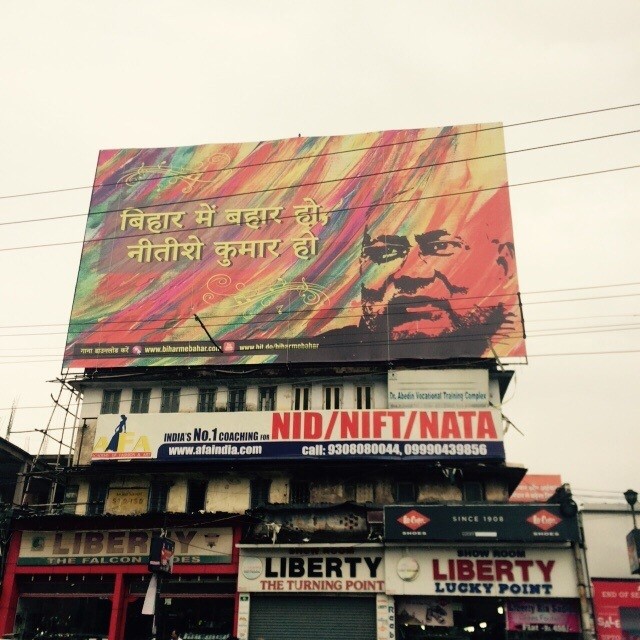 The BJP's prime strategy is to attack the JDU's unlikely alliance with the Lalu Prasad Yadav-led Rashtriya Janata Dal. From 1996 to 2013, JDU and BJP were alliance partners, an alliance called off by Nitish Kumar because Narendra Modi wasn't acceptable to him as prime minister. The Narendra Modi-led BJP won 32 of 40 seats in Bihar, with a whopping 39% vote share, in the 2014 Lok Sabha elections.
Unholy alliance
In response to the BJP's rise, Nitish Kumar has allied with his bête noire Lalu Prasad Yadav. For the ten years since 2005 that Nitish has been chief minister, he has pitched himself as the man who took Bihar out of Lalu's "jungle raj". Now, Nitish has joined hands with Lalu (and the Congress) to defeat the BJP.
"Apraadh, Brashtachaar aur ahankar / Kya is gatbandhan se badhein ga Bihar?" (Crime, corruption and arrogance, is that the alliance for Bihar's progress?")
The BJP's hoardings attack this alliance. "Apraadh, Brashtachaar aur ahankar / Kya is gatbandhan se badhein ga Bihar?" (Crime, corruption and arrogance, is that the alliance for Bihar's progress?") While crime and corruption refer to Lalu and the Congress, it is noteworthy that the worst the BJP is able to accuse Nitish Kumar of is arrogance. They call him arrogant because he broke the "trust of the people" by dumping the BJP, an act for which Bihar's electorate gave a suitable reply in the 2014 general elections.
While the BJP is able to attack Nitish Kumar for that contradiction, its own contradiction is also clear. Since Nitish became chief minister in 2005, with the BJP's Sushil Kumar Modi as deputy, the BJP heaped praise upon praise over Nitish. Now, suddenly, the BJP is saying that Nitish isn't the right man for Bihar.
Only Nitish
The JDU has a one-word reply to everything, and that is Nitish. Nitish, Nitish, Nitish is the message of the ruling party. Its campaign strategy is led by Prashant Kishor, a key strategist of Narendra Modi's 2014 campaign, who has now switched over to Nitish Kumar. Just as Kishor made Modi the main issue of the 2014 election, he is making Nitish the main issue of the 2015 Bihar assembly elections.
"Bihar mein bahaar ho, Nitishey Kumar ho," says one kind of hoarding in technicolour. Let Bihar bloom, let there only be Nitish Kumar. Another one says, "Aagey badhta rahein Bihar, phir ek baar Nitish Kumar." (May Bihar keep going ahead, once again with Nitish Kumar.)
JDU workers have gone across the state under a programme called "Ghar Ghar Dastak" (visiting every house) and for the first time, they weren't telling people anything. They were asking – are you happy with Nitish Kumar's performace? Will you vote for him again?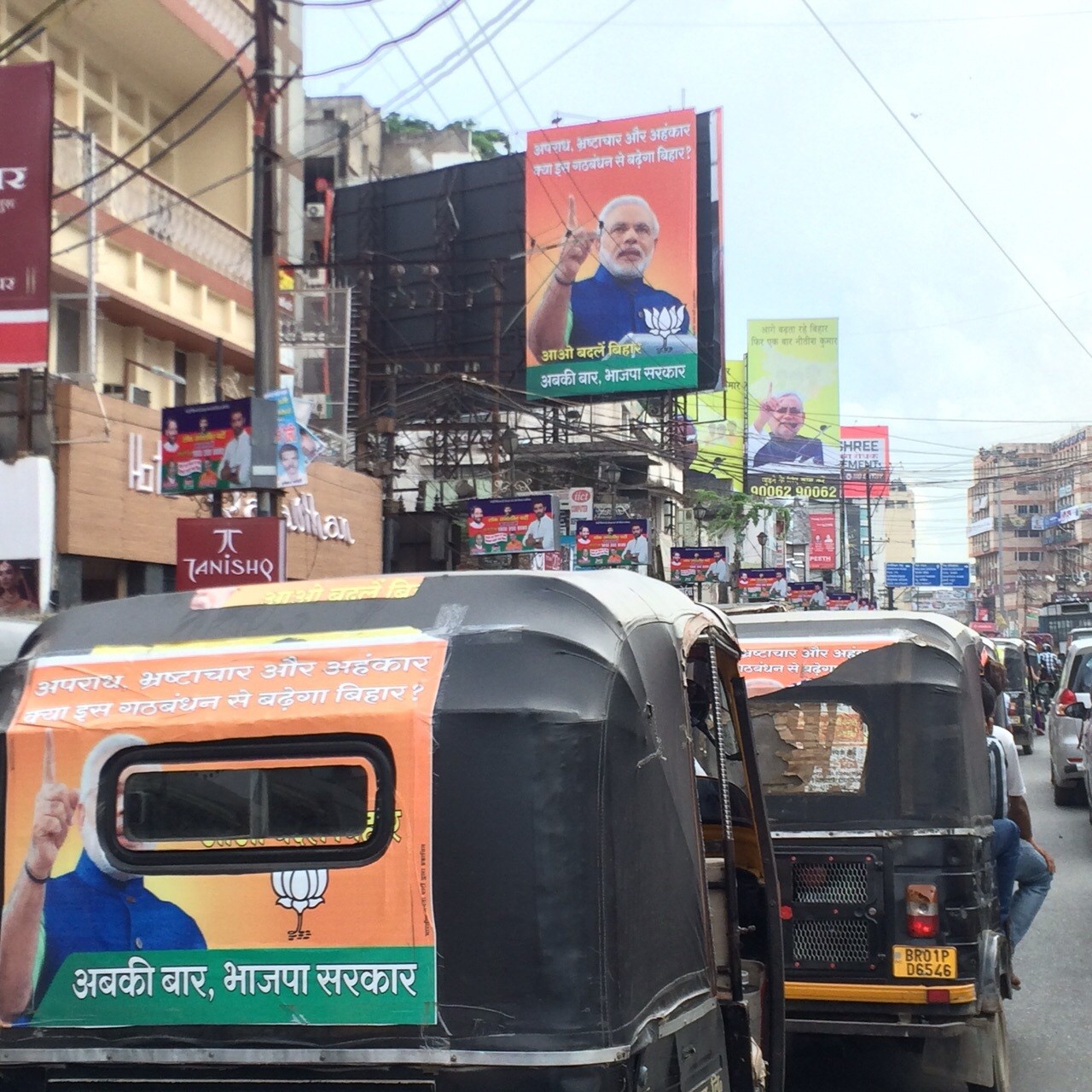 The only-Nitish strategy is a problem for the BJP as it will force them to answer the question they don't want to answer: who will be their man at 7 Circular Road, the chief minister's residence in Patna. The strategy also tries to take focus away from other factors, such as the unlikely alliance with Lalu, the complexities of caste arithmetic, the local politics that often results in sabotage and infighting, the JDU's near-absent party cadres, the possibility of the BJP using communal polarization. The JDU wants only one issue this election: has Nitish Kumar been a good chief minister for ten years?
The fear of Lalu
In Patna's elite drawing rooms, the BJP's dismay at the Nitish-Lalu alliance is shared widely. "Without Lallu…" begins the typical response, "Nitish is the best for Bihar." Even though Lalu Prasad Yadav has agreed to be a junior partner to Nitish Kumar, Patna fears Lalu having any access to power.
This trepidation at the thought of Lalu comes from memories of the nightmare that was Lalu's 15 year rule preceding Nitish.
This trepidation at the thought of Lalu comes from memories of the nightmare that was Lalu's 15 year rule preceding Nitish. Those 15 years were a dark time especially for the upper caste elites, as they bore the greatest brunt of the "jungle raj". So widespread was kidnapping that any well to do person either left Bihar or moved around with security, even in villages.
Most of this fear of Lalu comes from the upper castes, but also from the backward communities other than Yadavs, who are Lalu's core voter base.
Caste versus Development
Is the Lalu alliance actually hurting Nitish and benefitting the BJP? And will the BJP be able to win an assembly election in the name of Modi, over a year after the Modi wave swept Bihar and India? This writer travelled in north Bihar's districts of Gopalganj, Darbhanga and West Champaran to ask voters.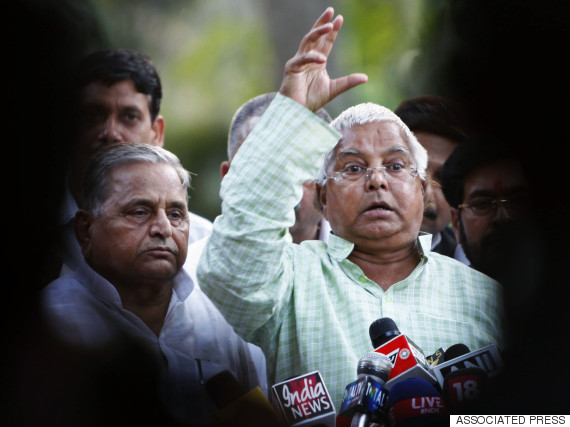 There are those amongst the upper castes who are die-hard fans of the BJP, but this 8-9% of the electorate cannot win an election on its own. With the exception of this segment, every single person this writer met over three days in north Bihar only praised Nitish Kumar. If Nitish sorted out law and order in his first time, he improved the electricity supply and roads in his second term. Instead of getting electricity for four years, many said they suffered an outage for only four hours. A young first-time Yadav voter in Gopalganj said: "I don't believe in caste. The man who has delivered will get my vote, and that is Nitish."
Yet, this may not alone translate into votes for Nitish. For most voters, caste still matters. Yadavs and Muslims in particular--who together are enough to win an election for any party -– are enthused by the Nitish-Lalu alliance. In Darbhanga, a Yadav voter who sells milk to the Sudha co-operative dairy, said he'd vote for Lalu's RJD if there was no alliance, even though he admitted Nitish had been a better administrator than Lalu. Why would he vote for Lalu even though he admits Nitish has been better? "One has to think about one's community as well," he replied.
Counting the castes
Nitish Kumar by himself has a very small core base of voters -– the backward castes like his own Kurmi, the Dalits below Ram Vilas Paswan's Pasis, the lower caste Muslims. Nitish Kumar has for this reason never won an election alone. This is why the BJP is so keen to attack the alliance, and would be happy to see it break before the first vote is cast.
On Narendra Modi, voters other than the Hindu upper castes were unequivocally indifferent. They said they had voted for Modi to oust the Congress in 2014, and haven't been particularly enthused with Modi's performance so far. In such a scenario, Bihar is a big challenge for the BJP. And while people are mostly praising Nitish, there is no sense of a wave. People seem to be watching what the two sides are going to unleash this campaign season.
The election is 2-3 months away, and prime minister Modi's inaugural rally in Muzaffarpur on Saturday will set the tone of the BJP campaign. The weeks to come will be no less than a Mahabharat, with each side wooing the smallest of castes and trying to polarize them against each other. The Nitish-Lalu alliance has an advantage, but many moves are yet to be made on the chessboard.