PTI
NEW DELHI -- Even as a delegation of students and alumni members of FTII Pune met with Information & Broadcasting Minister Arun Jaitley seeking removal of TV actor and BJP's Gajendra Chauhan as chairman of the governing council of the prestigious institute, it seems that no resolution was achieved.
"We were given a lot of assurances but the main issue has not been resolved yet," said one of the students to media after the meeting in Jaitley's North Block Finance Ministry office. Those representing the FTII students included Oscar-winner Resul Pookutty and filmmaker Girish Kasaravalli.
The I&B Ministry had invited the students to speak with them in New Delhi to find a solution. Current students and alumni have joined hands in a protest since last month in what they have called a "saffronisation" of the institute. Chauhan, a BJP worker, and best known for his role as 'Yudhisthira' in the televised Mahabharata show, lacks the technical expertise to be the premier film institute's chairperson, students have said, and have refused to attend classes since June 9.
The delegation also held an "inconclusive" meeting for two hours with the senior ministry officials, who heard their demands, according to sources, reported PTI. However, some who attended the meeting said there were some "positive" indications of resolving the issue.
PTI sources said that the ministry officials included Joint Secretary (films) K Sanjay Murti and had a detailed discussion with the students.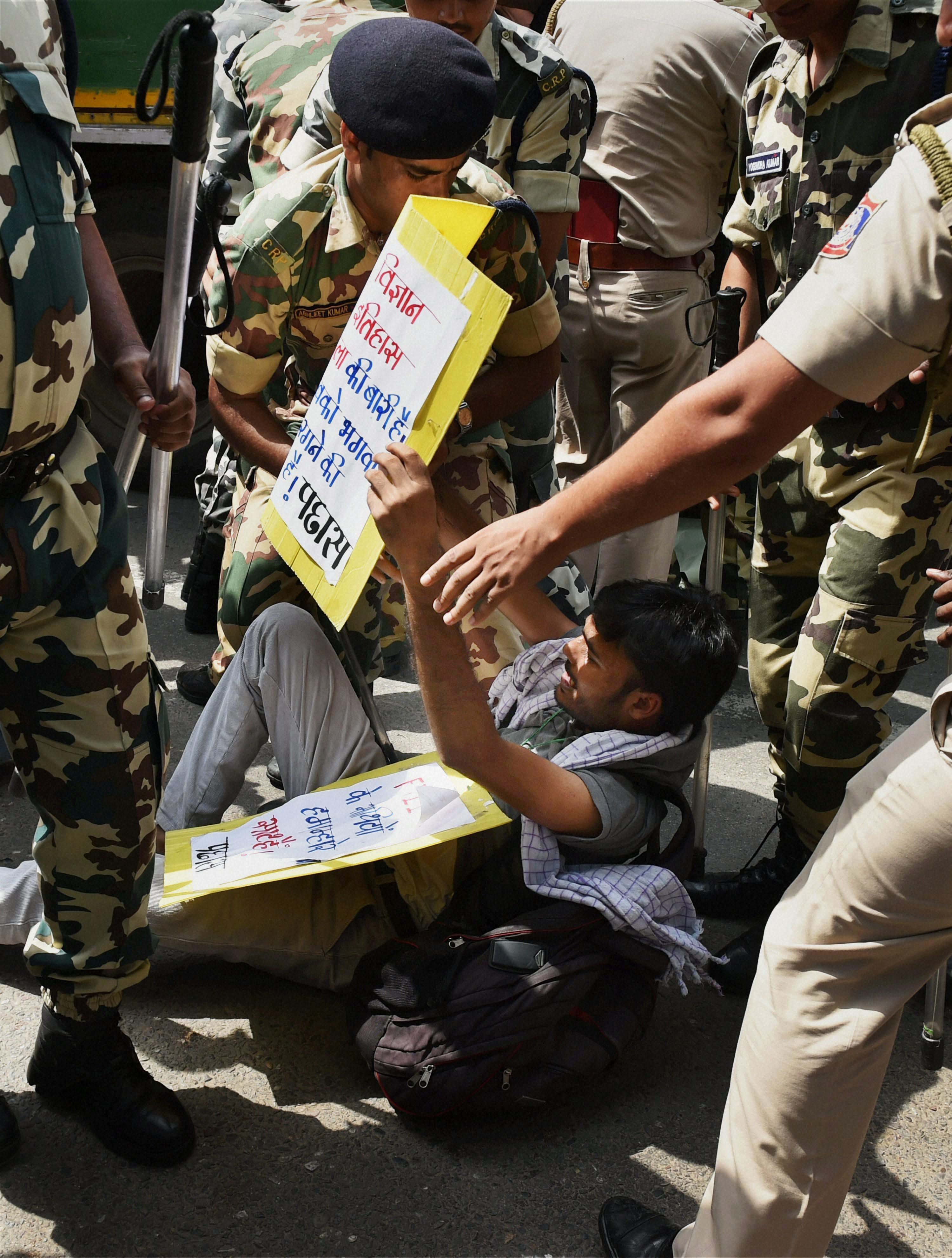 Police on Friday arrest students who were protesting against Gajendra Chauhan's appointment.
Earlier, agitating students of FTII took their protest to the heart of the national capital as they held a demonstration seeking immediate revocation of Chauhan's appointment.
The students staged their protest outside Shastri Bhavan, which houses the Information and Broadcasting Ministry office.
Students from Jawahar Lal University (JNU) and other professional institutes too joined the protests with FTII students in the capital this afternoon.
Meanwhile Chauhan on Friday said he has got to know from media reports that he would not be removed from the post of FTII chairman.
"I am not aware of the exact result that has come out officially. I have come to know from the media reports that I won't be removed from the position. I will speak to the officials there and let you know," Chauhan told ANI.
He said he was confident that the ministry will find a solution.
"I got to know about the meeting through media. I will accept whatever they decide. I have been saying that protest is not the solution to the problem. It is good that they sat down together to find a solution," he said to PTI.
"I am sad that I did not get a chance to perform. I was given a responsibility but I am being prevented from fulfilling it."
Like Us On Facebook |

Follow Us On Twitter |

Contact HuffPost India