mkhmarketing/Flickr
Twitter had announced in February that it would be releasing tools to deal with abusive users. CEO Dick Costolo took personal responsibility for Twitter's failure to deal with abuse, and promised to address the issue.
In line with that promise, Twitter on Wednesday rolled out a new feature that lets you export and share block lists of abusive users with others.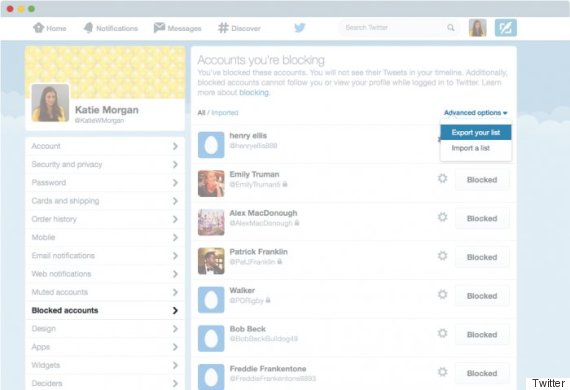 Export blocked
Here's how it works. Head to your list of Blocked Accounts on Twitter's settings on your browser, and you'll see a new Advanced Options tab on the right hand corner. The tab lets you import or export a list of users. You can then download a list of blocked accounts, and share the file with others.
In April this year, Twitter updated its violent threats policy to extend prohibition to "threats of violence against others or promot[ing] violence against others." On the enforcement side, abusive Tweeters are now required to delete Tweets that violate Twitter rules that prohibit users from harassing, threatening, or disclosing private information. Users may also be asked to verify their phone number, and harassers can have their account locked out for a pre-defined period.
Like Us On Facebook |

Follow Us On Twitter |

Contact HuffPost India