ANI
An MBA grad in Mumbai who was denied a job for being a Muslim has found employment with the Adani Group in Ahmedabad, Gujarat's commercial capital.
Khan, 22, was quoted by the Times of India as saying that "this was the best offer" he got after an avalanche of mesages of support from all over the country. Khan had posted on Facebook a screenshot of a letter he had received from the HR department of a diamond merchant in Mumbai which stated that the company did not hire Muslims. The company had later apologised for the faux pas and insisted it did not discriminate on the masis of religion.
Read: Mumbai MBA Graduate Denied Job By Diamond Firm For Being A Muslim
"I received about a dozen offers following the religious discrimination I had to face. My mail box is flooded with solidarity messages," said Khan, who will now join Adani's corporate office in Mumbai as an executive trainee.
In May this year after they graduated, Khan and a couple of his friends decided to apply for a job at Mumbai's Hare Krishna Exports Pvt Ltd, a leading diamond export firm.
But to his utter disbelief Khan claimed he received a letter from the company stating that it does not hire Muslims. The exact reply read: "Thanks for your application. We regret to inform you that we hire only non-Muslim candidates."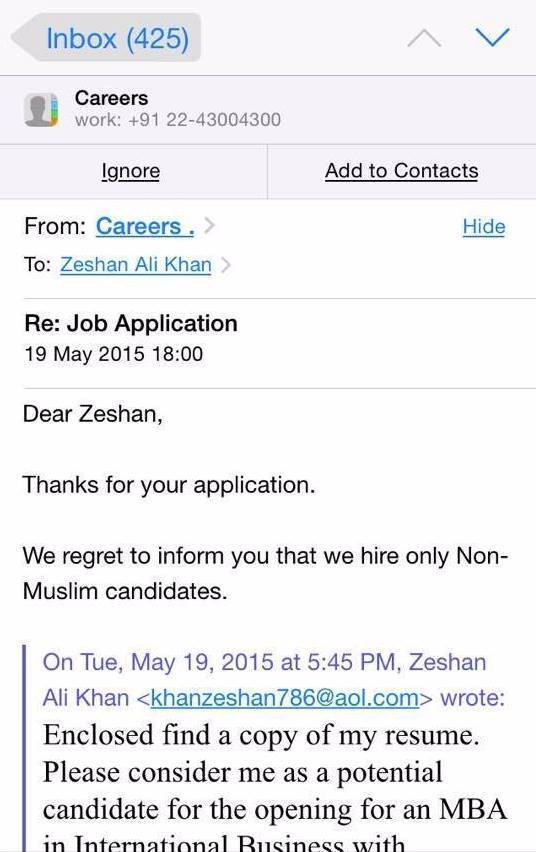 "I took a screenshot of the email and posted it on social media. It has gone viral. The minorities commission has sent a notice to the company. I'd only like to say, please don't discriminate candidates on the basis of religion," Khan said at that time.
Read: Zeshan Khan's Friends No Longer Want To Work With The Diamond Firm That Rejected Him
A spokesperson from the Adani group told TOI: "We encourage talent irrespective of caste, creed and religion. We found Zeeshan a competent candidate and hence a job was offered."
Billionaire Gautam Adani, the chairman of the Adani group, is known to be close to Prime Minister Narendra Modi and has accompanied him in most of his foreign trips.
Like Us On Facebook |

Follow Us On Twitter |

Contact HuffPost India