Alex Wong via Getty Images
Thirteen year old Vanya Shivashankar spelled out the word 'scherenschnitte' — meaning the art of cutting paper into decorative designs — on Thursday night to a packed audience at the annual Scripps National Spelling Bee contest, as her father watched, wearing a shirt that said 'The Beefather'. It was the Kansas eighth grader's fifth and final time at the spelling bee.
Minutes later, another eighth grader, Gokul Venkatachalam from St Louis Missouri, spelled 'nunatak' correctly to tie with Vanya for first place at the prestigious competition. The two had been battling it out at the Maryland Ballroom for 30 minutes and this was the final clincher that made them both winners. It was the final attempt for both of them, as they move on to high school the next year.
This is the eighth year in a row when Indian American kids have won the prestigious competition. There are only three occasions when Indian Americans have not won the spelling bee in the last 16 years. This year, 25 of the 49 finalists were Indian Americans. Of the last 10, seven were Indian Americans.
While Shivashankar and Venkatachalam were declared co-champions; Indian American Cole Shafer-Ray from Oklahoma bagged the third spot.
#speller90 Vanya Shivashankar and #speller140 Gokul Venkatachalam are co-champions of the 2015 Scripps National Spelling Bee!

— NationalSpellingBee (@ScrippsBee) May 29, 2015
"This is a dream come true. I have wanted this for such a long time," Vanya said while dedicating the award to her grandmother who passed away in October last year.
With her win on Thursday, Vanya made history with her older sister Kavya by becoming the only siblings to have won the bee. Kavya had won the competition six years ago.
Vanya is both a talented actor and musician, playing tuba and piano. She recently won the Mid-America Music Association award for Exceptional Pianist and Jazz Pianist. She was also the only five-time competitor at the bee this year, earlier reaching the top 15 competitors thrice — she was tied for 10th place in 2012, tied at 5th place in 2013, and tied again for 13th place last year.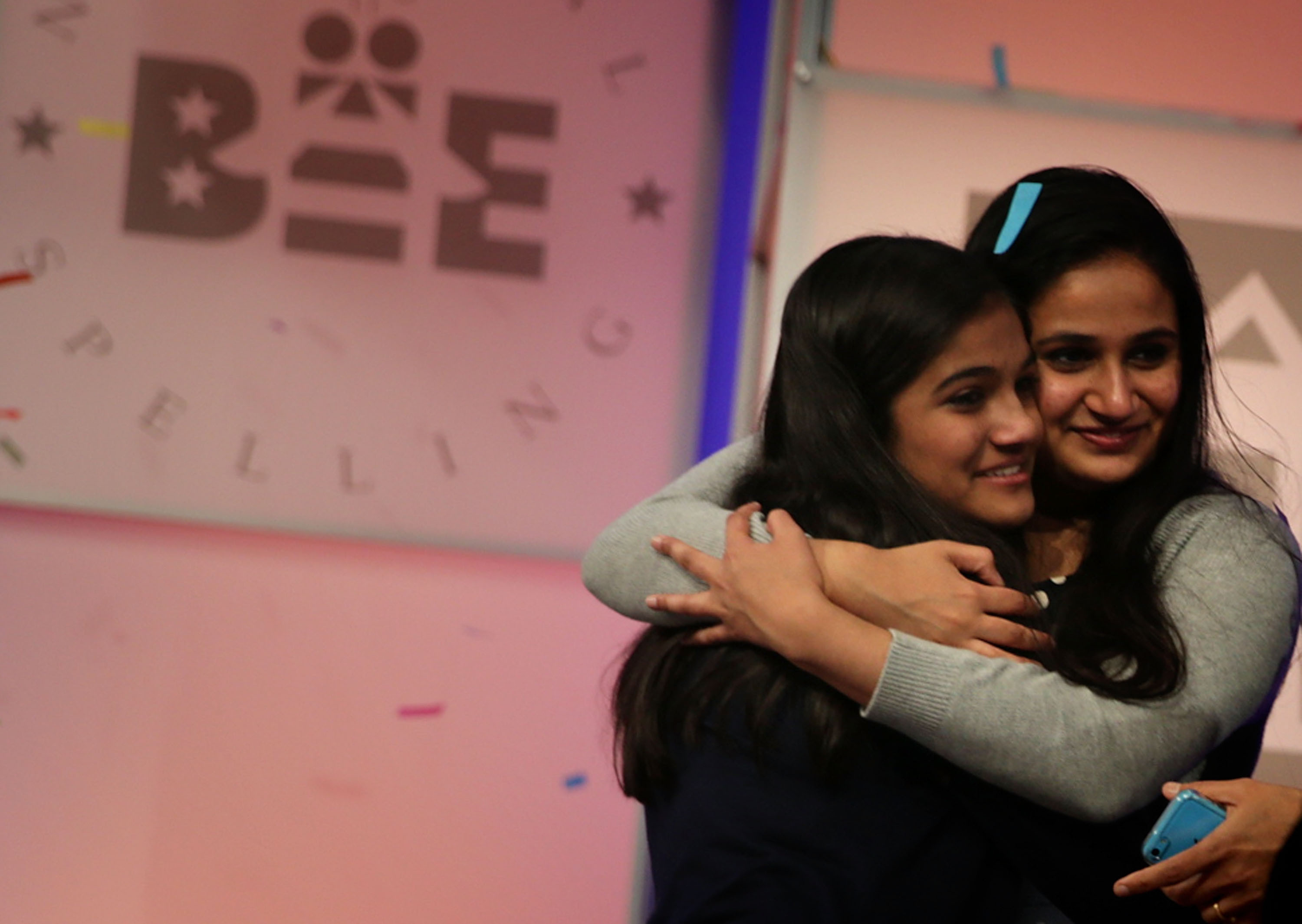 Speller Vanya Shivashankar (L) of Olathe, Kansas, celebrates her victory with her sister Kavya (R), who won the competition in 2009, after winning the 2015 Scripps National Spelling Bee on May 28, 2015 in National Harbor, Maryland.
Meanwhile Gokul termed his win "ridiculous" and said he wasn't "nervous at all" during the competition. He has earlier won the 10th place in 2012 and 19th in 2013.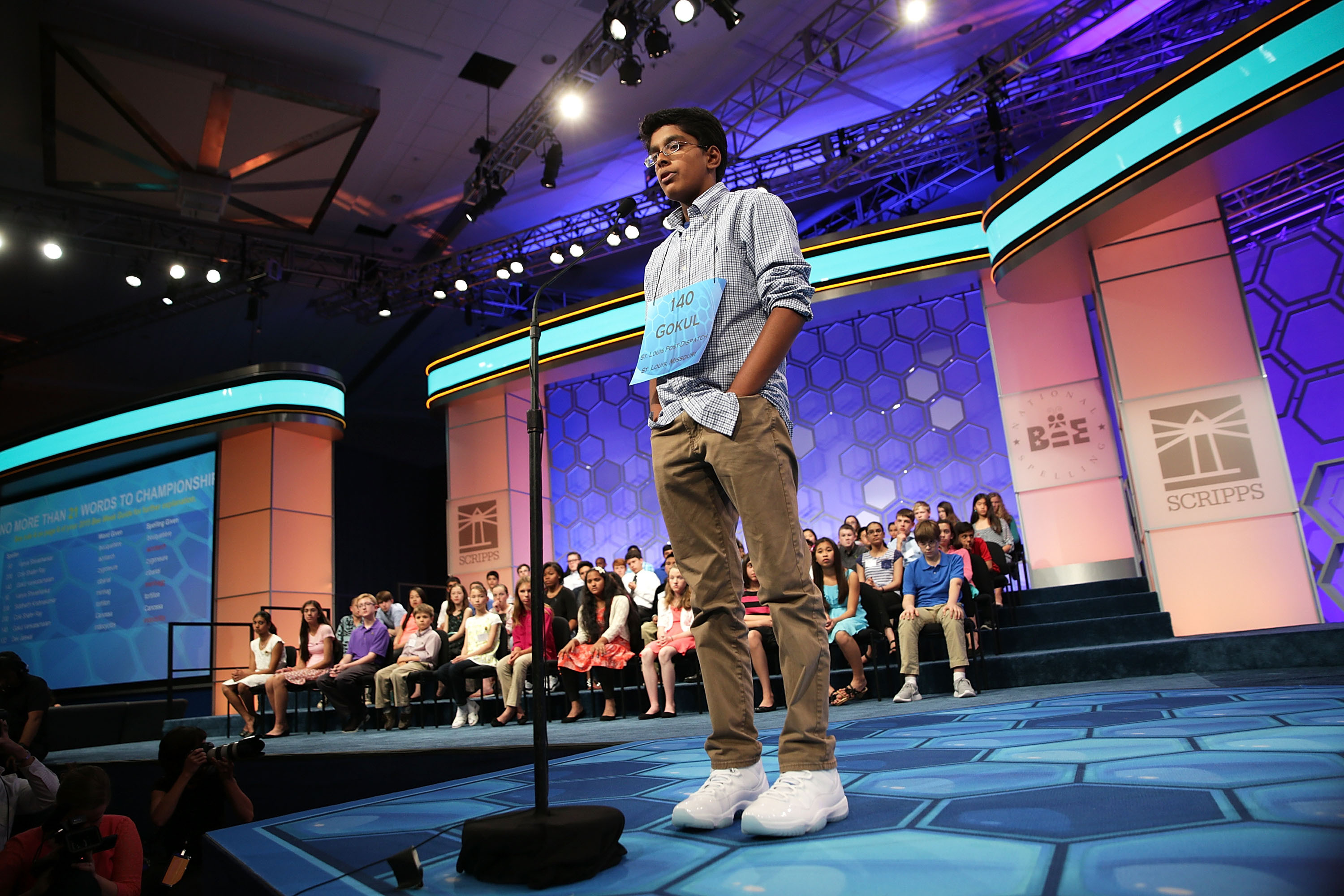 Speller Gokul Venkatachalam of St. Louis, Missouri, spells his word during a final round of the 2015 Scripps National Spelling Bee May 28, 2015 in National Harbor, Maryland.
Gokul likes to play basketball and his idol is LeBron James. His dream is to attend Stanford University to study business and become an entrepreneur or stockbroker, PTI reported.
(with PTI inputs)
Like Us On Facebook |

Follow Us On Twitter |

Contact HuffPost India