STR via Getty Images
As 'Tanu Weds Manu Returns' runs to a full house in theatres across India, a perfectly-timed story has been doing the rounds--the film's star Kangana Ranaut has turned down a Rs2 crore offer to promote a fairness cream.
The narrative itself is touching. Her refusal is also backed by a powerful quote.
"Ever since I was a kid, I have never understood the concept of fairness. Especially, in such a case, as a celebrity, what kind of an example would I be setting for younger people? I have no regrets about turning this offer down. As a public figure, I have responsibilities."
She added that accepting such an offer would be a direct insult to her own sister Rangoli, whom she called "dusky, yet beautiful".
She is the toast of social media at the moment as a number of publications have reported the matter.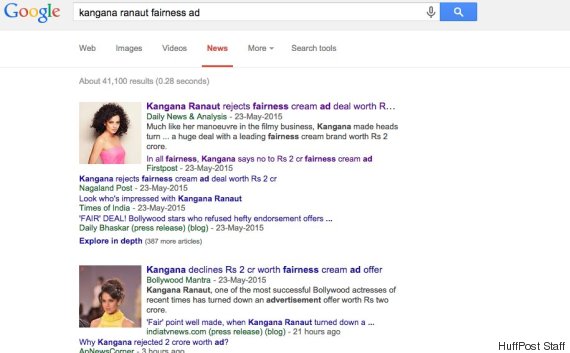 FirstPost, DNA, The Express Tribune, Bollywood Mantra and several others reported it, frequently linking to each other as the principal source. There is very little detail in most pieces.
That's unsurprising. Because while Kangana did apparently turn down an ad for a fairness brand, that happened in 2013. It was in an interview with Hindustan Times that she first said those doubtless inspirational lines.
As her quotes went viral, more and more publications latched on to the story, reported it as if it's a current development, and before long, Ranaut was turning down deals every other day.
Also Read: Kangana Ranaut Shuts Down Reporter Who Asked Her An Incredibly Sexist Question
Like Us On Facebook |

Follow Us On Twitter |

Contact HuffPost India